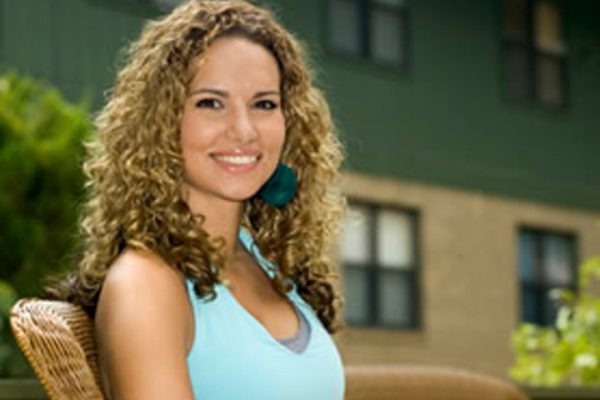 "I love living here because I come home to a house full of women, all from different backgrounds and lifestyles, yet we sit around the dinner table and talk and laugh like one big family."
"Growing up biracial was a blessing," says Brittany Heiring, whose mother is of Puerto Rican and Cuban heritage and her father an Iowa farm boy of German heritage. "My parents and extended family are very accepting of different cultures and beliefs, which has given me an advantage because I have a deeper understanding—Hispanic traditions were fused with Southern small-town traditions—and I can relate to a variety of people on a personal level. I think biracial cultures are the future of America.
"I owe my successes to my parents and their values—they always challenged me to go beyond what anyone would expect of me," she says. "I felt lonely and lost when I came to the University, but then I started to get involved and meet people.
"I'm a self-supporting, first-generation student and because of the generosity of the Southern Scholarship Foundation, I am able to afford college living expenses. I have resided for three years in the Polk County Scholarship House, the biggest with 29 residents. I have been the treasurer, business manager, and now as the head resident I oversee all the workings of the House and serve as a mentor, confidant, and role model to the younger residents. I love living here because I come home to a house full of women, all from different backgrounds and lifestyles, yet we sit around the dinner table and talk and laugh like one big family."
Brittany was able to translate the skills she had acquired as an Orientation leader (OL) into her position as head resident. "Being an OL was incredibly rewarding! Not only did I get to meet many different faculty members, staff, and students, but I worked with a highly selective team who taught me how to be a leader of diverse people."
Serving as head resident, in turn, helps Brittany in her chosen field of Family and Child Sciences, which "focuses not only on a child's physical, cognitive, and emotional states throughout the lifespan, but also the public policies that influence family living." She is heartened at what she has learned. "Our society is starting to pay more attention to how vital families are to the economy and to the welfare of the community."
As a member of Dr. Kathryn Bojczyk's Vocabulary Assessment research team, part of Project Iliad (Independent Lexical Instruction and Development), Brittany gained valuable research experience. She says, "Iliad facilitates learning centers at two, low-income elementary schools where the students are not exposed to as much conversation, vocabulary, and phonological awareness as students in other areas. We hope to provide them with the tools they need to become better readers, better students, and ultimately better citizens."
Education is Brittany's passion—"I want to start moving America toward a future where poverty, educational labels, and marginalization do not exist."