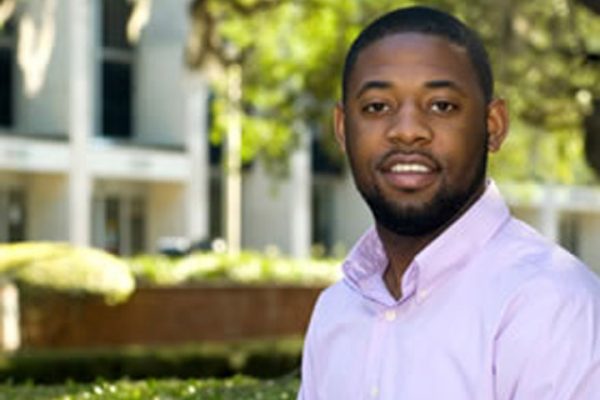 "Without insurance there would be no avenue for entrepreneurs to take risk and bring their innovations or services to market."
Jamal Grimes, who recently earned a bachelor's degree in Risk Management Insurance (RMI) with a support area in Finance, has been awarded a Fulbright English Teaching Assistantship, giving him the opportunity to teach high school students in South Korea.
"Florida State is blessed to have one of the best RMI departments in the country," Jamal says. "With this major I could merge two of my interests, accounting and economics, and merge the analytical and personal aspects of business. Plus, without insurance there would be no avenue for entrepreneurs to take risk and bring their innovations or services to market, which is one reason I wanted to experience the insurance market in South Korea."
He explains, "I will be furthering my understanding of the global insurance industry by specifically looking at how Samsung Life Insurance Company, the 14th largest life insurance company in the world, has reacted to foreign competition. Korea is the second largest life and property/liability insurance market. I will have access to the deregulation of Asian insurance markets, globalization of insurance, and regulator directives of rate and form controls for long-term verse yearly earnings goals."
While maintaining academic excellence, Jamal, who lives by the principle "I am my brother's keeper," was heavily involved in community service. "Each volunteer activity allowed me a venue to impart a smile, some knowledge, and my experiences to children, as people did, and continue to do, for me."
As the youth coordinator for Helping Every Little Person (HELP), Jamal was responsible for planning activities that "provide an emotionally nurturing environment for disadvantaged children through positive role model enforcement."
As a member of Men Advocating Responsible Conduct (MARC), a Victim Advocacy program, Jamal gave several presentations to students at FSU about sexual violence. He served as a student senator for two years (his first year he was awarded New Senator of the Year 2004-2005), as a mediator between the Student Senate and the Congress of Graduate Students, and as a justice for the Student Judicial Board. And during his spring break, Jamal chose to volunteer for Alternative Break Corps, serving as classroom assistant and mentor to students in Baltimore, Maryland.
Once he has returned from South Korea, Jamal plans to attend graduate school—perhaps to focus on Insurance, Law, or Education.