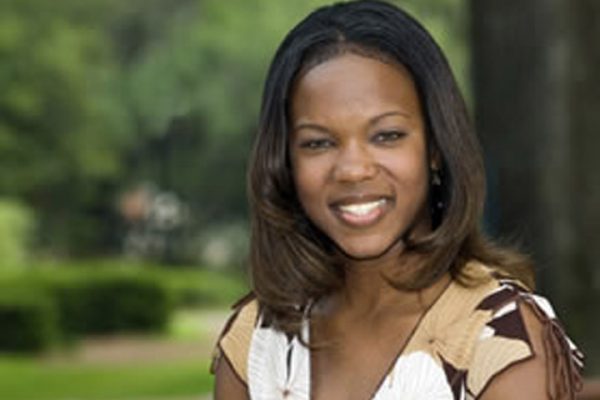 "Ever since I can remember I have wanted to be a doctor."
"Ever since I can remember I have wanted to be a doctor," says Nicole Williams. "It is more than the money or the status; it's the challenge of having high academic standards and disciplining myself. Some doctors lack the personable qualities that are needed to make their patients feel they want to help. I am committed to a lifetime of service.
"Since I am the oldest of five siblings, I automatically feel a responsibility to lead by example. Taking care of my younger brother and sisters instilled certain qualities in me, and my mother always encouraged me to 'never settle for less than your best!' I want to be a pediatrician because of her encouragement and the responsibility I feel.
"My service is what drives me. I am reminded of the quote, 'Only those who have learned the power of sincere and selfless contribution experience life's deepest joy: true fulfillment.' Although academics and having fun are great, the only person who benefits is me. Through service I feel I make an impact on someone else's life.
"My freshman year I participated in Alternative Break Corps' spring break trip to Atlanta. Ten students volunteered at an inner city Boys and Girls Club that had recently gotten rid of its Art program. So, for one week we did various Art projects with the children, showing them different ways to learn.
"The Center for Civic Education and Services' Outreach Program gives you opportunities to get involved on a regular basis, with projects to choose from almost daily. As a team leader, I provide volunteers with an explanation before every project, a student-led service experience at nonprofit agencies in and around Tallahassee, and a guided reflection, which aims to heighten students' awareness of important social issues. I also provide transportation to and from the agency in the department's vans.
"This past spring break I joined the Beyond Borders cultural exchange program in Jamaica. This was my chance to make a difference in the country where my parents grew up. We visited a children's home where the residents had Downs Syndrome, learning disabilities, and some had diseases their parents could not or did not want to cope with. For the time we were there, we talked, read, and hung out with them. It made all the difference.
"Florida State has helped transform me from a timid little high school girl to a mature individual ready to tackle the real world."