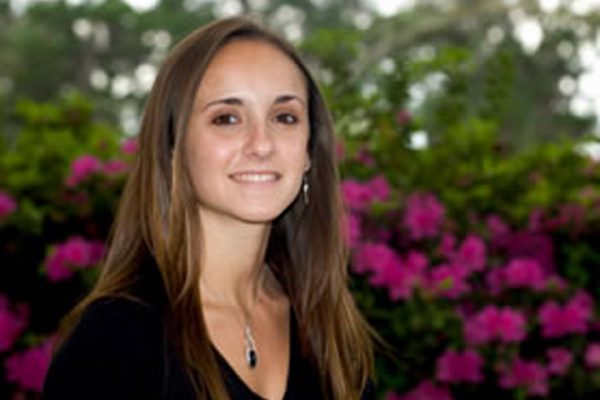 "Not only is Florence beautiful, but the food is to die for, and the people are so nice…. They were so happy to hear an American speaking their language."
Italians have graced the world with beautiful, emotionally stirring art—Michelangelo's Sistine Chapel and DaVinci's Mona Lisa. Yet, from Italy has also come the societally destructive La Costa Nostra (the Mafia). Does this say something about Italian society in particular, or about the dichotomous human being who exists in all societies? Or something else entirely?
Jackie Vaccarello, who is of Italian descent, hopes to "shed some light on what the Mafia means to Italians." Under the guidance of Dr. Mark Pietralunga, department coordinator, Jackie is working on her Honors thesis, "The Mafia as a Cultural Phenomenon," which will enable her to delve more into its origins and meaning. Although she has only begun her research, she's already discovered that most of what is portrayed on television (particularly The Sopranos) is "absolutely false." Yet, such entertainment continues to add to the negative stereotypes about Italians and Italian-Americans. "Now when watching," she says, "this show holds a totally different meaning for me."
With a natural facility for learning languages ("all through high school studying Spanish was easy"), Jackie chose Italian to fulfill her language requirement, but then "fell in love with it," choosing to make it one of her two majors. She began to emphasize the Italian in her heritage, and Modern Language Professor Raymond Fleming made learning "a blast." Jackie says, "No one ever felt scared to participate. He was really enthusiastic about teaching; I always looked forward to attending his class."
Through Florida State's International Programs, Jackie was able to spend last summer in "absolutely amazing" Florence, Italy. "Not only is the city beautiful, but the food is to die for, and the people are so nice. If I wasn't sure of how to say something, the Florentines were eager to help. They were so happy to hear an American speaking their language."
Being on the Dean's List every semester of her attendance, last year she easily won the National Italian-American Foundation's "Teach Your Teachers" Scholarship, and was awarded Modern Languages' Outstanding Undergraduate in Italian Studies. This year, she's become president of FSU's chapter of the Gamma Kappa Alpha National Italian Honor Society.
She's decided that a bachelor's degree will not be sufficient. She will continue to learn about the language and its people in graduate school. Since she "actually likes Math," her second undergraduate major in Finance should serve her well when she begins to apply for a position with a multinational corporation; hopefully, one that is based in Italy.