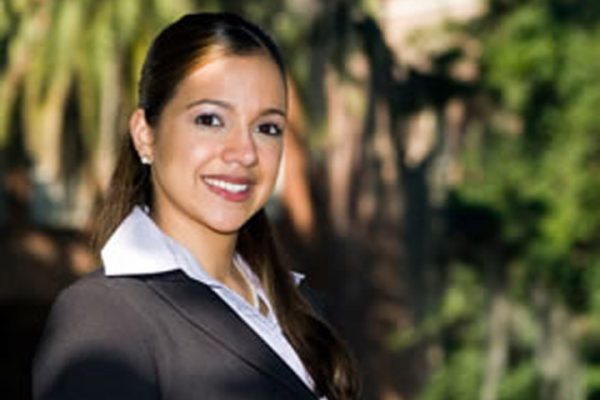 "Every student can be a great leader. All that's needed is for someone to motivate them"
"Evaggelia Sakellis is one of the most genuine, conscientious, intelligent, and dependable students I've ever known. Her warm nature and outgoing personality make her a pleasure to be around. To top it off, she is made of the highest moral fiber. It is this type of student that makes teaching such a wonderful experience," says Accounting Instructor Holly Sudano of her fall 2005 Introduction to Managerial Accounting student.
What makes such a student? Could it be her family's influence? Evie says of her Dominican mother and Greek father, "Both came to this country in search of a better future, believing that hard work and determination will enable you to attain anything. They inspire me to achieve my dreams."
Her dreams included college. "I am a first generation student in my family. Unlike my parents, I have been given resources through citizenship. With all of the resources available, all you need is determination to achieve astonishing results."
Determination, yes, but by helping others we also help ourselves. In fall 2004, Evie tutored minority students for the College Reach Out Program. She says, "Giving a student the chance to attain a higher level of education is priceless." Participating in the President's Retreat that same semester, she says, "sparked my interest in obtaining leadership skills."
She became vice president of scholarship and awards for Delta Sigma Pi, the Business fraternity. To help fund scholarships, she organized fundraising events, and then coordinated the administering of those scholarships and developed programs to foster members' academic achievement. "Because of the solid, professional foundation that Delta Sigma helped me build," she says, "I have gained the courage to try any task I am given. I would rather fail and learn from my mistakes at 21 than when I am working in corporate America."
Her crowning achievement has been the founding of Florida's first chapter of the National Hispanic Business Association, "an organization that develops future leaders." Her goal has been to help build each member's leadership abilities. "Every student can be a great leader. All that's needed is for someone to motivate them." Since the chapter's founding, she has begun a corporate mentorship program, which allows regular interaction between members and corporations.
Evie herself plans a career in Investment Management, a rare field for a woman. She says, "I'm not intimidated. I am willing to put in the hours to build my credentials. Life is all about time management, and once you learn to prioritize, you can use your time efficiently."