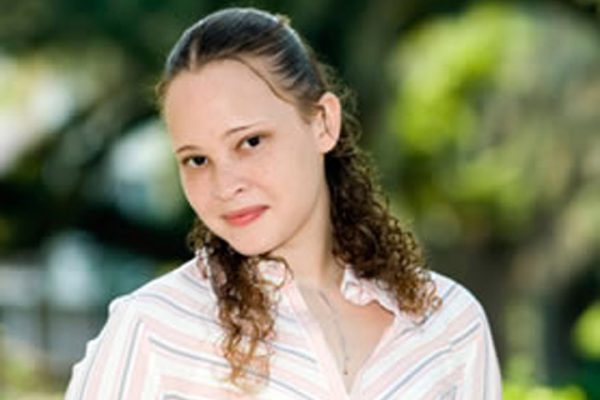 Enjoyment seems to be Rebekah Welch's key approach toward college life.
She enjoys serving as vice president of the Premedical Association of Premedical Students, an organization that she helped co-found to "help students find and get involved in projects that they would enjoy." She advises them, "Pick activities that you have a special interest in, or a skill you have that will help you accomplish the task."
That's why she has enjoyed tutoring Algebra for the past two years to students at the Crossroad Christian School. "Tutoring gives me the opportunity to share my knowledge. It's very fulfilling to explain a concept that originally gave me trouble, and then see the look on someone's face when it clicks. I use my frustrating experiences to spare someone else that same frustration."
With a career goal of becoming a physician, Rebekah has enjoyed the past two years as a volunteer in a rural community clinic in Perry, Florida. "I saw the great impact that a doctor can have on patients' lives. It's important to get to know your patients beyond the clinical symptoms and diagnosis. Only then can you help them make the most informed decision."
The Biochemistry research Rebekah has been involved in has helped develop her problem solving skills. "When you run an experiment and get unexpected results, you have to apply everything you've learned in your classes and in the Lab to figure out what those results mean and how you can use them to your advantage."
For her Honors in the Major project, under the direction of Dr. Nancy Greenbaum, she is seeking "to characterize the interactions of two proteins, SF3b155 and p14, which are thought to play a fundamental role in the catalytic core of the spliceosome." She explains, "Proteins are the primary means by which the body brings about change, a process that involves transcription of a DNA gene into a pre-messenger (m)RNA molecule, which is then processed into an mRNA molecule. The most complicated step is splicing, the cutting out of sequences that don't contribute to the protein gene and the ligating together of those regions that do, much like the editing of a movie. Splicing is catalyzed by the spliceosome, as an editor oversees the editing process."
Faculty members bring out the joy in learning, says Rebekah. "Professors here at FSU encourage their students to participate in undergraduate research, take challenging courses, and strive for excellence." It is students like Rebekah, we're certain, that make teaching enjoyable for the faculty.