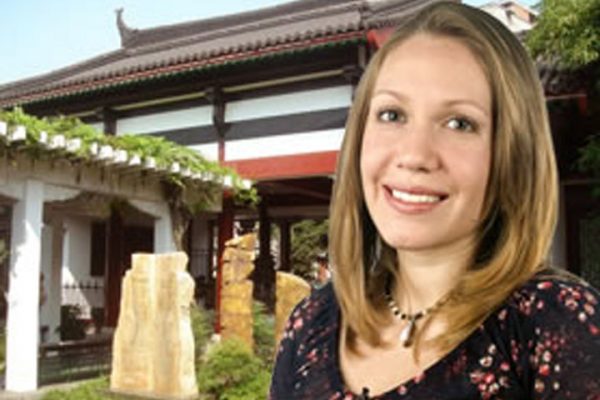 Joana Carlson, a Ph.D. candidate in History, has received the prestigious Fulbright Grant for 2006. During the 10-month grant period, she will travel to several cities in China to conduct archival research, which will form a key part of her project, "'Horizontal Diplomacy' and U.S. Responses to Social Revolutions in China and Cuba." She plans to examine the ways expatriates, émigrés, and exiles have shaped the divergent relationships between the United States, China, and Cuba.
The China Fulbright requires its recipients to have the ability to conduct research in Mandarin. Though Joana says she isn't sure she will ever be completely fluent, she is able to speak, read, and write it proficiently. In fact, in 2004 she was the first foreign student to take classes in the history department at Central China Normal University, the same institution through which she now has her Fulbright affiliation.
Following this grant period, Joana will begin research in Taiwan, and later in Cuba. This past summer, she received additional grants to conduct research at the Truman, Eisenhower, Kennedy, and Johnson Presidential Libraries. She says, "Most of my research endeavors reflect my ongoing interest in 20th century Asia and Latin America, ways in which subalterns have helped shape foreign policy, and the various strata of U.S. foreign relations."
Her time at Florida State, she believes, has afforded many opportunities to serve. One of the most meaningful has been teaching the Honors section of the Multicultural Film course. She says, "My students came to class motivated. Through our class discussions, we challenged each other to think about the use of film in U.S. race, gender, and class relations. My students' willingness to be open-minded and my TA's specialized knowledge of film production made the course one of my most incredible teaching experiences."
Joana has also mentored incoming Humanities TAs, helping prepare them for the classroom, evaluating their teaching performance, and providing feedback. She served as treasurer for Phi Alpha Theta, the history honor society. And she helped to create and lead the History Graduate Student Association (HGSA), which serves as their advocate and as a mediator between faculty and students.
It will come as no surprise that Joana will graduate magna cum laude. She hopes to teach History at a research university, where she "would like to help students think about global interactions and past events in ways that will help them be more conscientious world citizens."