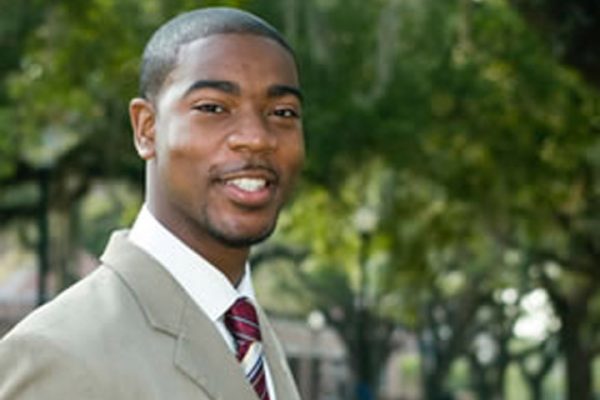 Christopher Evans sets goals and then labors until he achieves them.
Attending Florida State was a "lifetime goal." His mother, whom Christopher carries in his heart, had received her education here. He explains, "My mother passed away when I was five, and one of the last things she did was earn her degree. Following in her footsteps will be a tremendous accomplishment for my family and me."
One particular day, Christopher set a simple, but profound goal—"to make a difference in the lives of others." He feels he has been "continually blessed" during his college years and that if he doesn't give something of himself, he's "being selfish."
So, each year he performs a personal community service project. As a freshman, he combined his "love of football and kids" to become a volunteer coach and mentor at Fairview Middle School. As a sophomore, he traveled to New Orleans with the Alternative Break Corps "to educate elementary school students on economic skills and to encourage them to continue their education past high school." As a junior, he spent a "painful 32 hours" helping FSU's Dance Marathon raise over $270,000 for the Children's Miracle Network. Then, he became a counselor for CARE (Center for Academic Retention and Excellence), helping disadvantaged students make the transition to, and retention in, college.
Having created a solid foundation in service to others, Christopher decided to add another level of experience—leadership. In 2005, he became president of the Black Student Union. He says, "I cherished the opportunity to improve such a great vehicle for African-American culture." In February 2006, Christopher was elected president of the Student Body, which, he says, was a culmination of all of his experiences. "I've seen the highs and lows of being a college student, and I feel 100% confident about giving honest feedback to the administration."
Christopher is now majoring in Sports Recreation and Leisure Service. Upon graduation he plans to earn a Master's in Sports Business, so that he "can honorably pursue a career as a general manager of an NBA franchise." Another goal we know he'll achieve.