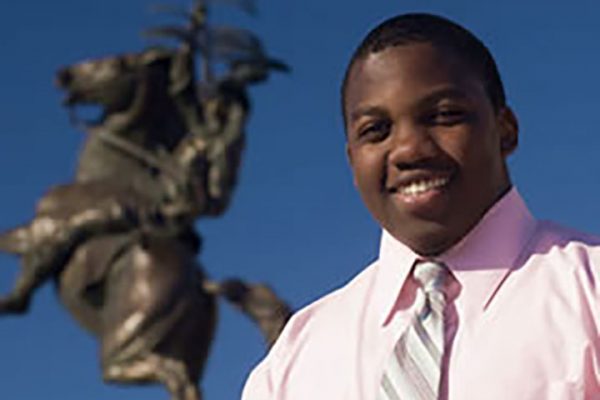 "Clinton envisions a future in which he is able to find a better way for himself and for others."
People with the potential to be a leader love a challenge. Clinton Mitchell was drawn to Florida State because, "Being an African-American student at a predominantly white institution was important to me." Once here, Clinton discovered that the University is "big on diversity."
Leaders have the respect of their peers. Clinton enjoyed being an Orientation Leader. He says, "I was able to help thousands of new 'Noles and their families find their bearings on our campus and feel a part of the family." He has also served as assistant director of Off-Campus Housing and as a volunteer coordinator for the Event Management Team of the Dance Marathon. And he has mentored many students through the Black Student Union and the America Reads Mentor Program.
Leaders possess a certain quality that makes people pay attention to them. Clinton joined the Black Actor's Guild and was co-editor of the Black Student Union's "Nubian Waves."
Leaders show a willingness to take responsibility. Clinton has understood the importance of academic achievement. Because of his accomplishments in the classroom, he was inducted into Omicron Delta Kappa, the National Leadership Honor Society, and Garnet and Gold Key, the Florida State Leadership Honor Society.
Leaders believe there is always a better way to do things. Clinton envisions a future in which he is able to find a better way for himself and for others. He will continue to build a strong foundation, attaining a "jurist doctorate and a master's in Public Administration." Then, he plans to practice law, serving "as a state or federal lawmaker."
Sounds like a leader.