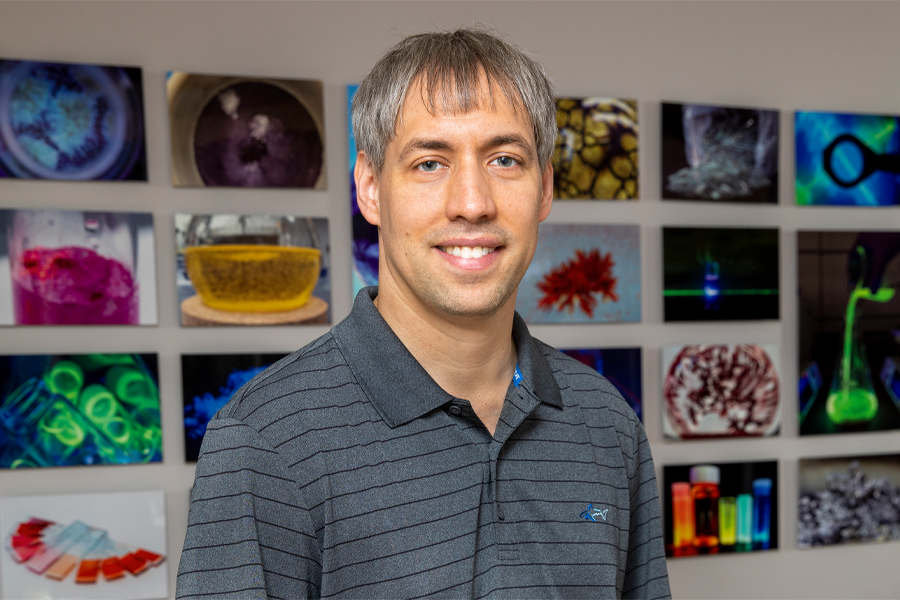 A Florida State University professor has been recognized by the Tallahassee Scientific Society for his contributions to science and his commitment to science education and outreach.
Associate Professor of Chemistry and Biochemistry Kenneth Hanson will receive the 2023 Gold Medal Award, which has been presented annually since 2004 to a scientist or scholar in Tallahassee and the greater Big Bend region whose career achievements in science as well as science education and outreach are deemed exemplary.
"I feel nothing but pride in being recognized by the local scientific community for not only my contributions to science but also my scientific outreach," Hanson said. "For the last decade, I have met and worked with scientists in the local area across all disciplines — from sociology to astrophysics. It is a pleasure to find others who enjoy sharing their science while also learning from each other."
Hanson will receive the award Thursday, Nov. 2, at the Challenger Learning Center. The evening's events begin with a reception at 6 p.m., followed by the award presentation at 7 p.m. Afterward, Hanson will host a 30-minute talk about his research and outreach efforts. All events are free and open to the public.
Hanson's lab, the Hanson Research Group, focuses on molecular photochemistry and photophysics, or the study of light — photons — and light's interaction with molecules. When a molecule absorbs light, the photon's energy can be dissipated via heat, emission of light, breaking of bonds, generating electricity and more.
"Anyone who has been sunburned or gotten in a car that sat in the sun all day indirectly knows how much power there is in a photon," Hanson said. "If you can use the structure and design of molecules and materials to transform this energy at will to break bonds, move electrons, or emit light, then you can solve major problems in the areas of solar energy conversion, catalysis, bioimaging, sensing and more."
Because Hanson studies light-related processes, much of his research generates visually stunning outcomes. The lab's X (formerly known as Twitter) and Instagram pages were launched in 2013 to display and share photos featuring brilliantly hued and sometimes glowing results. The artwork has won several Photo of the Month awards, including the 2014 Chemistry Photo of the Year award from Chemical & Engineering News. Images have been publicized by the National Science Foundation, Chemistry World Magazine and numerous news outlets.
"Professor Ken Hanson is a well-recognized expert in the field of photophysics and the application of inorganic and organic molecules to challenging problems in photochemistry and solar energy conversion," said Wei Yang, chair of the Department of Chemistry and Biochemistry. "He and his group have shown a marked capability of solving complex problems to achieve one of the highest efficiencies for harnessing photon upconversion in a solar cell."
In 2014, Hanson founded "Ask a Scientist," a casual Q&A held as part of Railroad Square's monthly First Friday event, which allowed members of the community to pose questions to a rotating roster of scientists from across various disciplines. When "Ask a Scientist" went on hiatus from 2020 to 2022 due to the COVID pandemic, Hanson launched "Ask a Scientist Gaming," a version of the original format adapted to live streaming via the Twitch platform and subsequent YouTube videos. The in-person "Ask a Scientist" series is back at First Friday and is now organized by associate professor of physics David Collins.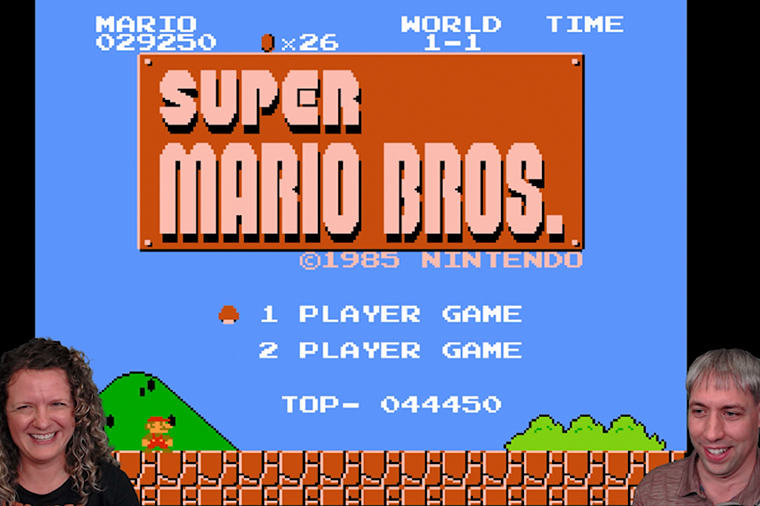 During the bimonthly three-hour "Ask a Scientist Gaming" streams, Hanson hosts FSU professors and local experts across a broad range of scientific disciplines. Attendees ask their questions via chat and the guest answers while playing a video game of their choosing. To date, more than 80 scientists have participated in the in-person event and Hanson has logged more than 60 streaming episodes.
"The department has a long-time tradition of local scientific outreach," Yang said. "Professor Hanson's award demonstrates our continuation of this legacy and once again showcases the intimacy of research and scientific education."
Since its founding in 1989, the Tallahassee Scientific Society has served the Tallahassee and North Florida community by promoting science and science education, and it has become the largest community-based, non-profit organization of its kind in the Big Bend region. Of the 20 award recipients since the award's inception, 19 have been FSU faculty, staff or alumni, including Lawton Distinguished Professor and Professor Emeritus Michael Kasha, who co-founded FSU's Institute of Molecular Biophysics, and chemistry Nobel Laureate Sir Harold Kroto.
"It truly is an honor to be included on any list with such giants not only in chemistry but also in their advocacy for science outreach and education," Hanson said. "I only hope to reach a fraction of their achievements and contributions one day."
To learn more about Hanson's work and chemistry at FSU, visit chem.fsu.edu.