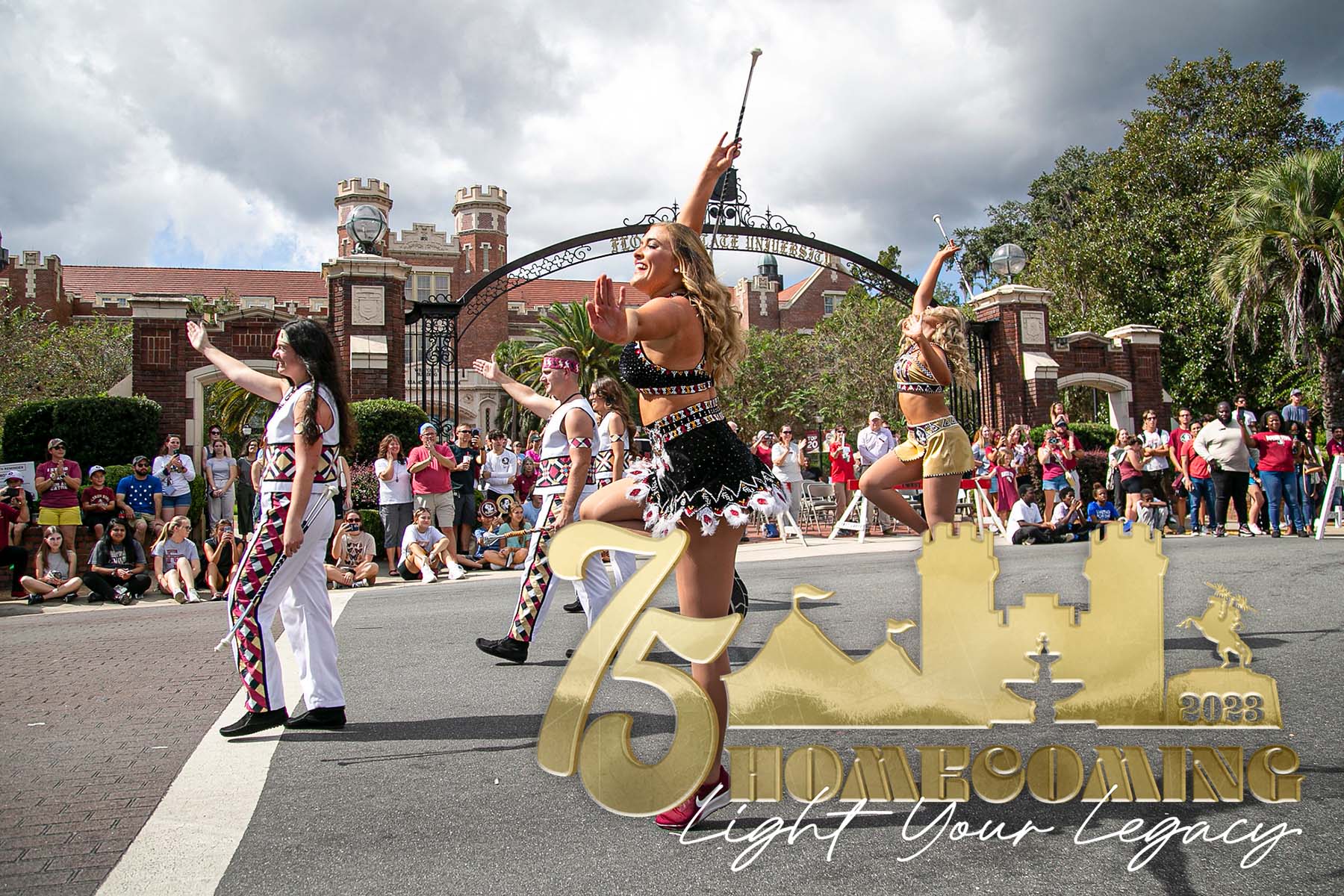 Alumni, students, parents and friends of Florida State University will come together to celebrate the 75th Anniversary of Homecoming from Friday, Oct. 13 through Sunday, Oct. 22.
With a "Light Your Legacy" theme, in-person festivities include alumni events, a street parade and the annual Homecoming Live pep rally. Festivities culminate with FSU's Oct. 21 Homecoming game against Duke, at which the 2023 Homecoming Chief and Princess will be unveiled.
A full schedule of events is listed at homecoming.fsu.edu.
Featured events include:
FRIDAY, OCT. 13
A cherished FSU tradition, Chalk on Legacy Walk kicks off Homecoming festivities and allows Recognized Student Organizations (RSOs) to chalk a space on Legacy Walk that highlights their organization and the Homecoming theme. Banners painted by each participating RSO will be hung around the Student Union.
---
MONDAY, OCT. 16
Beginning at 7 p.m., Spirit Night is a talent show that displays the FSU student body's diverse talents as well as a "friendly spirit competition." FSU students are invited to come decked out in garnet and gold. Refreshments and exclusive homecoming merchandise will be available.
---
TUESDAY, OCT. 17
FSU Homecoming Council is bringing a new tradition to Homecoming with a new event, the Garnet & Gold Jamboree. This event, in the Student Union ballrooms from 2-5 p.m., takes a new spin on the concept of a jamboree, giving on-campus music and dance organizations the opportunity to perform and teach. After watching performances, students will be able to join the fun by taking lessons or joining "jam sessions" on the dance floor. They will also learn about opportunities to serve and give back.
---
WEDNESDAY, OCT. 18
The Homecoming Festival will offer thrill rides, food, exclusive homecoming merchandise and an opportunity to meet with Student Government Association agencies and learn about opportunities for involvement across campus. Join in the celebration from 1-5 p.m. on Landis Green.
---
THURSDAY, OCT. 19
A university tradition, Odds & Evens is a unique combination of past Homecoming Week events, with laid-back and structured games such as dodgeball, kickball, soccer and flag football on the Main Campus Fields from 5-8 p.m. The event will also include yard games, refreshments and exclusive Homecoming merchandise.
Join the National Pan-Hellenic Council in the Union Ballrooms at 7 p.m. for an exciting step show from FSU's historically African-American Greek letter organizations. For more information on the NPHC Extrav Homecoming Step Show, visit fsunphc.com.
---
FRIDAY, OCT. 20
---
SATURDAY, OCT. 21
The Homecoming Breakfast will celebrate the 2023 Grads Made Good Award honorees at 9 a.m. at the Alumni Center. The award honors alumni who have made a significant difference through outstanding success in their fields. The event will also recognize former Homecoming chiefs, queens and princesses. For more details and event registration, visit gonol.es/hocobreakfast2023.
Join the FSU Pride Alumni Network for a Homecoming Tailgate. Meet the board, engage with fellow Noles and gear up for game day! The tailgate will have refreshments and heavy appetizers and take place three hours before kickoff. For more details and event registration, visit gonol.es/PrideTailgate.
Current students are invited to the Garnet and Gold Tailgate, hosted by the Homecoming Council and Student Engagement. This free event will be held in Union Plaza with yard games, food and merchandise. The 75th Homecoming calls for a celebratory Garnet & Gold tailgate that will set the scene for Doak Campbell Stadium. The tailgate will begin three hours before kickoff and end one hour before the start of the game.
---
About Florida State University Homecoming
The Homecoming Executive Council consists of students who plan events for the FSU campus and community each year. Each position within the council helps in coordinating events, which involves working with volunteers and student groups, managing communications and seeking sponsorships. The Homecoming celebration consists of a week of on-campus events including but not limited to the Homecoming Live pep rally, Homecoming Carnival, Odds and Evens and the Garnet and Gold Tailgate. The Student Alumni Association leads the efforts for Parade and Chief and Princess elections. The week culminates with the Homecoming football game at Doak Campbell Stadium. 
About the FSU Alumni Association
The FSU Alumni Association works to create meaningful connections between alumni and Florida State University, strengthening the alumni network and supporting students on campus every day. All graduates of FSU are members of the FSU Alumni Association; no dues required. Alumni are encouraged to stay connected through the Alumni Association's career resources, networking opportunities, mentorship programs, travel benefits and more. Learn more at alumni.fsu.edu.