A little wind and rain couldn't keep Florida State University students from their sweet treats Thursday at the annual President's Ice Cream Social.
The social is a longstanding FSU tradition usually held on Landis Green but was moved to the Student Union Ballrooms this year due to inclement weather.
President Richard McCullough and FSU First Lady Jai Vartikar, along with university administrators, greeted a steady stream of students, faculty and staff with an assortment of ice cream, popsicles and drinks.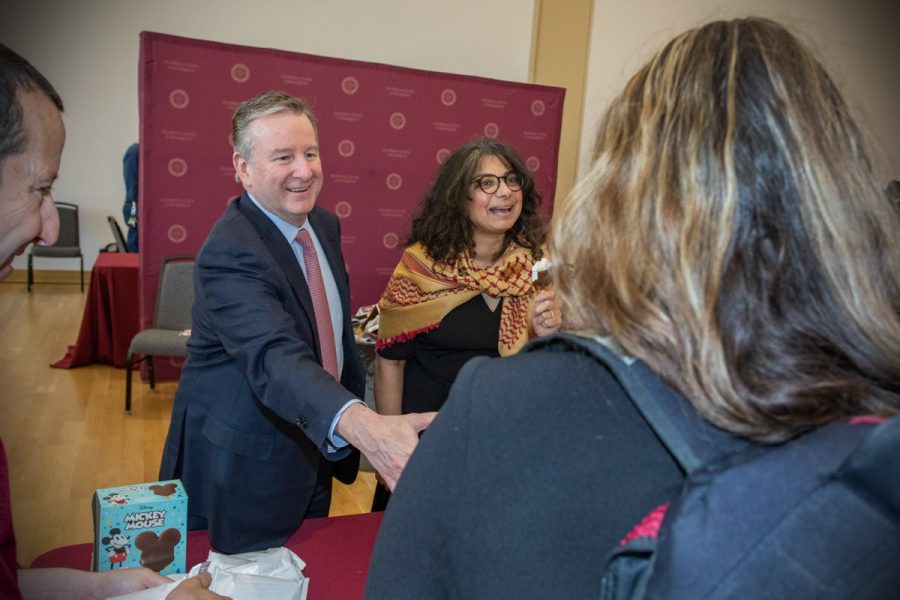 "It was great getting a chance to socialize with other students and meet President McCullough," said Samuel Manley, senior in the College of Communication and Information. "Having the event at the new Student Union was also a nice change from previous years."
It took a lot of ice cream to make this event happen — 5,000 treats, to be exact.

Students like Sydney Berger gave the event her full endorsement.
"I really loved the Ice Cream Social," said Jill Leadvon, a freshman at FSU. "The vibes are fun and there's a ton of different ice cream, it's great!"
This year's President's Ice Cream Social was sponsored by Asker Distributors, Damien's Ice Cream, Nestlé Ice Cream, Coca-Cola and Legacy Catering by Aramark.