Dozens of students, faculty and administrators gathered last week to celebrate the achievements of Florida State University's graduate students at the Celebration of Graduate Student Excellence.  
Awards for excellence in teaching, research and creativity and mentorship were among those recognized at the ceremony, which was held at the FSU Alumni Center. 
Mark Riley, dean of The Graduate School presided over the event, which included students representing a cross-section of colleges and departments at FSU. 
While acknowledging the diversity of disciplines on hand, Riley noted they share a common goal to make the world a better place.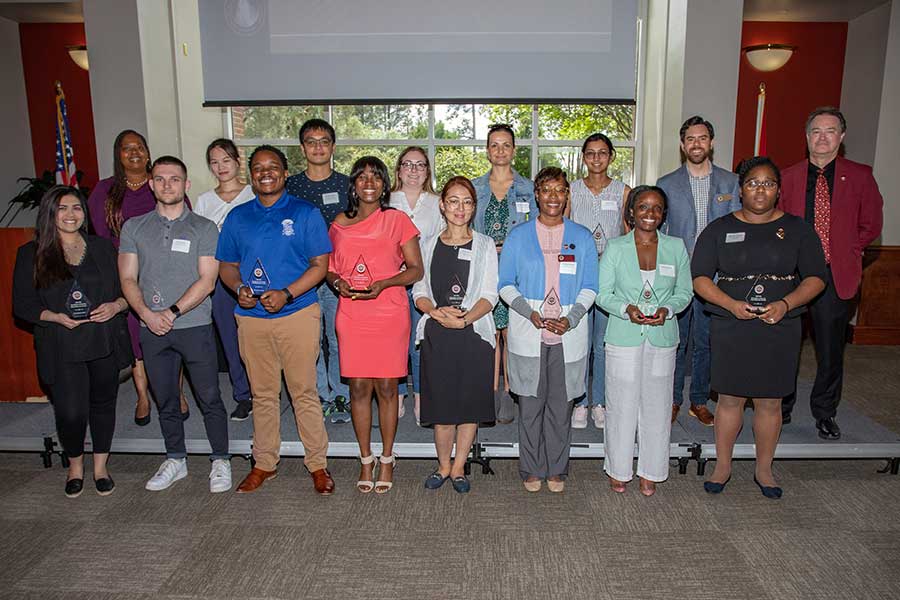 "You are the future, and the future is bright," he said.
Adrienne Stephenson, assistant dean in The Graduate School and director of the Office of Graduate Fellowships and Awards, said the event illustrates the quality of FSU's graduate students and how their graduate experience prepares them for the next step in their careers.  
"Our students graduate and move on to prestigious laboratories, federal and corporate positions and academia," she said. "Before they leave, it's important for us to have events like this to formally recognize and celebrate their success." 
Tz-Chien Chen, of Taipei, was recognized for his Taiwanese Government Scholarship for Overseas Study. Chen, who is researching marine food webs in the Department of Earth, Ocean and Atmospheric Science, said he appreciates that the celebration brings together researchers who otherwise might not cross paths.  
"As an oceanographer, collaborations are an important part of my work," he said. "It's an honor to learn more about the work of the other scholars here."  
Darius Robinson, a third-year doctoral student studying higher education, was recognized for earning a for John F. Liseno Award in the Program for Instructional Excellence.  
"I really appreciate the ceremony because you get to see the research people are doing all across the university," he said. "It brings me joy when I'm able to share my work but also take a reprieve, step back and commune with people who have new perspectives." 
For more information, visit gradschool.fsu.edu.