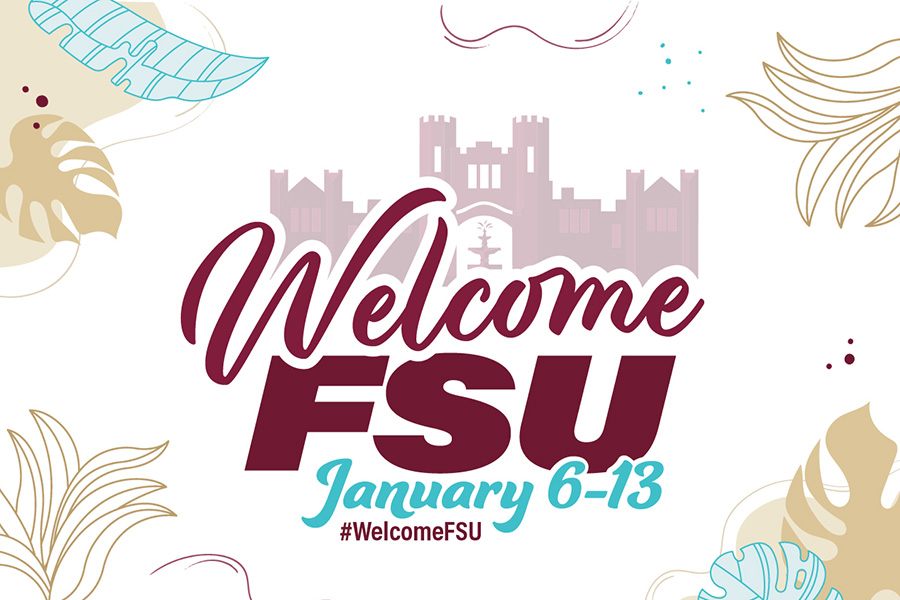 Florida State University is kicking off the 2023 spring semester with events that spotlight Seminole academics, career readiness, involvement, resources and well-being.
"Welcome FSU" greets all Florida State students through a series of events and programs that are taking place now through Friday, Jan. 13, at various campus locations. The events aim to show students ways to get involved, connect to campus resources and employment opportunities, and how to make FSU and Tallahassee their home.
For a full schedule of Welcome FSU events, visit welcome.fsu.edu.
Here's a sampling:
MONDAY, JAN. 9
First Day Photos
9 a.m. – 2 p.m., Landis Green
Students can celebrate their first day (or last first day) of classes at FSU by taking a picture and sharing it on social media using the hashtags #WelcomeFSU and #FSUFirstDayPhoto. Students can also tag @FSUNSFP for a chance to win a free T-shirt.
TUESDAY, JAN. 10
Tie-Dye Into Your Goals
12 – 4 p.m., Seminole Café
Students can tie-dye shirts (while supplies last) and make vision boards together for the new year.
Involvement Fair
5 – 8 p.m., Ballroom A, Room 2203, Student Union
Meet with student organization leaders and members at a tabling fair at the Student Union.
WEDNESDAY, JAN. 11
Part-Time Job Fair and Department Expo
11 a.m. – 3 p.m., Ballroom A, Room 2203, Student Union
An opportunity for students to meet with representatives from local employers and on-campus departments who are hiring for part-time employment opportunities. Plus, students can learn more about campus resources and meet with several FSU departments all in one centralized location. 
Meme Party
5 – 7 p.m., Suwannee Room
Students are invited to get creative and impersonate viral memes to participate in the "Best Dressed Meme" event! Each participant will receive something for participating and all will be entered to win a grand prize.
THURSDAY, JAN. 12
FRIDAY, JAN. 13
International Coffee Hour
5 – 6:30 p.m., Global and Multicultural Engagement Building (GME)
Join the Center for Global Engagement in The Globe Dining Room for refreshments from a featured culture and interact with students, scholars and faculty from around the world. Enjoy conversation, coffee or tea, and an international snack from the featured culture.
SLC Movie: The Blues Brothers (1980)
11 p.m. – 2:30 a.m., Askew Student Life Building (SLB), Student Life Cinema
Jake Blues rejoins with his brother Elwood after being released from prison, but the duo has just days to reunite their old band and save the Catholic orphanage where the two were raised, outrunning the police as they tear through Chicago.