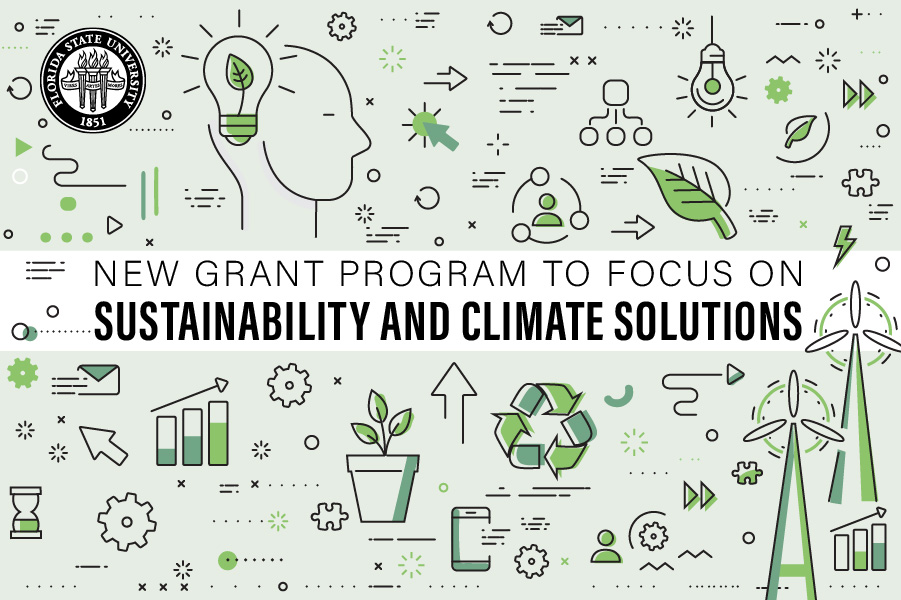 Florida State University has launched a new program to jumpstart research opportunities addressing sustainability and climate change issues.
The Office of the President's Sustainability and Climate Solutions grant program promotes research that is crucial for long-term societal well-being, environmental health and economic prosperity.
"Florida State is dedicated to promoting interdisciplinary research that will play a critical role in addressing the challenges of climate change and sustainability," said President Richard McCullough. "This program will support faculty who are focused on developing innovative solutions for these vexing problems and training the next generation of leaders."
The program will award grants of up to $150,000, with a total of $1 million available in the 2022-2023 academic year. Interdisciplinary and collaborative proposals are strongly encouraged. The goal is to act as a catalyst for further work on these topics. With that in mind, recipients are expected to pursue external grant funding at the conclusion of their projects.
The Office of Research is administering the program and proposals will be reviewed by a faculty committee.
"FSU faculty are leaders in their fields, and they have a lot to contribute toward finding solutions to problems of sustainability," said Vice President for Research Stacey Patterson. "Faculty are engaged in interdisciplinary research across campus. This program will help promote new research partnerships in this crucial subject."
Research proposals can focus on any aspect of sustainability, including the environmental, social, and economic dimensions of sustainability. They can also deal with issues around climate change, such as mitigation, risk assessment and management, adaptation, resilience and more.
"When you think about the most pressing environmental problems affecting us, the solutions can't just be coming from a single disciplinary perspective because these problems are so multifaceted," said Sarah Lester, an associate professor in the Department of Biological Science and chair of the Faculty Senate Sustainability Committee, which co-developed the program with the Office of the President and the Office of Research. "We need research that spans different disciplines, so having a program that is specifically designed to help foster collaborations across departments is really important."
The program also allows graduate students and postdoctoral researchers to be involved in sustainability research.
"Students are really passionate about these issues and want to be part of the solution," Lester said. "An important part of our role as an institution of higher learning is to provide opportunities for students to learn about these issues and be involved in research that addresses them."
Visit the program website for more information. Proposal submissions from faculty will be accepted through Feb. 9, 2023. Award decisions will be made in April 2023.