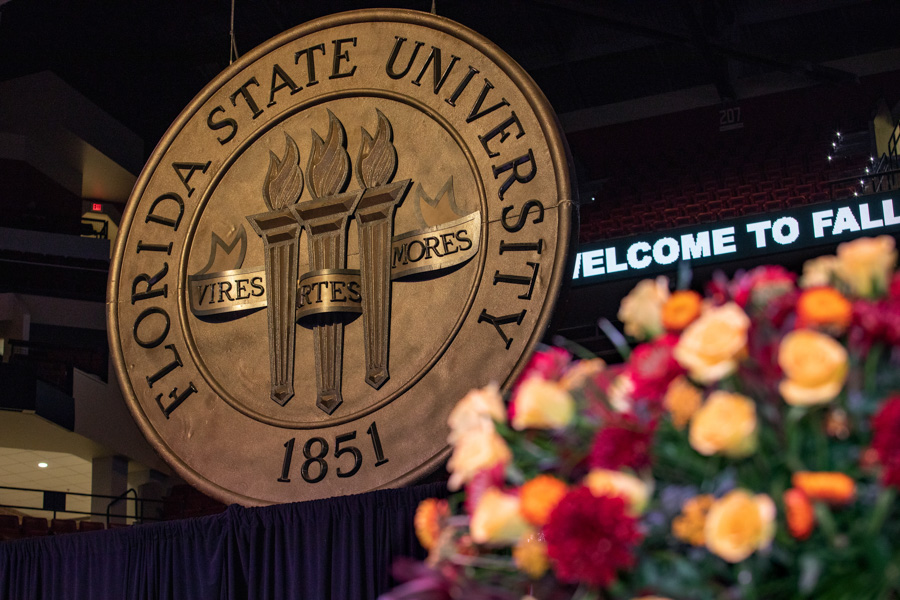 Florida State University's newest class of graduates was reminded to ignore the naysayers and embrace their potential during two fall commencement ceremonies held Friday, Dec. 9, at the Donald L. Tucker Civic Center.
Dr. William T. Hold, the namesake of the College of Business's Risk Management and Insurance program, and Dr. Maxine Montgomery, professor of English and one of the nation's premier scholars in African American Literary and Cultural Studies, delivered commencement addresses in the afternoon and evening, respectively.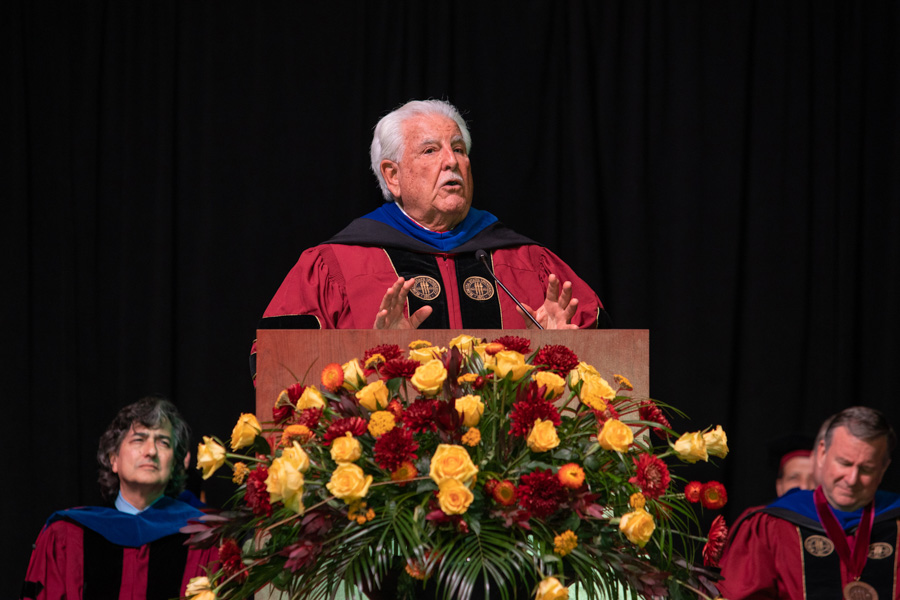 Hold and Montgomery struck similar notes, imploring graduates to embrace the possibility of their potential.
"Believe in yourself; never forget you can succeed when others don't believe in you, but you will never succeed if you don't believe in yourself," said Hold, speaking at the 2 p.m. ceremony.
"Believe in yourself; never forget you can succeed when others don't believe in you, but you will never succeed if you don't believe in yourself."

— Dr. William T. Hold, the namesake of the College of Business's Risk Management and Insurance program
Hold, a 1963 FSU graduate, is the executive chairman and retired president of The National Alliance for Insurance Education & Research, which he co-founded in 1969. He implored graduates to "own their potential."
(VIDEO: FSU Digital Communications – Mark Vaughn, Layne Herdt, Jac Kaufman)
"Realizing your potential is one of the great responsibilities of life," he said. "Every one of you here has a potential with many dimensions and elements, both God-given and those developed through the support of others, your determination, self-discipline, realized opportunities and continual learning."
Montgomery addressed graduates at the 7 p.m. ceremony. She encouraged them to write their own life's story, leaving them with a quote from the late Nobel Prize-winning author Toni Morrison: "If there is a book you want to read and it hasn't been written, then write it."
"Move into the next chapter of life with an unconquered spirit – a tenacity that is undeterred by circumstances," she said. "Your future awaits. Be intentional about making that future the best it can be."
Montgomery graduated with bachelor's and master's degrees from FSU before earning a doctorate in English from the University of Illinois at Urbana-Champaign. Since returning to FSU as a faculty member, she's earned five university teaching awards, published or edited eight books and created 11 new courses in the English department.
With a lifetime of possibilities in front of graduates, Montgomery cast commencement as the close of one chapter with many more left to be written.
"Those blank pages need not intimidate you," she said. "Instead, they are an invitation to write the rest of the story. Your story is your unique gift to the world. Embrace that story by being your full, unapologetic self, and don't hold anything back."
President Richard McCullough presided over both ceremonies. FSU conferred 3,243 degrees Friday, including: 2,053 bachelor's degrees, 976 master's/specialist degrees and 117 doctorates. The College of Law conferred 97 degrees.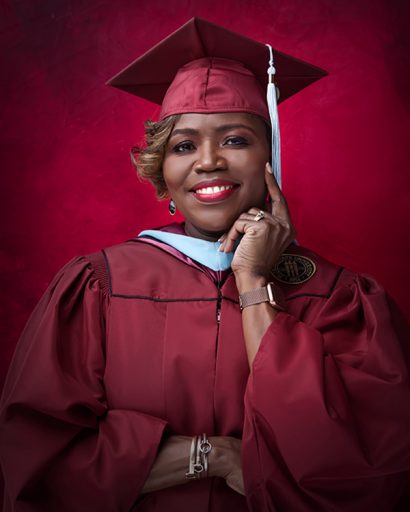 Graduating for the second time from FSU, Dionne Caines earned her master's degree in Educational Leadership and Administration from the College of Education Friday afternoon. Caines, who earned her bachelor's degree from Florida State before teaching elementary school for 24 years, desired to impact the lives of more than just the students in her class, so she returned to FSU.
"I believe that we are life-long learners," Caines said. "Therefore, I am always looking for ways in which I can grow. Florida State's Educational Leadership and Administration master's program has prepared me to step into a leadership role, but even after obtaining a leadership position, I will continue to seek out opportunities for continual professional development."
Equipped with a new degree, Caines plans to continue teaching in the classroom while pursuing an assistant principal position in the Leon County School District.
"FSU is such a special place," she said. "What I will miss most about FSU is the caring faculty and staff members who go above and beyond to make you feel like family."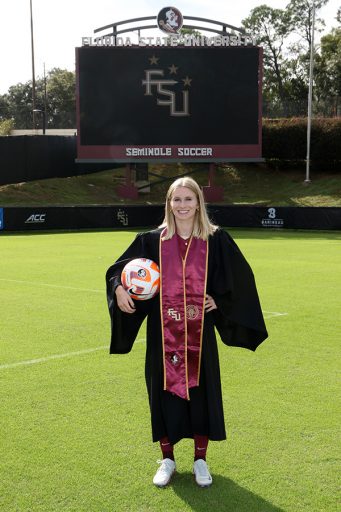 Jenna Nighswonger, a midfielder on the women's soccer team from Huntington Beach, California, graduated Friday with a near-perfect GPA and a finance degree from the College of Business.
"I wanted to go to a school where I knew I could be pushed academically and athletically, and FSU offered both of those to me," she said.
Nighswonger, a United Soccer Coaches First Team All-American, led the Seminoles to an appearance in the 2022 Women's College Cup last weekend and was a key contributor on FSU's 2021 National Championship team.
"College was a time where I learned a lot about myself, and through the ups and downs, I believe I came out stronger," she said.
Nighswonger plans to play professional soccer and credits Florida State for making her the person and player she is today.
"There is so much to love and miss about Florida State, but in general, I will miss the community of this college," she said. "Going to football games, studying on Landis Green, and going to the Figg to eat lunch are memories that I will always cherish and look back on fondly."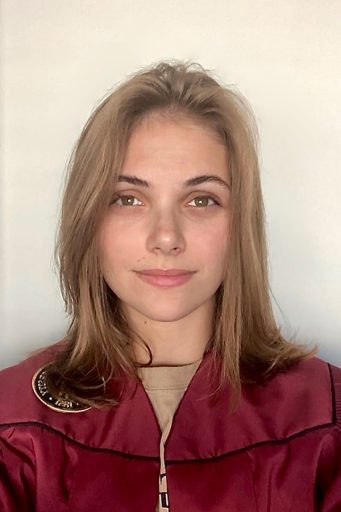 Kellie Fallon, a native of Bradenton, Florida, graduated Friday with a master's degree in art education. She cherishes the connections formed with professors, colleagues and friends, which will extend beyond her time at Florida State.
"My experiences with professors and students alike have been overwhelmingly positive," Fallon said. "I will miss the towering, echoing walls of WJB shared between myself and my colleagues and the thrill of the chase in Humans vs. Zombies, the club where I met my friends."
After graduation, Fallon will pursue a teaching position in Georgia and continue her graduate research on post-anthropocentric art education to expand the field.
"Ultimately, it is my hope I may create a paradigm shift in art education, honor and reimagine the human-nature relationship, and create a more-than-human magic in the classroom and beyond," she said.
Jack Stephans, who hails from the Atlanta area, earned his bachelor's degree in finance on Friday. Stephens thanked the team of administrators, faculty members, fellow students and alums at the College of Business for helping throughout his time at FSU.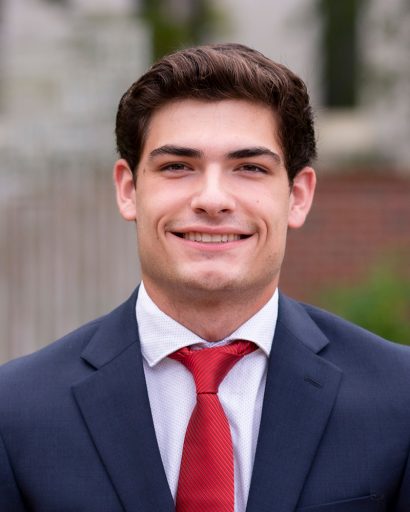 Stephans flourished as a student in the FSU Honors Program, including participation in the James M. Seneff Honors Program, which gives elite business students experience and knowledge through educational, volunteer and networking activities.
"I definitely will be a Nole for life," Stephans said. "And after these 3 1/2 years, there's no understating how much this university means to me."
Laura Pellini started her career at Florida State University's campus in Panama City, Panama, coming to Tallahassee through the university's 2+2 scholarship program.
Pellini, who was inducted into the Garnet and Gold Scholar Society last week, was previously awarded the Bess H. Ward Thesis Award for her thesis, which explores the representation of female actors in the marketing of movie posters during third-wave feminism. She is one of the fewer than one percent of graduating students this semester to complete an honors thesis in the Honors in the Major Program.
"Laura has excelled in our BA program as an artist who is sophisticated in her artwork and insightful in her critical thinking," said Elizabeth DiDonna, Department of Art BA director and associate teaching professor who oversaw Pellini's thesis. "Laura continues to demonstrate that she is wholly committed to artistic and intellectual labor, and I am excited to see what she does next."
Pellini, who worked with the Student Life Cinema and mentored students interested in graphic design, plans to pursue a full-time graphic design position.
"The flexibility of the BA program allowed me to do a little bit of everything," she said. "I feel like I am graduating with a more diverse background that is suited for different opportunities."
Born in Miami, Florida, and raised in Houston, Texas, Ashley Jackson, an Honors program participant who double majored in Environmental Science and Secondary Science Education through the FSU/Teach program, graduated Magna Cum Laude on Friday.
"This university is home to the most amazing people I have ever encountered, and it is because of them that I was able to call Tallahassee home," she said.
Jackson, an Honors program participant, challenged herself through various research opportunities at Florida State, working with the Marine Turtle Research, Ecology and Conservation lab via the Undergraduate Research Opportunity Program.
"I was so honored to work with the amazing scientists in that research lab and present at the Undergraduate Research Symposium," she said.
Jackson plans to become a middle school science teacher and hopes to share her love for science and "the wonder that comes from learning about our amazing world" with her future students.
"I hope to influence the future great science thinkers while making sure they know their dignity and worth as human beings," she said. "If nothing else, the impact I hope to make in my field is simply love; that love might overflow from me towards my students and coworkers."