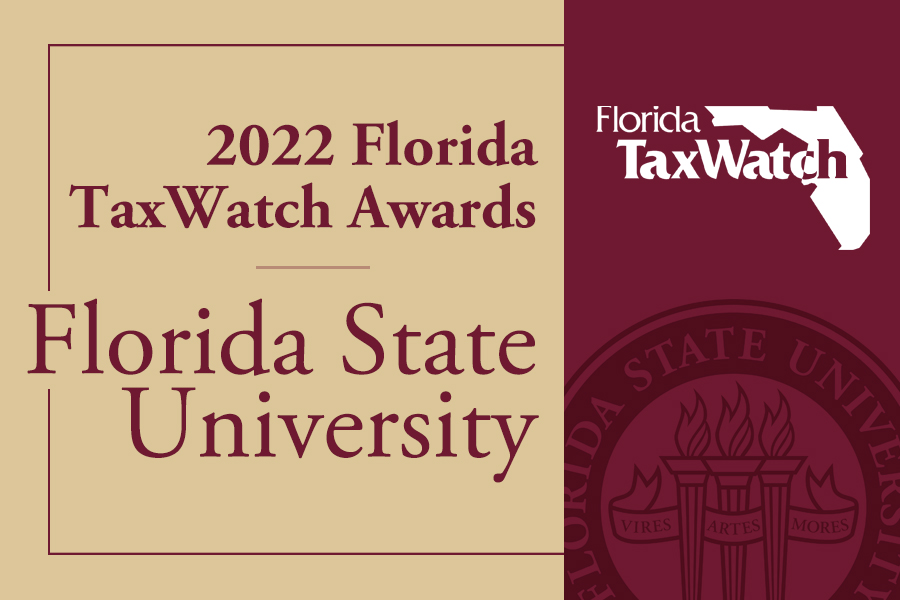 Florida State University employees representing teams, centers, offices and departments throughout the university this year claimed 15 Florida TaxWatch Productivity Awards, the most by any institution in the State University System.
The Florida TaxWatch Productivity Awards recognize and reward state employees and workgroups who find ways to improve services, increase efficiencies and save Florida taxpayers millions of dollars each year.
"FSU is the No. 1 university with the best and most productivity awards," said Dominic Calabro, president and CEO of Florida Tax Watch. "This is a one-of-a-kind program that recognizes, rewards and replicates excellence in state government."
FSU's winners were honored for their award-winning solutions and productivity improvements for state government during an awards ceremony Tuesday, Nov. 1. 
This year, Florida TaxWatch will present approximately 148 awards to thousands of individual employees and large teams from 17 state agencies and four universities across Florida, including FSU. The organization says that in total, its efforts will save taxpayers over $818 million, contributing to an estimated $12 billion in total savings since the Productivity Awards program was established.
Florida TaxWatch, an independent nonpartisan nonprofit government watchdog and taxpayer research institute, says it aims to serve as the eyes and ears of Florida taxpayers and to help promote stewardship of taxpayers' money.
"We are definitely aware of the talented faculty and staff that we have at the institution, but it's always exciting and affirming when someone outside the university recognizes all the hard work that our faculty and staff are doing to make sure we're efficient and effective in everything we do," said Renisha Gibbs, associate vice president for human resources and Finance and Administration chief of staff.
FSU's winners are listed below, along with their projected tax savings.
"I think it translates into a good-quality educational product for the students," Gibbs said. "That's why we're here, to make sure that we are educating our students. We are really excited and proud of the work we're doing with them, and when we're doing our work efficiently and effectively, that translates into a good experience for our students."
For more information, visit floridataxwatch.org.
---
Learning Systems Institute
Rabieh Razzouk, director of the Learning Systems Institute and director of the Florida Center for Research in STEM
Estimated Cost Savings: $3,750,000
Created an online portal to facilitate the state's instructional materials adoption process and communicate the information to all stakeholders in an efficient and time-saving method. The portal manages the process from registering vendors, accepting bids, processing all bids through the state's multi-step review process, and dissemination of information to the public, schools and school districts, and to teachers within tools such as CPALMS and the CMAP curriculum planner. Teachers now can select the book they use, and all the information they need for teaching is automatically inserted in their plans based on what and when they are teaching a topic.
---
Procurement Services
Rosey Murton, Chief Procurement Officer
Mitchell Jermyn, Senior Procurement Systems Analyst
Geneva Miller, Procurement Systems Analyst
To-Há Tang, Systems Administrator
Estimated Cost Savings: $95,879
From 2020-2021, the FSU Procurement Services department implemented an eProcurement warehouse catalog to streamline and distribute COVID-19 supplies for faculty, staff and students across campus. The sourcing effort and implementation of a warehouse during the pandemic when PPE resources were scarce was a significant challenge. Swift mobilization of technology and resource acquisition efforts were executed, and maximum savings were negotiated and achieved from suppliers in a very volatile marketplace.
---
International Programs Kicking Assets
Beth Brenneis, Program Director, Chief Financial Officer of International Programs
Erica Brooks, Application Developer of International Programs
Louis Wright, Senior Accounting Specialist
Charles Stratton, Manager of Information Technology Administration Partnership Program
Gina Mathis (Deceased)
Estimated Cost Savings: $336,287
Moved all International Programs Fees to the central online FSU Accounts Receivable System, which allowed payments to be made by students and their families at any time day or night. Previously, payments were received in the International Programs physical offices by mail, in person in the International Programs offices or by calling the International Programs Office with credit card information provided over the phone.
---
Research Computing Center
Mitch Gans, Data Center Manager
Estimated Cost Savings: $7,600
In July 2020, FSU purchased a new chiller from Trane for the Sliger Data Center cooling. This chiller replaced an 18-year-old unit for which a multi-year maintenance contract was in place with Engineered Cooling Services (ECS). Mitch Gans discovered that the new chiller included a 10-year maintenance service, so we incurred double maintenance costs. Mitch worked with ECS Senior Account Executive Brooks Brandewie to renegotiate the contract. As a result, he saved Florida State University $23,492.00 over the next three years by being proactive.
---
Sustainable Green Team
Mitch Gans, Data Center Manager
Will Hill, Assistant Director of RIDER Center
Kev Sullivan, Green Office Advocate
In March 2021, Mitch Gans with the Research Computing Center, Will Hill with the FAMU-FSU College of Engineering's Resilient Infrastructure and Disaster Response (RIDER) Center, and Kev Sullivan with the Center for Information Management and Educational Services at the Sliger Building formed the Sustainable Green Team, and achieved Green Office certification for their individual organizations and the entire building, making Sliger the first Green Office Certified building at FSU. They also implemented a new recycling program that for the first time enables participating campus organizations to prevent plastic drink can rings from being sent to the Landfill.
---
Provost (Graduation Planning & Strategies Office)
Jill Flees, Director for The Graduation Planning & Strategies Office
Angela Rivera, Graduation Specialist
Joe O'Shea, Associate Provost and Dean of Undergraduate Studies
Estimated Cost Savings: $16,888,999
Families around Florida plan and save for college as a four-year experience. But what if getting a bachelor's degree took only three years? FSU's redesigned Degree in Three program shows that it is possible. FSU works with incoming students to design and support a three-year FSU experience, without sacrificing educational quality. Graduating in three years reduces state and taxpayer costs and allows students to start their careers one year earlier. Since 2016, the program has grown over 100% with continued momentum, allowing an additional 346 students to graduate within three years for a total annual cost savings estimate of $16,889,000.
---
Facilities Utilities
Nariman Nusserwanji, Utilities Control Engineer
Estimated Cost Savings: $199,000
Nariman Nusserwanji designed and implemented a proprietary occupancy related optimization program to substantially reduce electrical energy and the CO2 footprint at FSU. Immense data collection since 2019 laid the foundation to achieve this daunting mission. This process relies on metered Measurement and Verification rather than less reliable simulated vendor programs. Metered savings are occurring at a daily rate of 3,815 KWH or 1,392,475 KWH annually. These numbers are projected to increase dramatically as additional buildings are progressively added.
---
Institute for Justice Research and Development
Carrie Pettus, Founding Executive Director of the Institute for Justice Research & Development
Amberly Prykhodko, Director of Clinical and Professional Services
Nancy Revell, Institute for Justice Research & Development (role unspecified)
Janeen Piotrowski, Institute for Justice Research & Development (role unspecified)
Kerensa Lockwood, Director of Research Implementation for the Institute of Justice Research and Development
Estimated Cost Savings: $19,800
Law enforcement officers are exposed to frequent violence and suffering on the job. When compared to the public, officers are five times more likely to develop depression and post-traumatic stress disorder (PTSD) and have an 82% higher risk for suicide. Post-traumatic mental health symptoms negatively impact officers' job performance and families. IJRD developed "Resiliency Behind the Badge," an online training curriculum providing a framework for understanding trauma, mind/body processes and PTSD. We partnered with the Florida Sheriff Association's Training Institute to provide free access to members, helping officers learn techniques to utilize safer coping behaviors in moments of stress at work and home.
---
Facilities Maintenance
Daniel Sheets, Associate Director of Facilities
Jeremy Tharpe, Assistant Director of Facilities
Chris Kimbrel, Maintenance Supervisor of Facilities
Steve Fryman, Key Shop Supervisor
Estimated Cost Savings: $75,000
In order to decrease costs and improve the efficiency of service, the Housing Key Shop was combined with the Facilities Maintenance Key Shop. The combined shop operates with two fewer locksmiths, which lowers the cost for key repair, cutting and distribution services. Service levels were maintained or improved.
---
Desigo Migration Team
James Stephens, Executive Director of Campus Utilities and Management
Susana Arias, Product Manager of Utilities Control Engineer (doesn't work here anymore)
Desiree Caceres, UX Project Lead of Facilities
Luis Villamil, Facilities Engineer (doesn't work here anymore)
Don Pittman, Technology Systems Specialist
Estimated Cost Savings: $96,000
The existing supervisory software system for our building automation systems (BAS) has been discontinued. The BAS system operates all campus buildings and provides information for the technicians and users to monitor conditions. The cost to migrate to the new system was estimated at more than $3,000 per building. The Desigo Migration Team was formed and completed the software and graphics update, replacing the expense of an external contractor.
---
Master Craftsman PPE Team
Phil Gleason, Studio Manager of Master Craftsman
William "Rick" Humphrey, Sign Shop Technician
Eric Pierce, Cabinet Maker of Maintenance
Mark Dickson, Master Craftsman Studio artist
Estimated Cost Savings: $120,000
From April 2020 through 2021, FSU's Master Craftsman Studio, which creates original artwork for Florida State University and other public and private entities, refocused its staff, expertise and equipment to design and produce personal protective equipment (PPE) — medical-grade face masks, face shields and plexiglass partitions — to meet the urgent needs within the FSU community and medical facilities in the surrounding area. The Studio's staff produced and distributed PPE at a fraction of the cost of commercially available products.
---
2+2 Pathway
Heather Bishop, Assistant Dean of Community College Relations and Student Advising Systems
Robin Haggins, Director of Transfer Student Services
Michael Hart, Academic Mapping Coordinator
Joe O'Shea, Associate Provost and Dean of Undergraduate Studies
Estimated Cost Savings: $11,874,700
The 2+2 pathways to transfer from a community college to university are supposed to be efficient and maximize cost savings for students. But in practice, the pathways are often riddled with inefficiencies because students at community colleges do not take a course schedule that is specifically aligned with university degree requirements. These practices result in costly extensions of students' time in higher education. FSU's Proactive Mapping and Advising Initiative addresses these challenges directly, providing community college students with tailored academic pathways and support. The initiative will result in faster degree completion for students and significant future cost savings.
---
Graduation & Commencement Services
Taylor Gomez, Assistant Registrar of University Registrar
Justin Beck, Enrollment Management Specialist of University Registrar
Vivian Hayes, Enrollment Management Specialist of University Registrar
Robby Willis, Enrollment Management Specialist of University Registrar
Megan Benson, Director of Enrollment Management Operations
Estimated Cost Savings: $4,600
This nomination highlights changes implemented to the Florida State University commencement ceremonies over the past year to accomplish a return to an in-person ceremony while maintaining CDC guidelines for social distancing and safety resulting from the COVID-19 pandemic. Spring 2021 commencement was the first in-person commencement since December 2019, and the typical commencement schedule was expanded to include additional ceremonies, allowing for fewer people at a time in the venue. To further accomplish social distancing regulations, the flow of individuals at the event was changed to maintain the social distancing guidelines. These changes were necessary due to the COVID-19 pandemic but resulted in efficiencies that have been adopted as permanent changes.
---
ERP
Gary Chismar, Technical Manager
Estimated Cost Savings: $45,173
This project leveraged scheduling software to loop through a configuration set-up table for processing Financial Aid. A new scripting program reduced set-up time from one week to under 10 minutes each term. Since Financial has several of these each term, set-up time for all processes was reduced from about one month's FTE time to about one-half hour. Risk was eliminated as the financial aid team now submits the set-up process in the form of an Excel spreadsheet. The data is then imported into our scheduling software (Automic) and is ready to run.
---
The Graduate School/Academic Affairs/The Graduate Enrollment Team
Summer Toomey, Assistant Director of Graduate School Enrollment
Estimated Cost Savings: $78,453
The Graduate Enrollment Team designed and implemented a centralized process "First Read Rules" that has decreased significant hours worked by the departments on application processing, the timeframe of application review, and has played a critical role in increased graduate enrollment. In this process, the team batch-identifies complete applications from incomplete applications, timestamps the date of completion and moves those applications into an easily identifiable "complete" bin for the departments. This batch process simultaneously alerts over 125 departments to recognize and process the complete applications for committee/department review. In addition, the team developed automated communication and messaging to applicants informing them of the whereabouts of their application in the process, further reducing workload for departments.