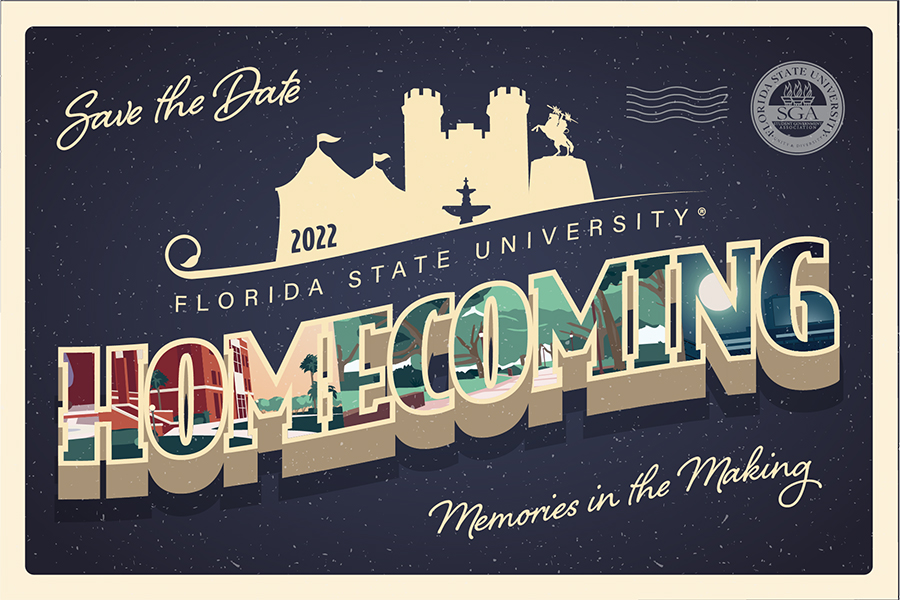 UPDATE: The FSU Alumni Association has postponed this week's events and activities associated with Homecoming between Thursday, Sept. 29, and Sunday, Oct. 2, until April 2023, including Friday's parade.
Student Affairs is working to move some student-oriented Homecoming events to Friday, Sept. 30, in addition to Homecoming Live scheduled at 8 p.m.
The FSU-Wake Forest football game in Doak Campbell Stadium is anticipated to be held as scheduled. Kickoff is 3:30 p.m. Saturday, Oct. 1. Please check alerts.fsu.edu and FSU's social media accounts regularly for updates. (Posted 2 p.m. Monday, Sept. 26, 2022)
---
Florida State University is getting ready for its 74th annual Homecoming Week, with a "Memories in the Making" theme that will connect students and alumni to a week of events and celebrations.
"Chalk on Legacy Walk," "Spirit Night" and "Golden Gala" kick off an innovative and exciting week of events that will take place Sept. 26 through Oct. 2. Festivities culminate with FSU's Oct. 1 Homecoming game against Wake Forest.
"Every year, Homecoming is a very special opportunity for the Florida State community to come together and celebrate our university and its traditions while reflecting on the progress we've made," said Adriana Nguyen, director of the FSU Homecoming Executive Council. "This year, we wanted Homecoming Week to reflect the generations of memories made by students, alumni, faculty and staff over the years as well as the ones still in the making. We hope that for the 74th time, Homecoming can bring our FSU family together to have fun, relive their best memories and make new ones."
For more information, visit homecoming.fsu.edu.
---
Chalk on Legacy Walk
Noon-5 p.m., Sept. 23 
Near the Integration Statue 
Chalk on Legacy Walk allows Recognized Student Organizations (RSOs) to decorate with chalk a space on Legacy Walk that highlights their organization and the Homecoming theme, "Memories in the Making." Banners painted by each participating RSO also will be hung around the new Student Union.
---
Spirit Night
7-9 p.m., Sept. 26 
Student Union Ballrooms 
Spirit Night is a talent show that displays the FSU student body's diverse talents as well as a "friendly spirit competition." FSU students are invited to come decked out in garnet and gold. Refreshments and exclusive homecoming merchandise will be available.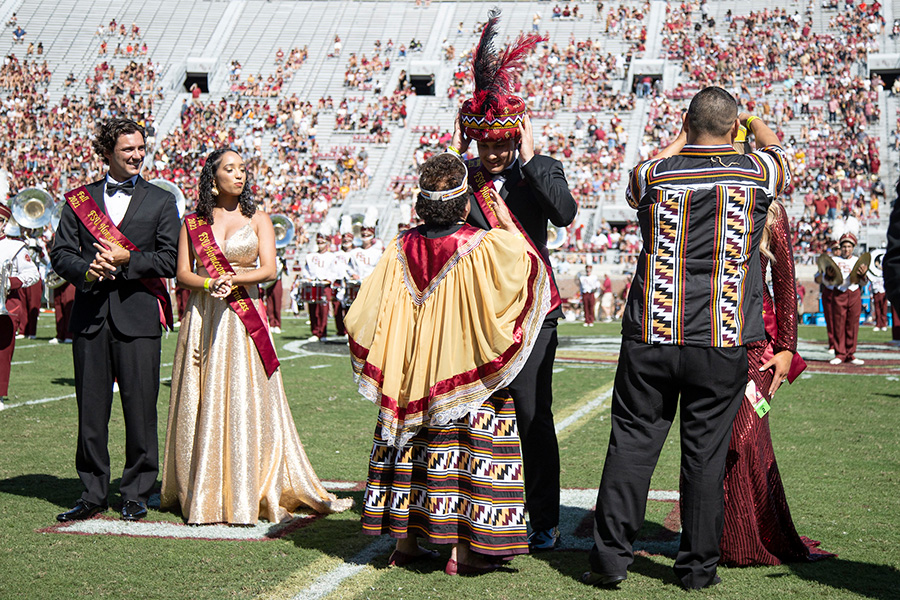 Golden Gala
2-5 p.m., Sept. 27 
Student Union Ballrooms 
Golden Gala is an art gallery and art-making experience in which FSU service organizations celebrate their commitment to the university's tradition of giving back to the community. Multiple Recognized Student Organizations will share information on service opportunities across campus and engage with students in service projects such as making blankets, writing letters and conducting a hygiene item drive for Ronald McDonald House Charities. These organizations will have the chance to highlight their purpose and express themselves through their art. Refreshments and exclusive homecoming merchandise will be available.
---
Homecoming Festival
1-5 p.m., Sept. 28 
Landis Green 
The Homecoming Festival will offer thrill rides, food, exclusive homecoming merchandise and an opportunity to meet with SGA agencies and learn about opportunities for involvement across campus in celebration of the Florida State University Student Body's diverse origins and identities.
---
Chief and Princess Voting
8 a.m.-5 p.m., Sept. 28 
Virtually at homecoming.fsu.edu 
Chief and Princess Voting is a chance for students, staff and alumni to choose who they want to represent at FSU Homecoming this year. Homecoming Chief and Princess candidates' photos, names and bios will be posted online.
---
Odds & Evens
5-8 p.m., Sept. 29 
Main Campus Fields 
Odds & Evens is a unique combination of past Homecoming Week events, with laid-back and structured games such as dodgeball, kickball, soccer and flag football. The event also will include yard games such as cornhole, spike ball, ladder toss and more. Refreshments and exclusive homecoming merchandise will be available.
---
10th Annual Young Alumni Awards
5:30 p.m., Sept. 29 
FSU Alumni Center Ballroom 
New this year, the Young Alumni Network will host the inaugural Young Alumni Reunion, where alumni ages 35 and under can make new connections, network with other young professionals and return to the place they once called home. The 10th Annual Young Alumni Awards will honor recipients of the Reubin O'D. Askew Young Alumni Award and Notable Nole recognition. An afterparty at 51 on Madison will follow the event.
For details and Young Alumni Awards registration, visit gonol.es/yaa22.
For details about the Young Alumni Reunion, visit gonol.es/YAreunion22.
---
FSU National Black Alumni Reunion
Sept. 30-31 
Black Student Union House 
The FSU National Black Alumni Reunion will feature a weekend of events to unify Black alumni from all decades and from every college, school and Greek-letter organization, plus current students and other constituent groups. This year's event will include special events honoring the 60th anniversary of integration. Friday will include a campus tour and a private meet-and-greet honoring Sankofa Emeritus alumni at the BSU House. On Saturday morning, a special breakfast in the Alumni Association Ballroom will honor our Sankofa Emeritus Alumni who are recognized as the first Black graduates from Florida State University.
For more reunion events and registration, visit gonol.es/BAreunion22
---
FSU Homecoming Parade
2-3 p.m., Sept. 30 
Begins at the Donald L. Tucker Civic Center and ends at Westcott Fountain 
The FSU Homecoming Parade celebrates student organizations and members of FSU and the Tallahassee community such as the Marching Chiefs, the Flying High Circus, Golden Girls and royalty of the Seminole Tribe. Onlookers can enjoy FSU's celebratory features through decorative floats, spirited performances and Homecoming court nominees. Maxine Montgomery, a lauded professor in the FSU Department of English since 1988 and an impactful scholar whose work has risen to the pinnacle of African American Studies, will serve as Grand Marshal.
---
Alumni Awards Gala
5:30 p.m., Sept. 30 
FSU Alumni Center Courtyard and Ballroom 
The Alumni Awards Gala celebrates notable alumni who, through their service and achievements, personify Florida State University's tradition of excellence. The event will recognize the 2022 Circle of Gold inductees as well as the Bernard F. Sliger Award honoree, the recipient of the highest honor bestowed upon an alumnus by the FSU Alumni Association.
For details and event registration, visit gonol.es/gala22.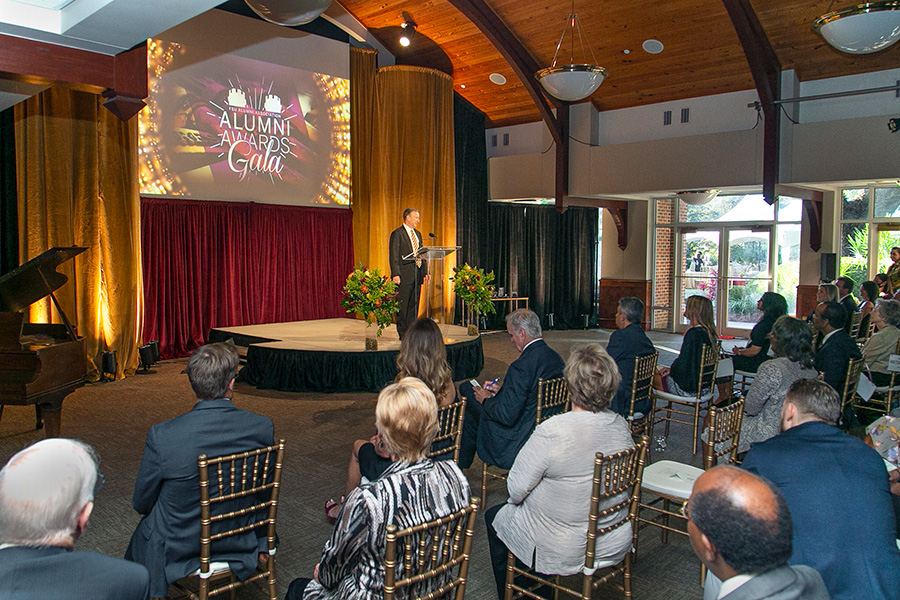 ---
Homecoming Live
Doors open at 7 p.m.; 8-10 p.m. on Sept. 30 
Donald L. Tucker Civic Center 
Homecoming Live is a pep rally featuring multiple student-performance groups and musical artists. Attendees will also witness the crowning of FSU's 2022-2023 Homecoming Chief and Princess and the announcement of the winners of each Homecoming competition participant category. Free tickets will be available for FSU students, with general admission ticketing for the public.
For more information, visit https://homecoming.fsu.edu/events/hc-live.
---
Garnet and Gold Tailgate
Oct. 1; two hours before kickoff 
On Saturday, Oct. 1, FSU's football team will play against Wake Forest at Doak Campbell Stadium. Prior to the kickoff, the Garnet and Gold Tailgate will take place by Heritage Fountain, where students and families alike can celebrate an annual Florida State tradition while channeling a victory for the Seminoles. The tailgate will consist of food, music, games and more.
---
Emeritus Classes of 1972 Induction Brunch & Awards Ceremony
10 a.m., Oct. 2 
Alumni Center Grand Ballroom 
The Emeritus Alumni Society will host the Emeritus homecoming reunion weekend, which includes a welcome lunch, campus bus tours, special parade seating and the Emeritus Class of 1972 Induction Brunch & Awards Ceremony.
For event registration and a list of other Emeritus events happening during Homecoming, please visit gonol.es/emeritusreunion.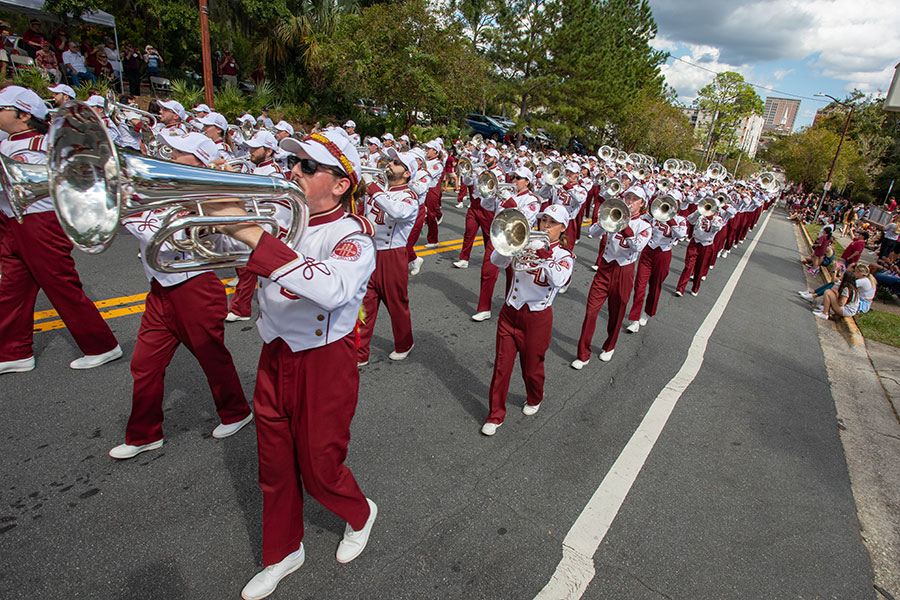 About Florida State University Homecoming
The Homecoming Executive Council consists of students who plan events for the FSU campus and community each year. Each position within the council helps in coordinating events, which involves working with volunteers and student groups, managing communications and seeking sponsorships. The Homecoming celebration consists of a week of on-campus events including but not limited to the Homecoming Live pep rally, Homecoming Carnival, Odds and Evens, The Golden Gala, Parade, Chief and Princess Elections, and the Garnet and Gold Tailgate. The week culminates with the Homecoming football game at Doak Campbell Stadium.  
About The FSU Alumni Association
The FSU Alumni Association works to create meaningful connections between alumni and Florida State University, strengthening the alumni network and supporting students on campus every day. Learn more at alumni.fsu.edu.