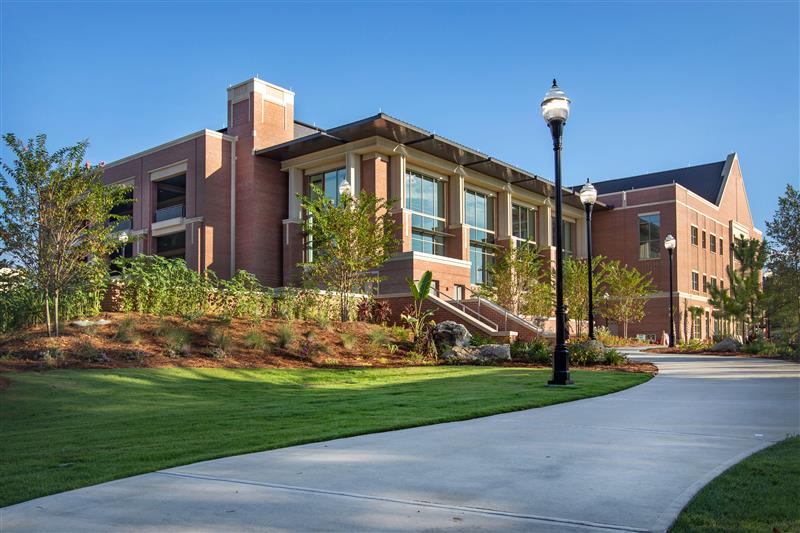 Four restaurants, a 12-lane bowling alley, a sports bar and a ballroom so big it's measured in acreage: Welcome to your new Student Union, Florida State University.  
And behold a formidable four-story facility devoted to taste, play, study, relaxation and community.
At about 300,000 square feet and rising 80 feet from the heart of campus, the Student Union features a red-brick façade and soaring windows, ensuring that it both fits in and stands out. Inside, the whiff of fresh paint fills the air, and so does the buzz of people who already have flocked in. 
Entering the lobby, you find it immediately clear the union's architects and designers delivered on the university's mandate to factor natural light into the plans. Even from the basement floor, the sky is visible, and from the Student Government Association's Senate chambers — located in the center of the third floor — you can still enjoy a view of Doak Campbell Stadium.
Throughout the building, high-top tables, lounge chairs, couches and cushioned serpentine-shaped benches wind their way through open space. These seating options and meeting spaces provide a spectrum of choice for those looking to catch up with friends — or quietly catch up on classwork.   
Brandon Bowden, associate vice president for Student Affairs and part of a team of administrators, faculty members and students who charted the Student Union's path from concept to completion, trumpeted the new facility as a cutting-edge achievement for the FSU community. 
"It's one thing to see it on paper, but to see it leaping off the pages into reality, that's exciting," he said, noting that more than four years have passed since the closing of the union's predecessor, Oglesby Union. "This is something that's a long-time coming for our students and our faculty and staff. The union is the centerpiece of our campus, and I think it's one that everyone will want to show off."
---
Here's a closer look:
Restaurants
When the Student Union was still in its idea phase, students made it clear they wanted food choices; that's what they got in the form of a four-restaurant roundabout located off the main lobby. Pollo Tropical offers food inspired by Latin-Caribbean cuisine. Panera Bread has an assortment of bakery café fare, including soup, salads and sandwiches. Panda Express offers American-Chinese food, and famished visitors hoping for a hot slice of pizza will find it at Brooklyn Pizza, which, despite its name, is a Tallahassee-based business. And, of course, there is a Starbucks ready to fill all your caffeinated needs.  
Bookstore
An expanded FSU bookstore offers students more space for perusing and congregating. Visitors to the old location will notice a host of updates including tables and seats in the books section, yet more meeting and study space for students.
Rooms with a view
Those looking for panoramic views of campus now have no shortage of options thanks to second- and third-floor balconies. With the 100-year-old oaks of Legacy Walk in the foreground and a sea of green unfolding all the way to Doak Campbell Stadium, onlookers will see campus in a whole new way. The university plans to add furniture to some of the balcony space to entice people to stick around for a while.  
Bowling and billiards
In the basement, a 12-lane bowling alley awaits. Complete with an array of funky, atmospheric lighting options, the lanes also feature some familiar elements, including photos of campus iconography. The ends of the lanes have been labeled with language evocative of FSU, including "vires," "artes" and "mores," from FSU's motto. Student Union Assistant Director Michael Fine pointed out that the eight seemingly brand-new billiards tables have been at FSU since 1964. They've been balanced, and they retain their original charm with the help of new pockets, bumpers and felt.   
Ballroom(s)
No space in the entire union expresses itself through sheer size like the ballroom. At about 15,000 square feet, or a third of an acre, it's bigger than three basketball courts. That swath can be spliced into five separate rooms by a set of air walls, lightweight partitions stretching almost 30 feet from the floor to the ceiling. The space will accommodate an array of large events, and it already has hosted several student events of more than 600 people.  
Sports bar
Those looking to enjoy FSU sports will find an ideal space on the basement floor: The C3 Sports Bar will soon be open and offer an assortment of barroom menu favorites, plus a selection of beer and wine. The game-watching experience will be heightened by the addition of a massive screen that is awaiting installation this fall. 
Club Downunder
Events are already booked for the new music and dance venue. The club features a dance floor and cutting-edge technology to ensure that the atmosphere engages clubgoers and supports the acts on stage. Ample dressing-room space and the latest audio-visual technology are set to lure and accommodate acts.
Art studios
The basement is also home to an art center, which includes space devoted to painting and, next door, a studio for clay works. Works produced by FSU students will be available next to the studio space in the art retail center.   
Trees, grass and greens
Outside the Union, new sod is taking root, and a series of paths and walkways connect the facility to the adjacent Moore Auditorium and Legacy Walk. The property is dotted with newly planted trees, including 12 tall palms greeting those who pass through the building's main west-side entrance. 
A subtle memorial
On a stairway near an entrance to the bookstore on the building's west side is a feature that could go unnoticed — unless you know what to look for. One of the union's early architects, Ian Sommerfeldt, died unexpectedly in December 2018. In acknowledgment of his life and work, designers and craftsmen arranged a series of bricks protruding slightly from surrounding masonry to spell his first name in Morse Code.