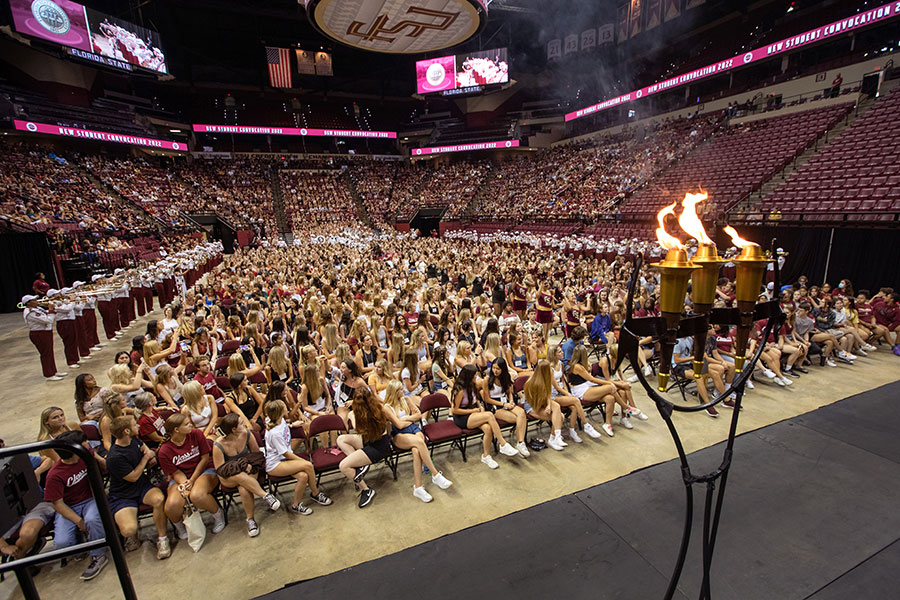 A new generation of Florida State University students learned university traditions and gleaned advice from their peers and administrators during New Student Convocation Sunday, Aug. 21, at the Donald L. Tucker Civic Center. The fall semester begins Aug. 22.
Thousands of members of the Class of 2026 — as well as returning students — took part in the convocation ceremony, the first time FSU has held the event in three years. The annual ceremony welcomes students into the FSU community and introduces them to the university's values and traditions.
Provost Jim Clark, the university's top academic officer, congratulated the Class of 2026 on their admission to FSU and being the most academically talented class in the university's history.
"We have high expectations for you, and we know you'll achieve greatness during your time here at Florida State," Clark said. "You have the extraordinary potential to be the transformational leaders of your generation. This is both an opportunity and a responsibility of being a student at one of the world's top institutions of higher education."
Clark urged students to take advantage of the academic opportunities offered at a major research university like Florida State.
"I urge you to take a deep dive into your college experience," Clark said. "Approach your coursework with an open mind, explore new fields, re-examine your own assumptions and enjoy the intellectual opportunities and challenges here at FSU as you learn from faculty members who are renowned researchers, artists, and scholars."
He also reminded students to ask for help if they need it — and to offer help to those in need.
"If there is one thing I have learned, it's to never shy away from asking for help and to always be generous and kind in giving help and assistance to others," Clark said. "That's what it means to be part of a caring, supportive family like Florida State University."
Joe O'Shea, dean of Undergraduate Studies and associate provost, championed the benefits of scholarly engagement to the new class.
"We expect you to engage fully at FSU — in the kind of rigorous, deep thinking that will shape you into a scholar — and also in the activities that will help you become a person of great strength and character who will make a meaningful difference in the world," O'Shea said.
O'Shea told students that they are now ambassadors of FSU.
"You take on the responsibilities of representing the best of this community on and off campus, upholding the FSU honor code, and modeling the values we stand for," he said.
Vice President for Student Affairs Amy Hecht encouraged students to find ways to get involved outside of the classroom as it will help them create a greater sense of belonging and adjust to college life.
"Through this transition, remember to be good to yourself as you work hard on your studies," Hecht said. "Find healthy ways to balance your academic, extracurricular, and social life. Get involved at Florida State — you'll meet new people, some like you and some very different than you."
Student Body President Nimna Gabadage echoed Hecht's advice.
"These few years are for you to explore, learn and open as many doors as you can, and I promise you, FSU has a lot of doors to open," he said.
Student leaders and Presidential Scholars Alex Chang and Abril Hunter shared some of their favorite things about FSU's campus — from having lunch with friends at the Suwannee Room to cheering on the Seminole athletics teams.
O'Shea invited three upperclassmen to light the university's three torches, which represent FSU's values — Vires, Artes, Mores or Strength, Skill, Character — which have been part of the university's culture for over 100 years and appear in its seal.
Alex Hilton, a hospitality and tourism management major who is a member of the beach volleyball team, lit the torch symbolizing Vires. Artes was lit by Dhenu Patel, a senior double majoring in exercise physiology and public health and a Goldwater Scholar. Gladine Lamarre, a member of the CARE program who is pursuing a dual degree in political science and criminology, lit the Mores torch.
"Together, these three torches represent the pledge of Florida State University to educate you holistically, preparing you for success after graduation," O'Shea said. "We are here to support each of you as you embark on this journey."
Students were given pins with the same torches lit on stage, a symbolic extension of the described values they represent.
FSU ROTC Cadets Dylan Hampton, Colby Hampton, Zachary Capps and Alysha Vidal served as the color guard for the ceremony. Melanie Orta, an FSU student and active member of the U.S. Air Force Reserve, led the Pledge of Allegiance and junior Rachel Anderson sang the National Anthem.
The event concluded with a special appearance by the FSU Marching Chiefs and Spirit Team who led students in singing the FSU Fight Song and the Warchant.
Following the ceremony, students attended a Convocation After Party at the new Student Union, featuring food, live music, bowling and more.