Dazi Lenoir, an Orlando-based lawyer and two-time graduate of Florida State University, has been named chair of the FSU Alumni Association's board of directors, effective July 1.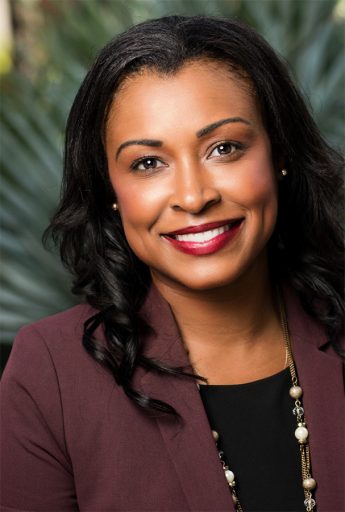 She is the first Black woman to hold the position.
"This moment is one for all of us to celebrate the great diversity of our national board of directors and the FSU community," Lenoir said. "I realize that I would not have this tremendous opportunity without the sacrifice and dedication of those who came before me and paved the way. I look forward to working collectively to continue the great work that we do on behalf of our alumni base."
Lenoir previously served as vice chair of the board of directors and chair of the board development committee. As committee chair, she committed herself to the board's diversification, specifically advocating for more women and people of color.
Her years of service to FSU also include a seat on the president's search committee, leadership in the Seminole Club of Greater Orlando and participation in the FSU Black Alumni Network. She is also a life member of the FSU Alumni Association.
University officials laud her for creating and sustaining meaningful connections with students and alumni.
"Chair Lenoir represents the very best of Florida State University, and her election to this role is historic," said Julie Decker, president and CEO of the FSU Alumni Association. "This moment is the result of year-over-year dedication to our alumni from her involvement in the Seminole Club of Greater Orlando to the Black Alumni Network and our National Board."
Decker added: "Dazi always answers the call when FSU seeks her volunteer leadership, and we are better for it. I look forward to a transformational year ahead for FSU advancement with Dazi at the helm of the FSU Alumni Association's leading volunteer board."
As chair, Lenoir leads the chief governing body of the FSU Alumni Association, representing the interests of the organization's members and constituents. The board is responsible for approving an annual association budget, setting policy, following the university's strategic plan and providing input, oversight and expertise.
Lenoir is a legal and sales professional who was a founding and managing partner of Lyons & Lenoir LLC, now Lyons Legal, LLC which specializes in personal injury and wrongful death litigation. She began her professional career in Indianapolis, where she worked for Pacers Sports & Entertainment in their sales and marketing department.
Her legal career began with a concentration on personal injury and wrongful death litigation with the Parks & Crump law firm of Tallahassee, where she settled her first $1 million case. She later practiced for a personal injury firm in Orlando, where she served as a pre-suit attorney and settled more than $1 million in cases for Central Florida clients.
Lenoir earned a bachelor's degree in English literature with a concentration in business in 2002 and a master's degree in sports administration in 2003.
As a student at FSU, she was elected 2001 Homecoming Princess and was a member of Alpha Kappa Alpha and the president's cabinet of the Student Government Association. She was named member of the year of the Garnet & Gold Girls recruiting organization in 2000 and served as vice president in 2001.
For more information, visit https://alumni.fsu.edu/.