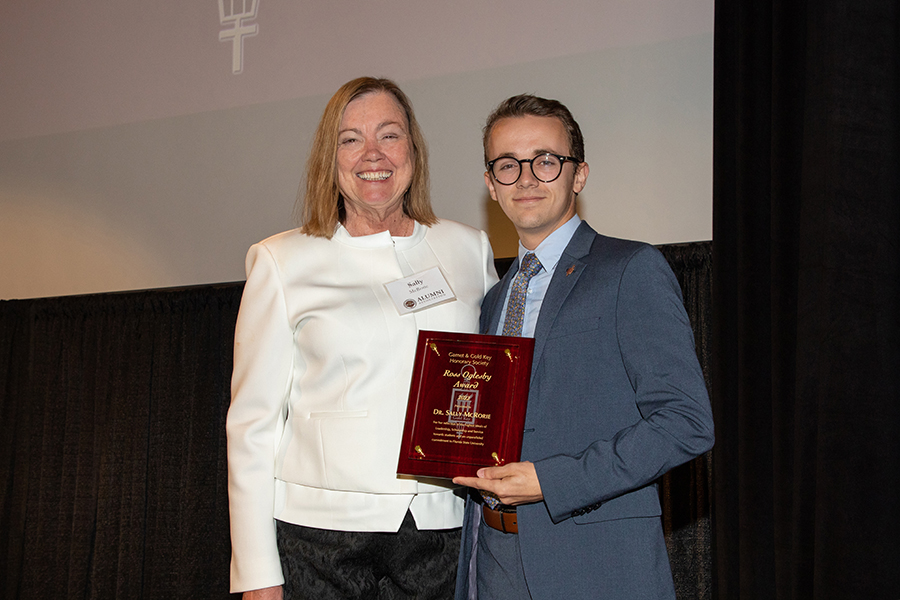 Sally McRorie, a longtime Florida State University faculty member and administrator who recently served as provost and executive vice president for academic affairs, has received the 2022 Ross Oglesby Award from Garnet and Gold Key, the university's oldest and most prestigious leadership honor society.
McRorie received her award on April 8 during the FSU Alumni Association's second annual Spring Alumni Awards at the Alumni Center Grand Ballroom.
Garnet and Gold Key each year presents the Ross Oglesby Award to a faculty or staff member who for 10 years or more has exemplified the highest order of integrity, service and commitment to the university and its students.
"The most wonderful thing about FSU is its consistent focus on students," McRorie said. "I've been privileged to help lead many efforts that have increased all our students' success and resulted in greater national recognition. The Oglesby Award is especially important to me as it comes from the students themselves. Thank you, Garnet and Gold Key."
McRorie joined the FSU faculty in 1994 as professor and chair of the Department of Art Education and co-director of the Florida Institute for Art Education. Through 2015, she served in various positions, including dean of the College of Visual Arts, Theatre and Dance, now the College of Fine Arts, and vice president for faculty development and advancement.
President John Thrasher appointed McRorie as provost in November 2015. Under her leadership, FSU saw record retention and graduation rates, eliminated disparities in its diverse undergraduate population and soared into the Top 20 among public schools in the U.S. News and World Report rankings. The university also brought in its most talented and diverse classes, set records for the number of first-year applications for admission and enrolled the highest number of graduate students in its history.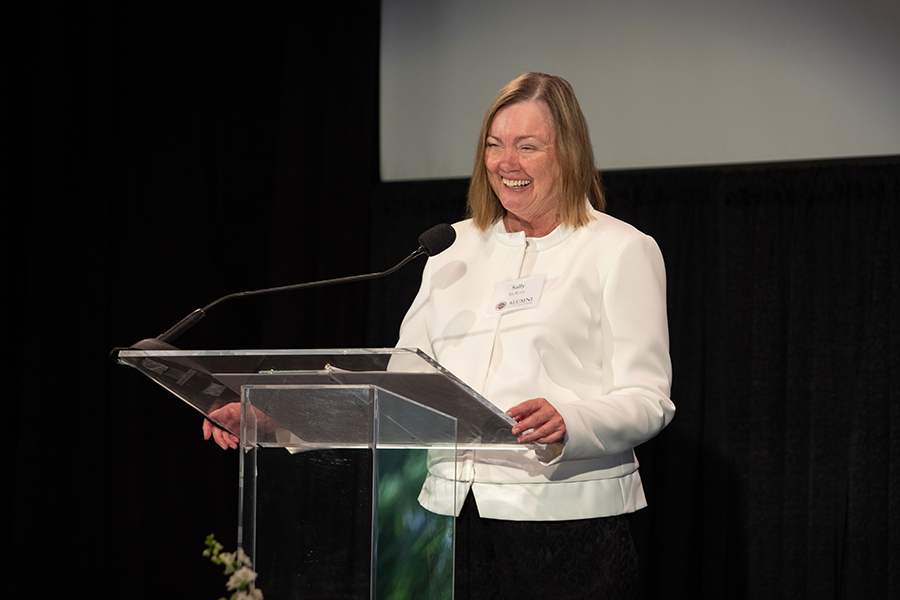 In a desire to return to teaching, McRorie stepped down as provost late last year.
"I could not think of a more deserving, dedicated and accomplished individual to receive the 2022 Ross Oglesby Award," said Quentin England, the Garnet and Gold Key president for the 2021-22 academic year. "Many of Florida State's recent accomplishments, like our meteoric rise to the Top 20, are thanks to her efforts, so I found myself hard stuck to imagine anyone who embodies the values of this award more than her."
Garnet and Gold Key, founded in 1924 on the principles of leadership, scholarship and service, established the award in honor of Ross Oglesby, who served as dean of students and as a professor of government at FSU before his passing in 1973.
The Spring Alumni Awards, hosted by the FSU Alumni Association, recognizes the accomplishments of students, alumni, faculty and staff who have redefined standards in their fields and solidified their places in FSU history.
"The Spring Alumni Awards is such a special engagement for the FSU Alumni Association," said Julie Decker, president and CEO of the FSU Alumni Association. "From our partnership with Omicron Delta Kappa in awarding our Grads Made Good to distributing two Alumni Ambassador scholarships and the unveiling of the 2022 Ross Oglesby Award honoree, it's a night that truly highlights the best of FSU's students, faculty and alumni."