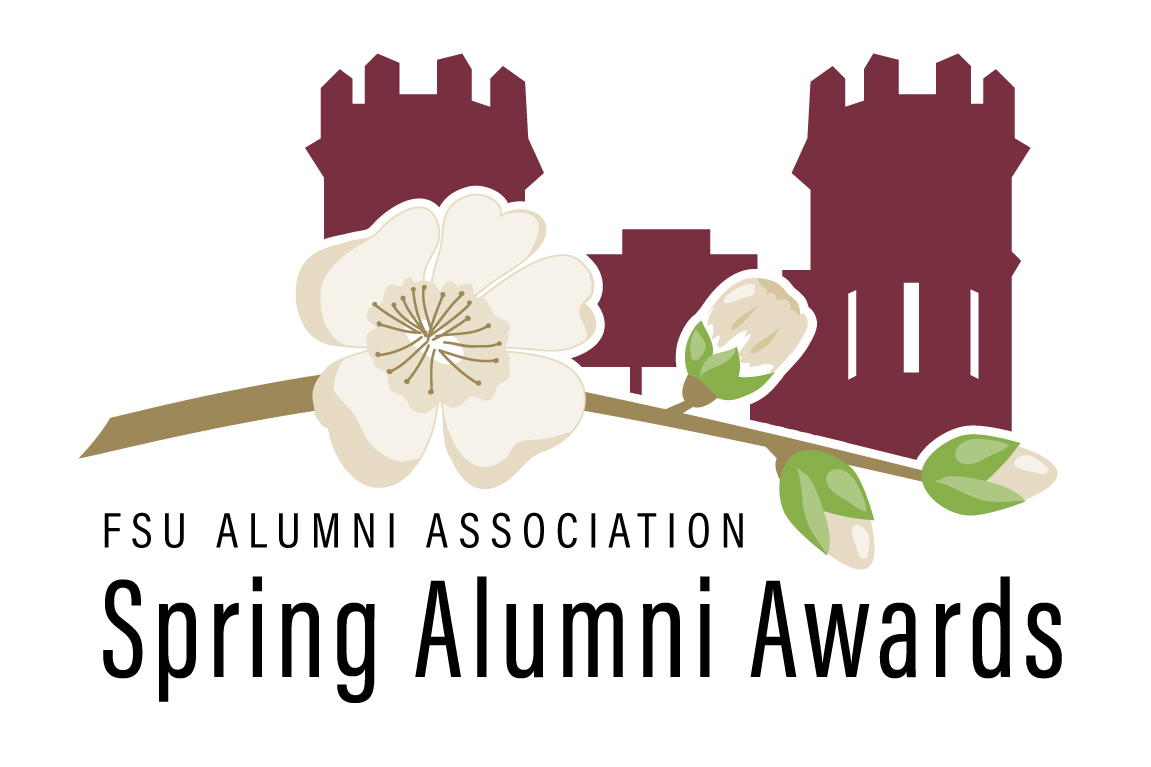 The Florida State University Alumni Association will recognize seven faculty, staff, students and alumni during the second annual 2022 Spring Alumni Awards.
The ceremony, which will take place from 5:30 to 7:30 p.m., Friday, April 8 at the Alumni Center Ballroom, will commemorate recipients of the FSU Alumni Association and Omicron Delta Kappa's Grads Made Good Awards, the Alumni Ambassadors Scholarship and the Garnet and Gold Key's Ross Oglesby Award.
"The annual Spring Alumni Awards is always special, not only because it is one of the most beautiful times of the year to be on campus, but also because we get to recognize our outstanding honorees," said Julie Decker, president and CEO of the FSU Alumni Association. "It really is an evening like no other where we can share in celebrating what makes FSU alumni unique — a commitment to excellence, community and Florida State."
Tickets for the in-person event are $10 for current students, $25 for Alumni Association members and $35 for nonmembers.
---
GRADS MADE GOOD AWARDS
More than 100 Florida State University graduates have been recognized as Grads Made Good, a program honoring alumni who have made outstanding contributions in their community or chosen field. Each spring, the Florida State University Circle of Omicron Delta Kappa (ODK), which founded the program in 1974, joins forces with the FSU Alumni Association to co-present the Grads Made Good Awards.
Lisa J. Balskus (B.S.N. '84)
College of Nursing 
St. Johns, FL  
Lisa J. Balskus, a registered nurse in the Mayo Clinic's post-anesthesia care unit, displayed true heroism while providing care during the COVID-19 pandemic. Balskus has been a member of the Florida State Guard Family Support Program for more than 20 years, which brings together military members, civilian employees and volunteers to support military families. Her steadfast commitment to this cause resulted in outreach programs for many service members, particularly in the areas of healthcare and household post-deployment adjustments. The Governor of Florida awarded Balskus the Military Spouses Medal of Courage and the Florida Distinguished Service Medal for her efforts. Balskus also volunteers with the Quilt of Honor Program, Wounded Warrior visits to Walter Reed Medical Center and Remembering the Vets, all of which support military personnel.
José B. Fernández (B.A. '70, M.A. '71, Ph.D. '73)
College of Arts and Sciences  
Oviedo, FL  
Jose B. Fernandez is a professor emeritus of history and modern languages at the University of Central Florida (UCF). Fernandez's career in higher education began when he was appointed chair of the Department of Foreign Languages at the University of Colorado at Colorado Springs. He went on to become the university's first Hispanic dean, leading the Division of Arts and Humanities until 2016. He was a lauded professor who wrote more than 26 books, 40 articles and co-authored 11 high school and college textbooks during his tenure. From 1992 to 1998, his co-authored college textbook series "¡Arriba!" was the most widely used textbook in the United States. Fernandez received the Pegasus Professor Award, UCF's highest faculty honor, in 2001 for extraordinary teaching, research and service. Regarded as a preeminent scholar in the field of Hispanic history and literature, Fernandez was appointed by former U.S. President George W. Bush and reappointed by President Barack Obama as a member of the National Museum of the American Latino Commission. As chair of the President's Commission on the Status of Racial and Ethnic Minorities at UCF, he was instrumental in the university's designation as a Hispanic Serving Institution in 2018.
Jocelyne Fliger (M.S.W. '15)
College of Social Work  
Tallahassee, FL  
Jocelyne Fliger is a certified crisis worker with the American Association of Suicidology and a certified information and referral specialist with the Alliance of Information and Referral Systems. Fliger worked full time and became an on-call victim advocate while pursuing her master's degree. She was awarded the Charles Morris Victim Advocate of the Year Award by the Tallahassee Police Department for her efforts. In 2020, Fliger was named president and CEO of Elder Care Services, a nonprofit organization dedicated to advocating for Tallahassee's elderly population. In response to the COVID-19 crisis, she revamped the Meals on Wheels program and delivery methods, created online events to keep seniors engaged, had volunteers call clients to provide a social touchpoint throughout the pandemic and started a monthly LGBTQ+ senior support group. Fliger was named a "Woman to Watch" by the Tallahassee Woman Magazine and named one of "25 Women You Need to Know" by the Tallahassee Democrat. She also received the "Women on Fire" award in the Service category by Tallahassee Woman Magazine and received a National Social Worker of the Year nomination from the National Association of Social Workers.
Sean Pittman (A.A. '89, B.S. '90, J.D. '94)
College of Social Science and Public Policy, College of Law  
Tallahassee, FL  
Sean Pittman is CEO of Pittman Law Firm, which specializes in government, administrative and corporate law. Pittman is a former Student Body President, Kappa Alpha Psi fraternity member, president of the Orange Bowl Committee, general counsel to the National Bar Association and the founder and chair of the board of the Big Bend Minority Chamber of Commerce. Pittman is a member of the FSU Foundation Board of Trustees and the College of Law's Board of Visitors and served on the College of Law's dean search committee. For his philanthropic endeavors, he received the 2016 Heman Sweatt Award from the National Bar Association, the Tallahassee Servant Leadership Award from the Greater Tallahassee Chamber of Commerce, the 2015 Distinguished Member Award from Leadership Florida and the Founders Award in 2014 from the Big Bend Minority Chamber of Commerce. Pittman is the former chairman of Children's Home Society and has served on the boards of the Apalachee Center, Leon County Civic Center Authority, United Way of the Big Bend and Children's Campaign. In 2010, Pittman donated $100,000 to the Florida State University College of Law to fund the Sean Pittman Scholarship for minority students. In 2020, Pittman was named to the Big Ten Athletic Conference Anti-Hate and Anti-Racism Coalition to help address racial bias and support student-athletes in the fight against racism and hate. Pittman is ranked one of the "Top 100 Most Influential People in Florida Politics" by Influence magazine and one of the "Top Twenty-Five Most Influential People in Tallahassee" by the Tallahassee Democrat.
---
ALUMNI AMBASSADOR SCHOLARSHIP
Founded by the Alumni Association's National Board of Directors, the FSU Alumni Ambassadors Scholarship seeks students who have demonstrated commitment, vision and potential for lifelong leadership and innovation in their communities and around the world. Financial awards are granted to current junior, senior or graduate students enrolled at Florida State University and may be used at the student's discretion for educational expenses such as research projects and associated fees, including travel.
Jane Benoit from Jacksonville, Florida, is a second-year Ph.D. candidate in Florida State University's Department of Biological Science's Cell and Molecular Biology graduate program. Her current research focuses on how viral infections and innate immune stimulation alter DNA packaging in human cells, with a particular interest in SARS-CoV-2. She earned a Bachelor of Science degree in biology with minors in psychology and chemistry from the University of North Florida while working in an arthropod-borne virus laboratory. Benoit has taught four different courses in the FSU Department of Biological Science as a teaching assistant, ranging from an introductory laboratory to intensive modern molecular biology. In addition to mentoring undergraduate students through the Undergraduate Research Opportunity Program and the Florida Georgia Louis Stokes Alliance for Minority Participation programs, she is a steering member of the departmental Diversity, Equity and Inclusion Committee and the graduate student welcome committee.
Kristina Lynch (B.S. '21) from Granger, Indiana, earned her bachelor's degree in Biological Science from FSU, with a minor in chemistry from the College of Arts and Sciences. As an undergraduate student, she conducted research on DNA replication timing in the Gilbert Laboratory and was awarded funding to present her findings at the Florida Undergraduate Research Conference. Lynch is currently pursuing her master's degree in exercise physiology with the goal of attending medical school to pursue a career as an orthopedic surgeon and research scientist specializing in the use of stem cells to treat neurological diseases. She is a two-time National Champion with the FSU Women's Soccer Team and a member of the Student-Athlete Leadership Council.
---
ROSS OGLESBY AWARD
The Ross Oglesby Award, established in 1972, is presented each year by the Garnet and Gold Key to an FSU faculty or staff member who has worked at the university for at least 10 years. As a long-standing tradition, the recipient's name is kept a secret until the moment of presentation.
For more information on the 2022 Spring Alumni Awards and to purchase tickets, visit https://www.eventbrite.com/e/spring-alumni-awards-tickets-269870739647.