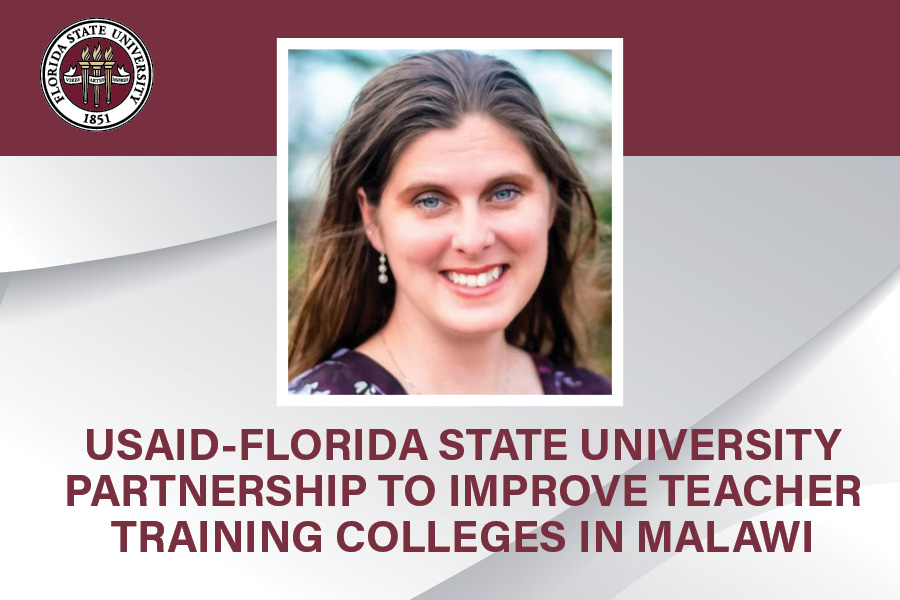 Florida State University's Learning Systems Institute (LSI) will lead a $15.6 million project sponsored by the U.S. Agency for International Development (USAID) to improve teacher training in Malawi.
The Strengthening Teacher Education and Practice (STEP) Activity will improve the higher education system that trains primary school teachers in the country as well as the professional development practices that support teachers through their careers.
"We will be impacting every single teacher that teaches primary school in all of Malawi, which means that we will impact every child," said Adrienne Barnes-Story, project director and LSI research faculty member. "It's just mind-blowing that we're going to have the opportunity to impact the entire primary education system while strengthening the higher education network of institutions necessary to carry this work forward."
LSI faculty will work with 16 teacher training colleges across the country to improve teacher education programs and develop new training materials related to literacy and numeracy education. Another part of the project will provide support to the Ministry of Education to deliver continuous professional development courses to teachers who are already in classrooms. The STEP project is a landmark investment by USAID to support the institutions of higher education that provide pre-service teacher education.
The professional development portion of the work will build on a previous project through the Malawi Ministry of Education to digitize an online data collection system for student progress and teacher development. That initiative will help formalize the teacher certification process and give the Malawian government better data to inform its decisions about education.
Malawian Ministry of Education officials and teacher training college administrators will have exchange visits to colleges in neighboring Zambia, where FSU is implementing another USAID program to improve teacher education to share experiences, and best practices.
Classroom instruction in Malawi mostly takes place in the languages Chichewa and English. Students first learn in Chichewa for all subjects and study English as a separate subject, then begin reading in English in Grade 2 and slowly transition to using English as the medium of instruction, with Chichewa becoming a separate class. This method of learning and transitioning to English can be challenging for students who have limited English oral fluency. One project goal is to support teachers' methods to understand and apply best practices for students transitioning from Chichewa to English.
The programs in Malawi, Zambia and elsewhere speak to FSU's ability to lead international development projects that make an impact, ranging from early education to higher education settings, said LSI Director Rabieh Razzouk. LSI has projects in 13 different countries, including the United States, on four continents across the globe.
"The impact that LSI delivers is immediate and lasts for years to come," he said. "Early childhood is a crucial time for positive interventions, which is why improving that curriculum is so important."
LSI has partnered with USAID on projects across the globe, working on education activities in Nigeria, Lebanon, Rwanda, Honduras, the Philippines, Uzbekistan, Ethiopia and Indonesia. The institute also has worked on projects with the U.S. Department of State in Indonesia, India, Ukraine, Brazil, Colombia, Ecuador, Peru, Pakistan, Egypt, St. Lucia, Grenada and Suriname.
USAID promotes and demonstrates democratic values in more than 80 countries around the globe and advances a free, peaceful and prosperous world. The agency leads the U.S. government's international development and disaster assistance through partnerships and investments that save lives, reduce poverty, strengthen democratic governance and help people emerge from humanitarian crises and progress beyond assistance.