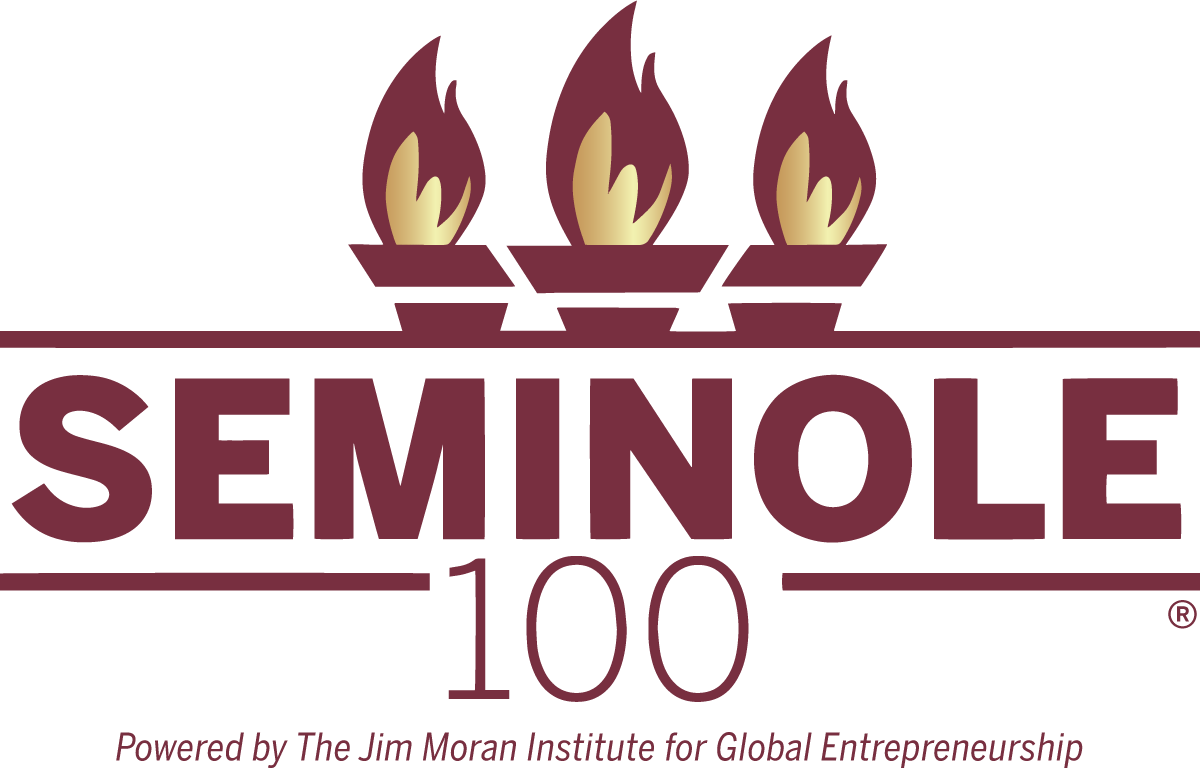 Florida State University has released its alphabetical 2022 Seminole 100 list. This annual list recognizes the fastest-growing businesses owned or managed by FSU alumni and represents some of the most innovative and profitable companies in America.
"These alumni inspire us by bringing better solutions, building stronger communities and continuing to be an example of the value of a degree from FSU," said President Richard McCullough. "Their growth is a reflection of the undeniable excellence of Florida State University, and we're so proud to celebrate their success."
The FSU Seminole 100 is powered by the Jim Moran Institute for Global Entrepreneurship. Honorees and their businesses will be celebrated on Saturday, Feb. 19, at the University Center Club. The list, below in alphabetical order, is unveiled at the annual celebration in ranked order culminating with announcing the number one Seminole-owned business.
EY, a multinational financial services firm, verified the information submitted by each company and ranked the businesses based on compound annual growth rate over the past three years.
The 2022 Seminole 100 list of fastest-growing businesses, in alphabetical order, is:
360 Advanced, Inc.
Aaron Rich Marketing
Advanta IRA
Alday-Howell Engineering, Inc.
A-LIGN
All American Title Services, LLC
All Seasons Wealth
Alluvionic, Inc.
Apple Pie Maids Cleaning
Ardent Eagle Solutions
Assurance Financial
AssuredPartners
Autumn Beck Blackledge, PLLC
Barksdale Custom Pools
Berkshire Hathaway HomeServices Meadows Mountain Realty
Blind Tiger Enterprises
Boomerang Transportation, LLC
Brick Business Law, P.A.
Budget Blinds Tallahassee
Capital Speech and Language Therapy Services
Capitol Integration
CFO Alliance
Chisholm Law Firm, PLLC
Commercial Products Corporation
CompassMed, LLC
Convergence Consulting Group
Cortes Hodz Family Law & Mediation, P.S.
Creative Sign Designs, LLC
Crown Asset Management, LLC
Cureton Johnson & Associates
Deep Blue Yacht Supply, Inc.
Downs & St. Germain Research
Earl Bacon Agency
Eat Fresco
EnLight.Energy
Financial & Retirement Strategies, Inc.
Floorzz, LLC
Florida Environmental and Land Services, Inc.
Global Sales
Hadjo Media
HAWM Law
HomeCare Connect, LLC
Imperial Fence Supply, LLC
IMS Business
Infusion Plus
Insurance Services of Central Florida, Inc.
David Tax Law
Jeff Kottkamp, P.A.
Kinloch Partners
Kupanda Capital
Landmark Tax Group
LandSouth Construction
Legacy Insurance Associates Unlimited, Inc.
Les S. Kushner, P.A.
Lincoln Lending Group
Liquid Bottles, LLC
Lucky Goat Coffee
Manausa, Shaw, & Minacci, P.A.
Maryland Foot and Ankle Specialists
MCCi
McKee Insurance Agency
McKINNON LEGAL
Moisand Fitzgerald Tamayo, LLC
Moore, Inc.
MRA Advisory Group
Nexus Tech
OmniCon
Orlando Project Controls, LLC
Owenby Law, P.A.
Panhandle Engineering, Inc.
Perfect Plants Nursery
Pittman Law Group
Pizza Box Express, LLC
Platform Surfaces
PLAY, LLC
Pomeranz Law PLLC
Practice42
Prime Meridian Bank
Professional Building Services
Renovation Flooring
RF-Smart
SimpleNexus
Sloane Staffing
Southern Spear Ironworks, LLC
Staff Builders HR, LLC
Synergy Settlement Services
Tallahassee Financial Advisors
Taylor Financial
Taylor, Day, Grimm & Boyd
The Anti
The Bradshaw Bourbon Company
The Law Offices of Ryan Cappy
The Mortgage Firm
The Nieves Law Firm, APC
The Oaks Apparel
The Polka Dot Press
TSpark Enterprises — Roofing & Construction Services
Tutors for Tally
Visiture
Weatherford Capital
Follow news about the Seminole 100 on Instagram @Seminole.100 using the hashtag #Seminole100.
To learn more about the Seminole 100 event, including sponsorship opportunities, visit www.seminole100.fsu.edu.