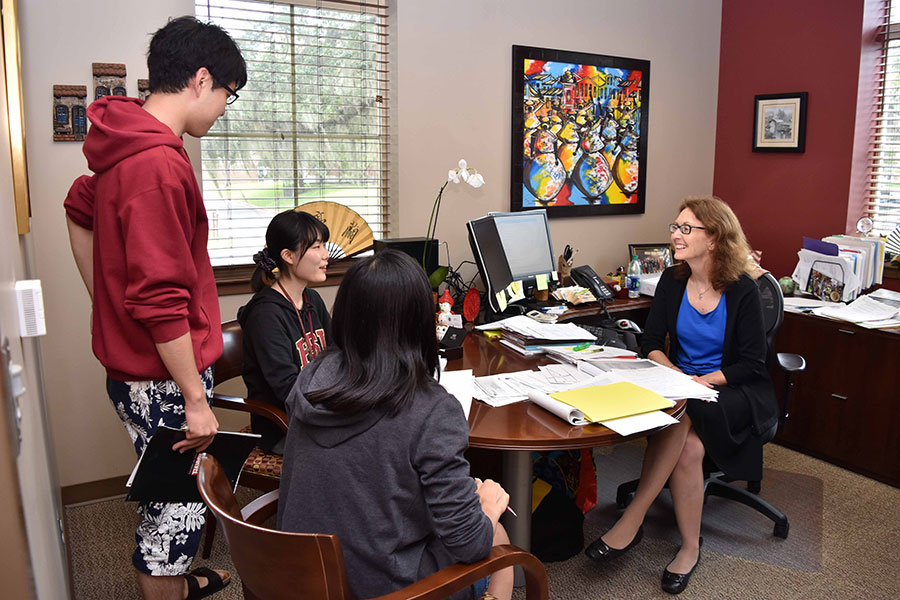 Kristen Hagen, associate director of FSU's Center for Global Engagement, received the NAFSA: Association of International Educators Region VII 2021 International Excellence Award.
This highly competitive award recognizes a venerable international education professional with more than 10 years of experience who has demonstrated outstanding leadership and has exemplified the true spirit of international educational exchange.
"Kristen has dedicated her entire career to serving international students and faculty and supporting internationalization at FSU," said Cynthia Green, director of the Center for Global Engagement. "She has consistently provided excellent service and support to students, faculty, and staff. Kristen willingly spends as many hours as needed on individual cases to help ensure a resolution for highly complex immigration situations. Her compassionate, caring manner and enthusiasm for helping others has contributed greatly to the positive attitude our international community members have toward FSU. There is no staff member more deserving to be recognized for her years of hard work, dedication, and outstanding contributions."
She was honored during the 2021 NAFSA Region VII All-Region Summit Business Meeting and Award Ceremony on Thursday, October 21, held virtually due to COVID-19.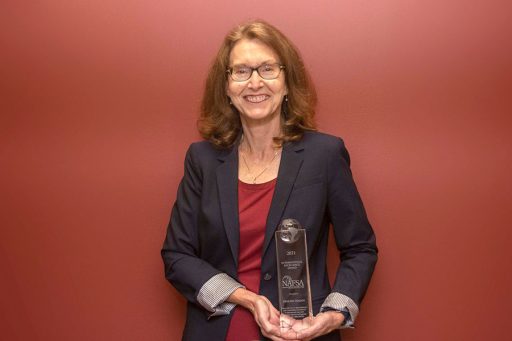 Hagen has worked at FSU for more than 25 years overseeing immigration compliance for international students and scholars. In this role, which she has held since 1993, she has supervised student and scholar immigration advising while serving as FSU's Principal Designated School Official (PDSO) and Responsible Officer (RO) for the Student and Exchange Visitor Program (SEVP). She has advised departments, faculty, administrative offices, and community members about international student/scholar issues and immigration regulations; designed and presented numerous workshops; developed and implemented policies and procedures to ensure compliance with regulations; and has contributed to CGE's programs and initiatives in support of international education and exchange. Hagen also spent 14 years filing H-1B and green card petitions for numerous FSU international FSU faculty and staff.
"Kristen Hagen is one of the people who make FSU an exceptional, caring, and supportive university," said Stephen McDowell, assistant provost for International Initiatives, interim dean of the College of Communication and Information, and John H. Phipps Professor of Communication. "The extremely high level of customer service of the unit she leads is felt across the university."
She has guided the university through various immigration policy changes over the years and was instrumental in transitioning to the use of the required federal immigration database, Student and Exchange Visitor Information System (SEVIS), following 9/11 and established the procedures to ensure compliance with immigration regulations at FSU. Most recently, Hagen's leadership throughout the global pandemic was critical. With immigration requirements for international student enrollment continuously changing she worked tirelessly to ensure FSU stayed in compliance with the requirements so our continuing students' programs of study would not be affected, and new students could arrive to FSU.
Since 2010, Hagen has also overseen FSU's partnership with the Global Undergraduate Exchange Program (Global UGRAD Program), a U.S. government program administered by IREX, that increases the diversity of our undergraduate international student population by sending students from under-represented countries. In addition, she served on selection committees for UGRAD-Tunisia in 2017, as well as the UGRAD-Eurasia/Central Asia-Russia in 2012, in addition to serving as a UGRAD reviewer from 2013 to 2020 for hundreds of applications from Tunisian students.