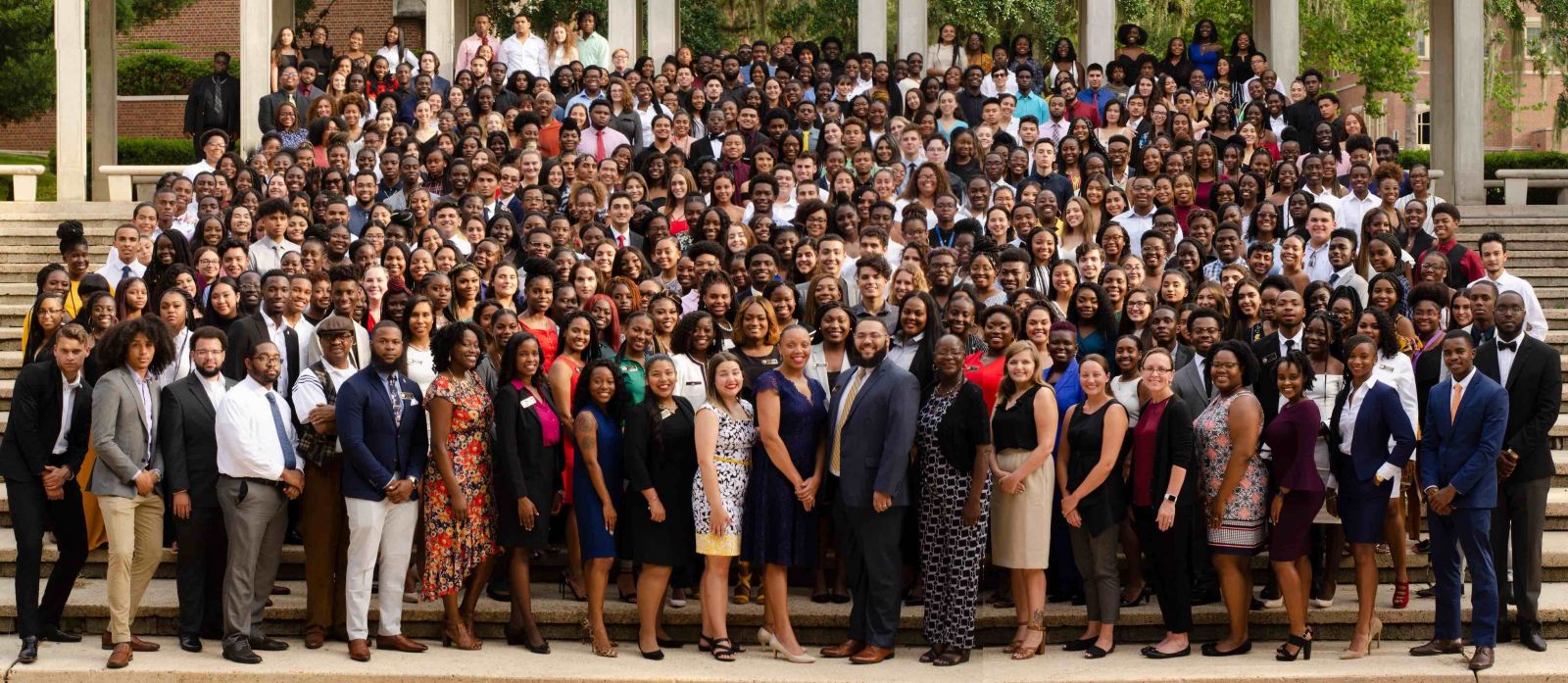 The Florida State University Foundation has received a $100,000 grant from Truist Financial Corporation through its Truist Charitable Fund, a donor-advised fund at The Winston-Salem Foundation, to expand programming and improve retention and graduation rates for first-generation students and those disadvantaged by economic circumstances.
The grant will be used to aid first-generation students, students with economic hardship and students with dependents to enhance their recruitment, retention, graduation and career success.
"We are so grateful for the support from Truist," said Joe O'Shea, assistant provost and dean of Undergraduate Studies. "Like FSU, they are committed to empowering young people to thrive, and I'm thankful they saw investing in Florida State University as a way to accomplish our shared mission. These funds will be critical as we expand the support for FSU's first-generation students and continue to prove that demographics are not destiny."
The funds will support FSU's new Living Learning Community for First-Generation students as well as expand Center for Academic Retention and Enhancement (CARE) programming that builds community and equips students with tools to succeed. Funding will also help increase the number of Learning Assistants in gateway classes and support the university's Tech Fellows program, which offers paid internships to diverse students in the tech field.
FSU's CARE department currently serves 1,600 students with the mission to retain and graduate first-generation and traditionally underrepresented students who have often navigated economic or educational barriers to their success. CARE serves as a model for what students can accomplish when their lived experiences are embraced, and support services are centered around those experiences. CARE students have a legacy of service as campus and community leaders, research scholars and mentors.
The university aims to expand CARE, which regularly graduates at the same rate as non-CARE students, to serve an additional 2,000 students.
"The prioritization of CARE for this funding represents FSU's continued commitment to student success for all of its students," said DeOnte Brown, assistant dean of undergraduate studies and director of CARE. "The opportunity to expand our services has energized our staff, who are excited to strengthen our impact."
The inclusion of the Learning Assistant program and Tech Fellows also highlights the work occurring outside of CARE to contribute to the increased student success and engagement. Through the Learning Assistant program, FSU students can engage in a positive, interactive peer-led learning experience that supports the development of academic skills and confidence in the learning environment. In addition, the Tech Fellows experience can be the edge a student needs to secure a future position.
"This grant to the FSU Foundation will support students who want to overcome obstacles, advance their education and improve their future, which is the essence of Truist's purpose to inspire and build better lives and communities," said Emily Dawkins, North Florida regional president for Truist. "By supporting underrepresented students from recruitment through graduation, FSU is helping individuals, families and communities unlock new opportunities to grow and thrive."
About Truist Charitable Fund
The Truist Charitable Fund is a donor-advised fund created by Truist and administered by The Winston-Salem Foundation.
About Truist
Truist Financial Corporation (NYSE: TFC) is a purpose-driven financial services company committed to inspiring and building better lives and communities. Formed by the historic merger of equals of BB&T and SunTrust, Truist has leading market share in many high-growth markets in the country. The company offers a wide range of services including retail, small business and commercial banking; asset management; capital markets; commercial real estate; corporate and institutional banking; insurance; mortgage; payments; specialized lending and wealth management. Headquartered in Charlotte, North Carolina, Truist is a top 10 U.S. commercial bank. Truist Bank, Member FDIC. Learn more at Truist.com.