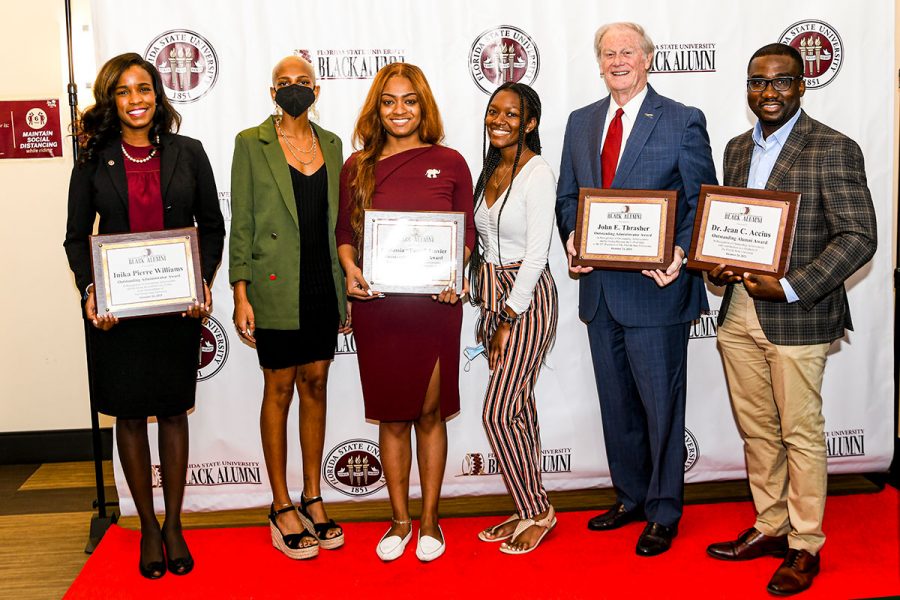 The Florida State University National Black Alumni celebrated its 2021 Annual Homecoming Reunion Weekend, culminating with its annual awards program Sunday, Oct. 24, at the Black Student Union.
The program included the presentation of several awards of distinction and scholarship recognitions, representing the organization's highest honors bestowed upon FSU Black alumni, faculty, administrators and students. Former FSU President John Thrasher was among this year's honorees.
The 2021 alumni awards recipients and student scholarship recipients are:
Outstanding Student Award Recipient
Nastassia Janvier currently serves as the Florida State University Student Body President and a trustee for the FSU Board of Trustees. Janvier is the chairwoman of the Florida Student Association, where she represents over 400,000 students on the Board of Governors for the State University System of Florida. A first-generation student, she graduated from FSU with a bachelor's degree in Interdisciplinary Social Sciences. Janvier served in leadership roles in several organizations, including the FSU NAACP chapter, the Black Student Union and FSU Student Foundation. As a former intern with the university's Title IX department, she raised awareness of sexual violence and rape culture on college campuses. She is currently pursuing her master's at FSU and is a proud member of Delta Sigma Theta Sorority, Inc.
Outstanding Alumni Award Recipients
Oneshia Herring, Esq. has dedicated her life to promoting racial equity and public service. Herring is currently Senior Counsel in the Office of the Assistant Attorney General for the Civil Rights Division at the U.S. Department of Justice. She uses her policy expertise and litigation background to advance and support the division's priorities. Herring serves as the chair of the DOJ Association of Black Attorneys. A 2014 National Bar Association 40 under 40 Award recipient, Herring is involved in several civic organizations, including the National Bar Association, the NAACP and Delta Sigma Theta Sorority, Inc. She graduated Cum Laude from FSU.
Jean C. Accius, Ph.D. is a senior executive and nationally recognized thought leader on aging, longevity, health and long-term care policy. In 2019, he was promoted to Senior Vice President of Global Thought Leadership at AARP. That same year, the National Academy of Television Arts & Sciences awarded Accius with the prominent "Sharecare Award" for his groundbreaking work on male family caregivers. In 2020, he was inducted into the FSU Alumni Association Circle of Gold. Accius holds a bachelor's degree in hospitality administration and a master's degree in aging studies from FSU. He received a doctorate in public administration from American University. He is a proud member of Alpha Phi Alpha Fraternity, Inc. and was selected as the 2001 FSU Homecoming Chief.
Outstanding Administrator Award Recipients
Inika Pierre Williams serves as the director of Pre-Collegiate Programs for the nationally recognized Florida State University Center for Academic Retention and Enhancement (CARE). She provides leadership to implement the Upward Bound project and other youth programs across North Florida. In collaboration with university and Leon County School administrators, she orchestrated efforts to recruit some of the most at-risk students to receive year-long services, including mentorship and academic tutoring. As a first-generation college student, Williams earned a bachelor's degree in elementary education from FAMU and a master's degree in career counseling and human systems from FSU. She is currently pursuing a doctorate in educational leadership and administration at FSU. Williams is a proud member of the Alpha Kappa Alpha Sorority, Inc.
President John Thrasher became FSU's 15th President in November 2014 following a successful career as a state legislator, businessman, lawyer and lobbyist. As president, he focused his efforts on elevating FSU's reputation as a preeminent research institution and has led the university to recognition as the 18th best public university in the nation. Thrasher truly embraced the FSU Black Alumni and made a concerted effort to understand their unique perspectives, experiences and the contributions the alumni have made and continue to make throughout the university. He actively engaged the FSU BA on important issues, programs, and activities, and increased participation and representation from the FSU BA on university boards, task forces, councils and search committees.
Scholarship Recipients

Beza L. Alford, a senior from Inverness, Florida, majoring in creative writing with a minor in women's studies.
Aaliyah J. Fuller, a sophomore from Miami, Florida, majoring in pre-clinical professions (pre-medicine).
Tarah Jean, a senior from Lehigh Acres, Florida, majoring in editing, writing, and media; with minors in education and commercial entrepreneurship.
Ceanna Perkins, a fourth-year medical student from Winter Garden, Florida. She received a bachelor's degree in biochemistry from FSU.
The FSU National Black Alumni is an officially chartered affiliate of the FSU Alumni Association and is incorporated as a not-for-profit organization in Florida. Our mission is to build a network of Black alumni and friends to sustain meaningful relationships on behalf of FSU. Membership is open to any alumnus, associate, or affiliate of the university with an earnest and steadfast commitment to the aims and goals of Black alumni.