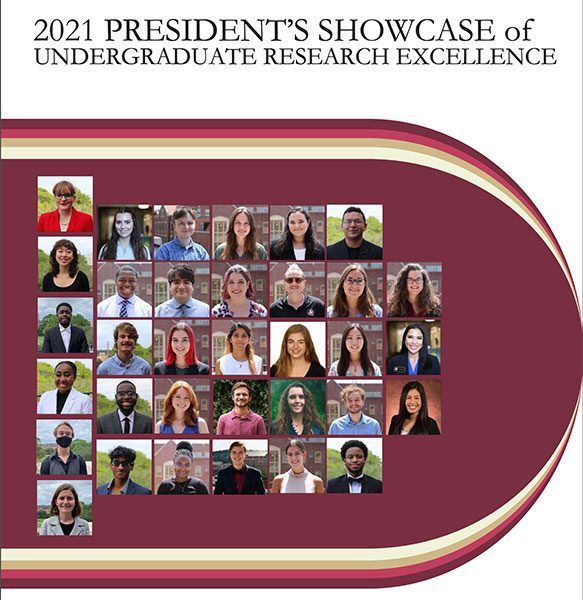 More than 30 undergraduate students who spent their summer producing original research will present their work at the 2021 President's Showcase of Undergraduate Research Excellence.
Hosted by FSU's Center for Undergraduate Research and Academic Engagement (CRE), the annual showcase allows students to share their findings in a professional symposium style environment. CRE provides students from all majors the resources to explore their interests with a scientific approach and guidance from some of Florida State's most renowned researchers.
The 2021 President's Showcase of Undergraduate Research Excellence will take place virtually at 5:30 p.m. Wednesday, Oct 6. Visit cre.fsu.edu to register to attend.
The students were supported by the FSU IDEA Grant, Tech Fellows program or iGEM summer awards. The students' projects were supervised by FSU faculty members and include everything from using machine learning to analyze collegiate volleyball training to Plato's Republic to study of the microbiome.
"The students who are presenting their projects have enhanced their undergraduate experience by taking on directed research and creative activity under the supervision and mentorship of some of Florida State University's most distinguished faculty," said Latika Young, director of the Center for Undergraduate Research and Academic Engagement.
Aoife Trotter, a junior majoring in psychology, conducted trauma research in her study of factors impacting mental health following sexual assault in LGBT individuals. Her research focused on understanding the attitudes and beliefs that impact survivors' mental health, especially in individuals belonging to marginalized groups who may be at-risk for experiencing assault or post-traumatic stress syndrome.
The IDEA Grant provided Trotter the opportunity to collect data through outreach to survey companies, as well as promote diversity within psychological research.
"I had never really dealt with the nitty gritty of research in my assistantships," Trotter said. "The self-directed focus of the IDEA Grant program opened my eyes to the continual problem solving and trial and error that go on behind the scenes of academia."
The showcase's virtual platform provides people across the country and the world with the opportunity to hear the findings of the diverse portfolio of research projects. The event is divided into two sessions with Zoom "rooms" that host the various research presentations.
For many students, the showcase is just the start of their future research journeys.
"Many of the award recipients will continue their intellectual pursuits through honors theses, independent study projects, graduate research, and entrepreneurial and creative work — both here on our campus and beyond," Young said.
Applications for next year's IDEA Grants are due Feb. 1, 2022, and are available at cre.fsu.edu.