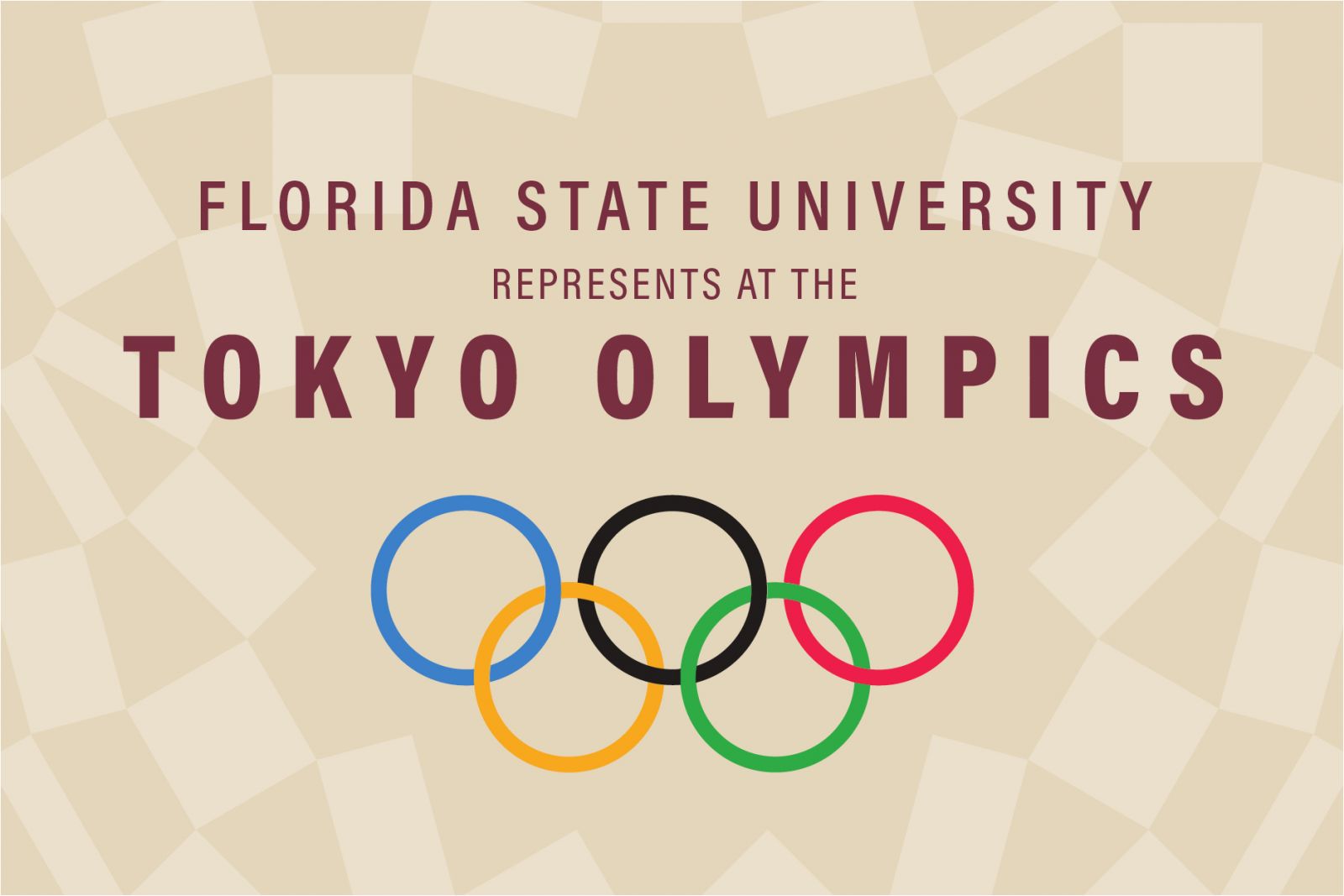 More than two dozen athletes and coaches with connections to Florida State University are representing 17 different countries during the 2020 Olympic Games in Tokyo, Japan, which run from July 23 to Aug. 8 after nearly a year delay due to the COVID-19 pandemic.
Twenty-five athletes with FSU ties — 23 alumni and two current student-athletes — are among more than 11,000 Olympians competing during the Games. That's a record number of athletes with FSU connections in an Olympic year and extends a streak of at least one Seminole competing in the Summer Games since 1972.
The current student-athletes competing in Tokyo are swimmer Izaak Bastian and soccer player Gabby Carle. A rising senior from Nassau, Bahamas, Bastian is representing his home country in the men's 100-meter and 200-meter breaststroke events. He set FSU records in both events last season.
Carle, a native of Quebec, is a member of the Canadian women's soccer team. Also a rising senior, she has started every game of her FSU career and helped the Seminoles win the 2018 NCAA title.
On the coaching side, four current FSU coaches and a former student-athlete are on the sidelines in Tokyo. Head Softball Coach Lonni Alameda is serving as the pitching coach for Canada's softball team and Head Diving Coach John Proctor is working with Team USA. Assistant Beach Volleyball Coach Jason Lochhead is on Team USA's men's beach volleyball coaching staff and Assistant Women's Soccer Coach Morinao Imaizumi is an assistant for Team Japan. Former FSU men's basketball player Luke Loucks is an assistant coach for the Nigerian men's squad.
---
FSU OLYMPIAN LIST
Diving 
Katrina Young, Women's 10M platform (USA) | Read more at Seminoles.com
Head Diving Coach John Proctor, Coach (USA) | Read more at Seminoles.com
Swimming 
Izaak Bastian, Men's 100m breast (Bahamas) | Read more at Seminoles.com
Julio Horrego, Men's 100m breast (Honduras)
Ida Hulkko, Women's 100m breast (Finland)
Emir Muratovic, Men's 100m free (Bosnia & Herzegovina)
Beach Volleyball 
Nick Lucena, alumnus and former volunteer assistant coach (USA)
Assistant Beach Volleyball Coach Jason Lochhead, Coach (USA)
Women's Soccer 
Gabby Carle (Canada) | Read more at Seminoles.com
Casey (Short) Kruger (USA)
Assistant Women's Soccer Coach Morinao Imaizumi, Assistant Coach (Japan)
Softball 
Kaleigh Rafter (Canada)
Head Softball Lonni Alameda, Pitching Coach (Canada)
Track & Field 
Zak Seddon (Great Britain)
Kimmy Williams (Jamaica)
Linden Hall (Australia)
Istvan Szogi (Hungary)
Alonzo Russell (Bahamas)
Kevin Borlee (Belgium)
Jonathan Borlee (Belgium)
Anne Zagre (Belgium)
Susan Krumins (The Netherlands)
Andrew Coscoran (Ireland)
Kemar Hyman (Cayman Islands)
Mulern "Meme" Jean (Haiti)
Women's Basketball  
Leonor Rodrgiuez (Spain) | Read more at Seminoles.com
Maria Conde (Spain) | Read more at Seminoles.com
Women's Golf 
Matilda Castren (Finland) | Read more at Seminoles.com
Kim Metraux (Switzerland)
Men's Basketball 
Luke Loucks, alumnus, Assistant Coach (Nigeria) | Read more at Seminoles.com