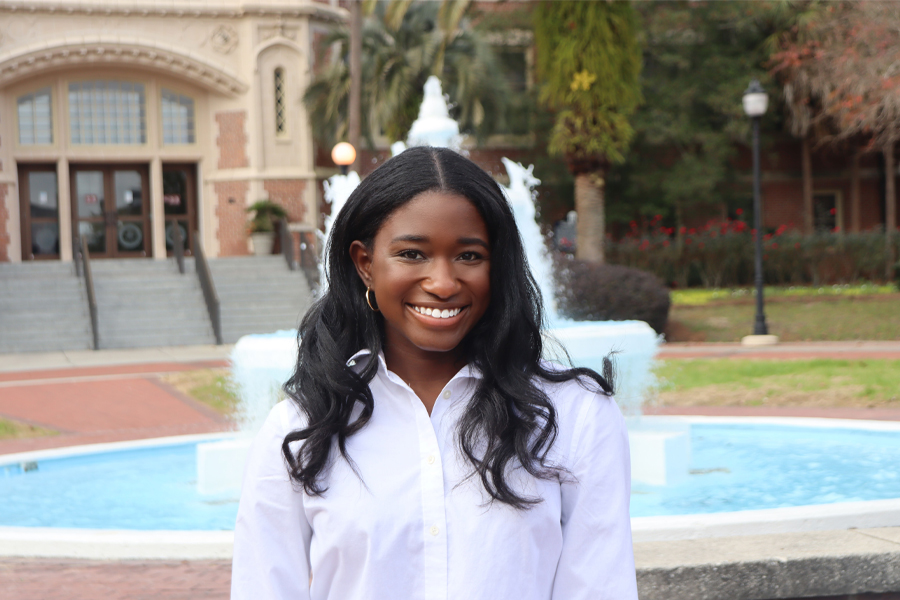 A love of science and policy and an awareness of environmental inequities inspired rising Florida State University junior Abril Hunter to pursue the Ernest F. Hollings Undergraduate Scholarship from the National Oceanic and Atmospheric Administration (NOAA).
Hunter is the latest FSU student to receive the nationally competitive scholarship, which includes up to $19,000 of academic assistance over two years and a 10-week, paid summer internship with NOAA.

"It sounded terrific," she said. "I've always dreamed of working for the government in a meaningful way, whether through environmental policy, legislation or research. Once I learned about this program, I knew that it was something I had to apply for."
Hunter is an environmental science and policy major from Belleville, Illinois. When the water crisis in Flint, Michigan, became public, it hit home for her.
"I saw myself in the people in Flint, whose water was being polluted," she said. "Whenever their water turned unsafe and brown, I saw my own water as something that wasn't safe, something that was no longer a guaranteed right."
She became more interested in environmental racism and how policy affects minority communities. She saw firsthand the impact of that kind of work when she presented the results from her research examining how to purify water tainted with lead to the NAACP in Detroit.
When she was looking for colleges, she knew she wanted a place where she could study how environmental policies could help solve problems. That led her to FSU.
"Abril Hunter came to Florida State University with a creative, innovative energy to make a difference with environmental policies," said Craig Filar, director of the Office of National Fellowships and associate dean of Undergraduate Studies. "Her intentional approach to addressing environmental racism is grounded in academic rigor and empathetic leadership. This combination reflects a holistic approach, emblematic of her desire to address the problem from multiple perspectives."
Hunter already has practice developing her skills as a public policy researcher and analyst. As part of the Undergraduate Research Opportunity Program, she investigated the effectiveness of recycling messages in Florida cities and counties, looking at how their communication had changed over time.
She also has experience developing and implementing policies in her own community. Hunter is a senator in FSU's Student Government Association, representing the College of Arts and Sciences. Along with fellow Hollings Scholar Jonathan Marcus, she proposed a bill to prohibit college funding from being used for plastic water bottles except in emergencies. After discussions, negotiations and compromise, they passed an amended bill through the FSU Student Senate.
"It helped me to really improve my skills, whether that's negotiating, researching, or just observation and looking at the people involved," she said.
Her future plans include attending graduate school to study urban and regional planning.
"My goal is to do environmental justice work in underserved communities and for people from underrepresented backgrounds to ensure that their housing and their living situations aren't directly correlating with environmental racism," she said. "I've watched that happen growing up, so I definitely have a passion for mitigating those issues, and I think that the best way to do that is through urban planning."
The Hollings Scholarship was established in 2005 to honor Ernest F. Hollings, a U.S. Senator from South Carolina and advocate of ocean policy and NOAA. The scholarship application period for the class of 2022 opens on Sept. 1, 2021.
For more information on national scholarships, visit the website for FSU's Office of National Fellowships.