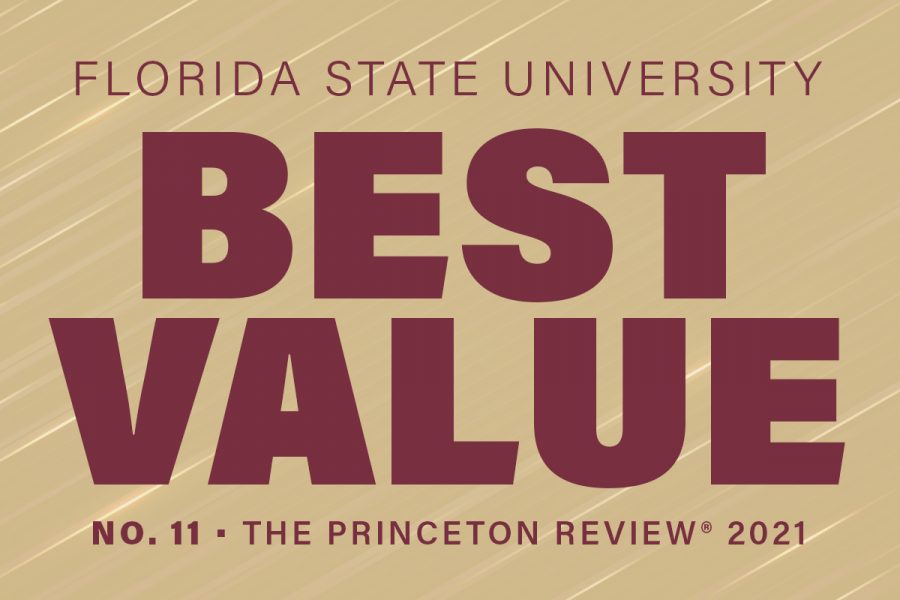 Florida State University is one of the nation's top colleges for students seeking an excellent education with great career preparation and at an affordable price, according to The Princeton Review®.
The education services company named FSU the No. 11 Best Value College for 2021 among public colleges and universities. The list profiles 200 schools that The Princeton Review selected out of more than 650 institutions the company considered and surveyed for this year's project.
"Florida State University strives to offer academic excellence at a reasonable price," said Sally McRorie, provost and executive vice president for Academic Affairs. "This recognition demonstrates our commitment to providing a quality education while remaining accessible and affordable."
In addition, FSU received high marks among public colleges and universities on the lists of Best Schools for Making an Impact (No. 11) and Best Schools for Internships (No. 14).
FSU offers a vast array of opportunities for students to get involved on campus and around the world, whether it is through one of the 700 registered student organizations or through programs such as those at the Center for Leadership & Social Change.
"Students are increasingly interested in applying their college experience to their personal passions in a way that they will be able to have an impact on those causes while in school and after graduation," McRorie said.
FSU's lofty ranking on the Best Schools for Internships list reflects the university's commitment to preparing students for post-graduation through transformative, career-building experiences. Two years ago, FSU became the largest university in the nation to implement an experiential learning graduation requirement for undergraduates, and the university's Career Center is recognized as one of the best in the country.
"We know that students who participate in high-quality experiential learning perform better academically and graduate at higher rates," McRorie said. "These types of opportunities also improve students' post-graduation outcomes, helping them secure employment or enter graduate school."
FSU also ranked No. 3 on the Best Schools for Financial Aid list, No. 15 on the Best Alumni Networks and No. 17 on the list of Best Value Colleges for Students With No Demonstrated Need.
The Princeton Review chose its Best Value Colleges for 2021 based on data the company collected from its surveys of administrators at more than 650 colleges in 2019-2020. The company also surveyed students attending the schools and considered PayScale.com surveys of alumni about their starting and mid-career salaries and job satisfaction figures.
In all, The Princeton Review crunched more than 40 data points to tally ROI (Return on Investment) ratings of the colleges that determined its selection of the 200 schools for the 2021 project. Topics covered everything from academics, cost, and financial aid to graduation rates, student debt, alumni salaries, and job satisfaction.
"The schools we name as our Best Value Colleges for 2021 comprise only just over 1% of the nation's four-year colleges," said Robert Franek, The Princeton Review's editor-in-chief. "They are distinctive in their programs, size, region, and type, yet they are similar in three areas. Every school we selected offers outstanding academics, generous financial aid and/or a relative low cost of attendance, and stellar career services. We salute Florida State University for these exceptional offerings and recommend it highly to college applicants and parents."
For more information about the Best Value Colleges for 2021, visit The Princeton Review's website.