Florida State University awarded an Honorary Doctor of Humane Letters degree Thursday, March 11, to alumnus and insurance industry trailblazer William T. Hold.
FSU President John Thrasher presided over the small, socially distanced ceremony held at the FSU President's house. Thrasher said that, while the COVID-19 pandemic forced a smaller ceremony, he was thrilled to honor Hold. 
"It is so meaningful to us Bill, that you have come and that you have done so much for Florida State University," Thrasher said. 
Thrasher thanked Hold for traveling from his home in Austin, Texas, and joked that between Hold's Ph.D. and his newly earned honorary doctorate he would have to go by "Doctor Doctor." 
Vice President for Faculty Development and Advancement Janet Kistner, Michael Hartline, dean of the College of Business, Vice President and Intercollegiate Athletics Director David Coburn and Michael Alford, president of Seminole Boosters, spoke of the significance of Hold's long relationship with the university.
Hartline commended Hold's contributions to the College of Business, including a $5 million gift to the Risk Management and Insurance program in 2012 and creating the William T. Hold Scholarship Program, which supports students pursuing a Master of Science in Risk Management.
Hartline said Hold's impact on the College of Business has been "transformative and far-reaching" and helped propel the college and the risk management program into the nation's elite. In 2012, the college inducted Hold into its Hall of Fame.
"On behalf of everyone at the College of Business, I offer our sincere thanks to Dr. Hold for all he has done to shape risk management and insurance education as we know it today," Hartline said. "On a personal note, I want to thank Dr. Hold for his friendship, mentorship and wise counsel and continuing support of me personally as dean of our amazing college."
Both Coburn and Alford described the substantial financial impact Hold's contributions have had on FSU Athletics, including a $1 million commitment in 2020. 
"Perhaps the highest compliment we could pay you is that we would want all our graduates to leave Florida State with the same passion that you have for Florida State," Coburn said. "You have been more than generous." 
While addressing the group, Hold said his love for FSU and the beginnings of his success in insurance and risk management stem from the same simple act of kindness: when a professor, Ray Solomon, stopped him in the hall and encouraged him to apply for a scholarship. 
"He just cared about students and he wanted to help somebody succeed," Hold said. "He changed my life and set me on a course I couldn't have done without Florida State and without him."
Hold added: "It was one person helping another without any desire for payback, just doing something, reaching out to one person to try to make a difference in their lives."
Hold urged university leaders to continue that tradition of kindness, which he said makes FSU so unique. 
"FSU is a kind institution, and I hope it will always be a kind institution," he said. "An institution that will be kind-hearted but strong-minded."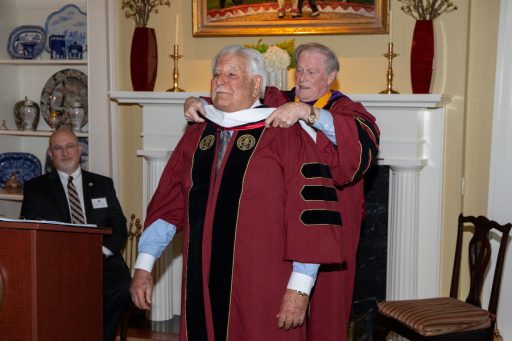 Hold concluded his remarks by thanking those who have impacted his life and said nobody gets to where he is without help. 
"We are not going to be judged by accumulated wealth," he said. "The question is: Have we ever made a difference in anybody's life? You folks have not only made a difference in my life, but you've changed my life. Hopefully, I'll be a good reflection of each of you." 
Only 132 honorary degrees have been bestowed by Florida State University or one of its institutional predecessors since its founding 170 years ago.
Hold was born in Montreal, Canada, to parents who emigrated from Germany and Lebanon before the family settled in Miami when he was seven. Hold said he arrived in Tallahassee with only a suitcase and no idea what he would end up studying. Academic success in the College of Business drew the attention of professors who directed him toward insurance and risk management, a course of study that became his calling.
While working his way through FSU, Hold held numerous jobs, including running his own laundry delivery service. He double majored and earned degrees in risk management and finance in 1963 before moving on to the University of Wisconsin in Madison, where he earned master's and doctoral degrees. 
In 1969, after several years in research and teaching at the University of Texas, Hold founded the National Alliance for Insurance Education & Research. The alliance's goal was to help provide a heightened technical education for insurance professionals. Now in its 51st year, it offers a host of educational opportunities including certifications and diplomas and has become the largest insurance risk management education facility in the industry. 
Hold has maintained close ties to FSU since leaving Tallahassee. He has served on numerous boards and panels at the university including the executive committee of the FSU Foundation. 
Hold was joined by his children, William J. Hold, Audrey Lambert and Karen Mattson for the event, along with a handful of close friends.