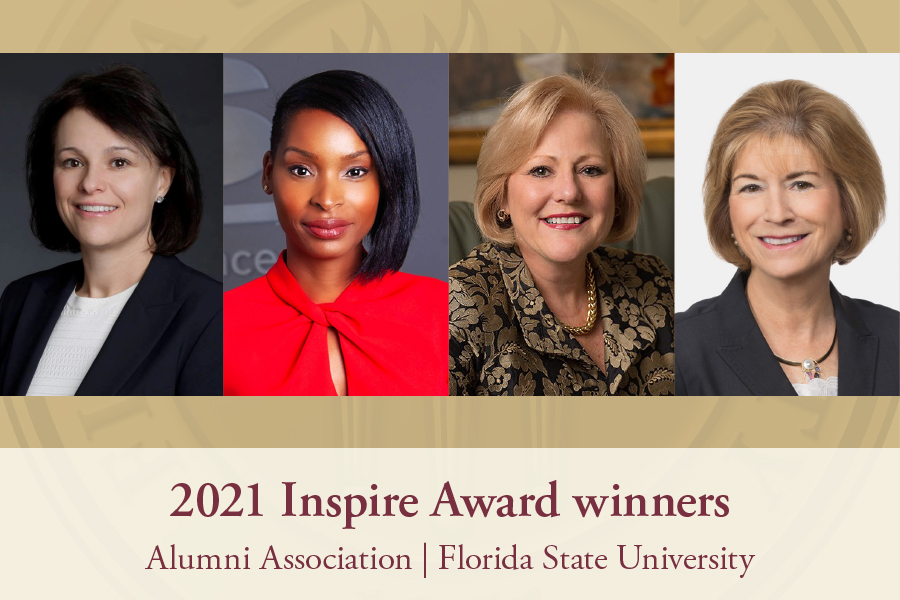 The Florida State University Alumni Association will recognize four FSU alumnae who have "shattered the glass ceiling" in their respective industries during the fifth presentation of The Inspire Awards, held virtually Thursday, March 11.
"We are thrilled to recognize these four women for their professional accomplishments and service to their communities and to Florida State," said Julie Decker, president and CEO of the FSU Alumni Association. "We invite you to join us for a live panel discussion with our award winners as they share their experiences and lessons learned with attendees."
This year's Inspire Awards will be a fully virtual event. A panel discussion featuring the award recipients and moderated by Jacey Hanley, president of the FSU Student Alumni Association, will be streamed remotely at 5:30 p.m. EST, Thursday, March 11, followed by an awards ceremony with remarks from the honorees at 7 p.m. EST. Access links are $5 for students, $10 for Alumni Association members and $15 for nonmembers. The event's presenting sponsor is The Women for FSU.
The Inspire Award is presented annually to alumnae who have proven to be a mentor to others, who have given time, talents and treasure back to FSU, and who are leaders in their communities.
---
The 2021 Inspire Award recipients are: 
Cecelia Bonifay (B.A. '71, M.S. '76, J.D. '85)
Chair of Land Use and Development Practice
Akerman
Cecelia Bonifay is a proud three-time alumna of Florida State University, earning a Bachelor of Arts from the College of Arts & Sciences in 1971, a Master of Science in Planning from the College of Social Sciences in 1976 and a Juris Doctor from the College of Law in 1985. In her leadership role at Akerman, Bonifay helps developers navigate the governmental approval process for their real estate projects. Her professional accolades include recognition in Chambers USA and The Legal 500 as a leading lawyer in land use and zoning. Bonifay has devoted more than 25 years to her community, holding several leadership positions at the Urban Land Institute and creating the Cecilia Bonifay Moot Court endowed scholarship in the FSU College of Law.
Marion Hargett (B.S. '93)
Senior Vice President of Agency Partnerships & National Sales
Ampersand
Marion Hargett received bachelor's degrees in Communication and Education from Florida State University in 1993 and has served on the university's Alumni Association National Board of Directors as well as the Foundation Board of Trustees. She also has been honored with FSU's Grad Made Good Award in 2016 and the Top Women in Media award. Hargett is the senior vice president of Agency Partnerships and Advanced Advertising at Ampersand, a thought leader on the future of television. Prior to joining Ampersand, Hargett spent 15 years at NBC Universal in various executive capacities working on the largest sporting events in the world, including the Super Bowl, the Olympics and the FIFA World Cup. Before joining NBCUniversal, Hargett was director of Business Development for Clear Channel. A passionate problem solver and innovative thinker, Hargett has always been a leader on the cutting edge of where TV is headed.
J'Tia Hart, Ph.D. (B.S. '02)
Nuclear Engineer, Program Lead
Security Sciences Division, Argonne National Laboratory
J'Tia Hart, Ph.D. is a nuclear engineer at Argonne National Laboratory where she directs analysis covering international affairs, nuclear energy and safety, energy security, and cybersecurity. Hart holds a degree in Industrial Engineering from Florida State University and advanced degrees in Nuclear Engineering from the University of Illinois at Urbana-Champaign. Hart enjoys using her leadership skills through in-depth research, mentoring and enrichment programs highlighting the talents of African-American high school students. She has been nationally recognized for her outstanding leadership as a White House Fellowship finalist. She is also a sought-after outreach partner, having recently participated in panels for the Department of State, Department of Energy (DOE) and Microsoft. Her outreach efforts have led to her designation as a DOE Minority in Engineering Champion Partner, an Intelligence Community Barrier Breaker, and an Energy Slam Champion.
Nan Casper Hillis (B.S. '76)
Senior Vice President, Chief Strategy Officer
Prime Meridian Bank
Nan Casper Hillis of Tallahassee earned a bachelor of science degree from Florida State University's College of Business in 1976 with majors in marketing and finance. Hillis and her husband, Mark, have established seven endowed scholarships for students at FSU and a professorship in Real Estate in the College of Business. In addition, they have donated to the FSU Alumni Center, the new College of Business building, Legacy Hall, and the Veterans Legacy Complex. Hillis is the recipient of the FSU Alumni Circle of Gold Award, the FSU Faculty Senate Mores Torch Award, the FSU Real Estate Network Award, the 2019 FSU Panhellenic Alumni Advisor of the Year Award and is a member of the FSU College of Business Hall of Fame.
For more information on the Inspire Awards, or to register for the events, visit https://alumni.fsu.edu/inspire.