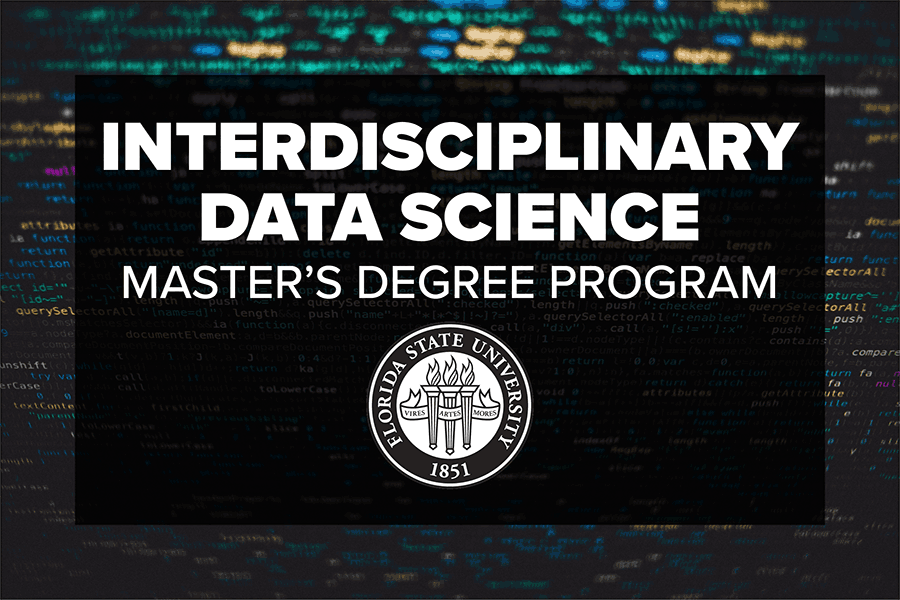 Florida State University's College of Arts and Sciences has announced the launch of a new interdisciplinary graduate program that will welcome its first students in Fall 2021. 
The FSU Interdisciplinary Data Science Master's Degree Program, or IDS, leverages FSU's strengths in computer science, mathematics, scientific computing and statistics to prepare students for contemporary careers in data science, one of the fastest growing fields in the United States.  
"The FSU IDS program is innovative and timely, and it will help address the nation's demand for data science practitioners," said Sam Huckaba, the college's dean. "Those involved with building the curriculum have done an outstanding job identifying essential material that will help provide graduates with analytical tools and necessary skills." 
The new program will be delivered exclusively at FSU's Tallahassee campus. Students will complete a series of core courses providing a solid starting point in mathematics, machine learning, statistics, data ethics and databases, along with electives that support a specific major area of study — computer science, mathematics, scientific computing or statistics. Nineteen faculty members from across the program's major disciplines will guide students through coursework and major selections that meet their individual needs and goals. 
"The interdisciplinary data science program is a wonderful addition to our slate of academic offerings," said Provost Sally McRorie. "Many fields are now requiring a workforce that not only possesses a grasp of big data but also knows how to analyze and generate meaning from that data. At Florida State, we take pride in making sure our students are career ready, and the IDS program will create even more opportunities for our students." 
Graduates of the FSU Interdisciplinary Data Science Master's Degree Program will fill a growing demand for a workforce trained in data science and possess sought-after skills to read, analyze, explore, model and draw conclusions from the highly complex, multi-dimensional, rapidly expanding and diverse data universe.  
"The data science market is projected to be worth $103 billion by 2023, and the U.S. Bureau of Labor Statistics projects jobs for computer and information research scientists, and data scientists will experience 14 percent growth through 2028," said Gordon Erlebacher, interim IDS program director and professor of scientific computing. "Learning how to responsibly collect, analyze, and apply data to a variety of fields will be key to success for FSU students now and into the future." 
A number of alumni from IDS' affiliated programs have landed jobs in the data science industry, but the ability to earn a degree in data science at FSU will cement future graduates' preparation and marketability to employers. Sectors where data science skills will prove indispensable include cybersecurity, data information processing, financial services, epidemiology, public health, survey research, airline and auto industries, real estate, online retail, and more. 
FSU's IDS program has been designed to appeal to students from a wide range of undergraduate backgrounds. 
"The program will appeal to any student holding a degree in a mathematical sciences discipline, but it also will be of interest to students from other disciplines, such as the physical sciences and engineering, or in fact any discipline, who have satisfied baseline prerequisites," Huckaba said. "Further, the IDS platform is designed to accommodate major tracks all across campus." 
While there are other data science education programs in Florida's State University System and the U.S., the FSU IDS program is unique in its inclusion of ethics and communication as part of the core curriculum.   
"Spending time educating our students on the ethics related to data mining and data extraction and communication skills and strategies will strengthen their sense of responsibility and increase the value they bring to potential employers after graduation," Erlebacher said. 
Applications for the FSU Interdisciplinary Data Science Master's Degree Program are being accepted now through July 1, 2021. To learn more and submit an application, visit datascience.fsu.edu.