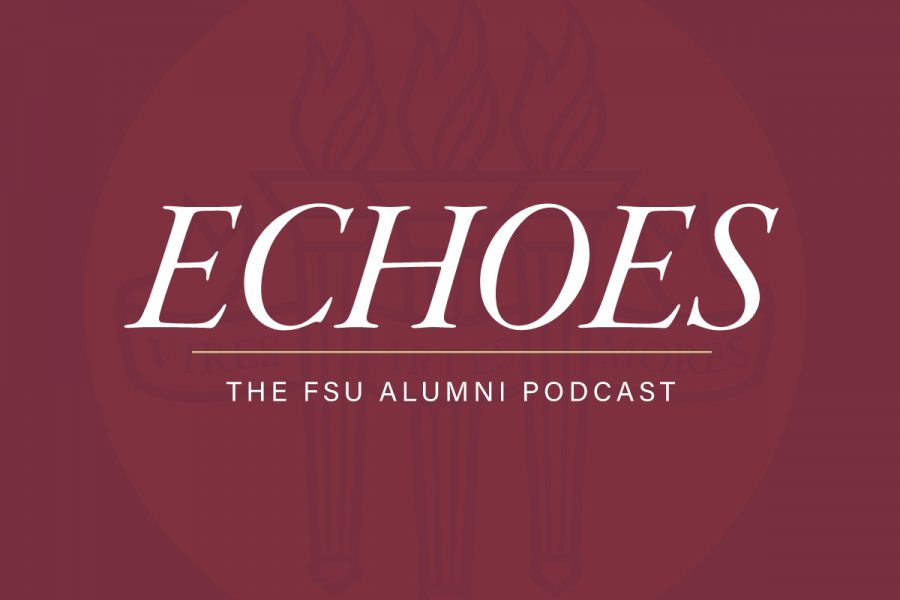 The Florida State University Alumni Association is bringing the FSU campus to alumni around the world with "Echoes: The FSU Alumni Podcast," developed to create an on-the-go show to keep alumni connected to each other and the university.
Keith Cottrell, director of Seminole Clubs, will serve as host. Each episode will feature a "Campus Conversation" segment meant to reconnect alumni with staff, faculty and friends of the university. The first episode debuts Tuesday, Feb. 16, and will feature Eva Killings, a member of the campus community for over 45 years.
"Our alumni share many of the same favorite stories, traditions and locations on campus and look forward to experiencing those again when they return to campus or attend an event locally," said Julie Decker, president and CEO of the FSU Alumni Association. "This podcast lets them experience a piece of FSU from wherever they are."
The association's robust virtual engagements in 2020 naturally led to developing a podcast to provide FSU alumni with more digital programming — without adding to virtual meeting fatigue.
"We've seen tremendous participation in our webinars and Zoom events since the pandemic began," said Keith Warburg, the association's director of communications. "But one thing our alumni kept asking for was a way to stay connected casually on their own schedule, whether at the gym, on the train or after the kids go to sleep."
Warburg said that creating this podcast has been a long and exciting process of finding interesting conversations, sharing opportunities to get involved with service and social events and capturing the essence of the FSU campus in audio format.
Season one will consist of 10 episodes in Spring 2021, featuring conversations with Eva Killings, Seminole Dining employee; Dan Berger (B.S. '89), chair of the FSU Alumni Association national board of directors; Andy Jhanji, interim vice president for university advancement; and Clay Ingram (B.S. '00), chief legislative affairs officer.
The FSU Alumni Association is a direct support organization, offering exclusive benefits and services to active members of the association. With each episode of the podcast, FSU Alumni Association members will get access to exclusive content, extended video interviews and early releases of certain episodes.
"Echoes: The FSU Alumni Podcast" will be available on iTunes, Spotify and other podcast platforms each Tuesday from Feb. 16 – Apr. 20.
For more information, visit alumni.fsu.edu/echoes.