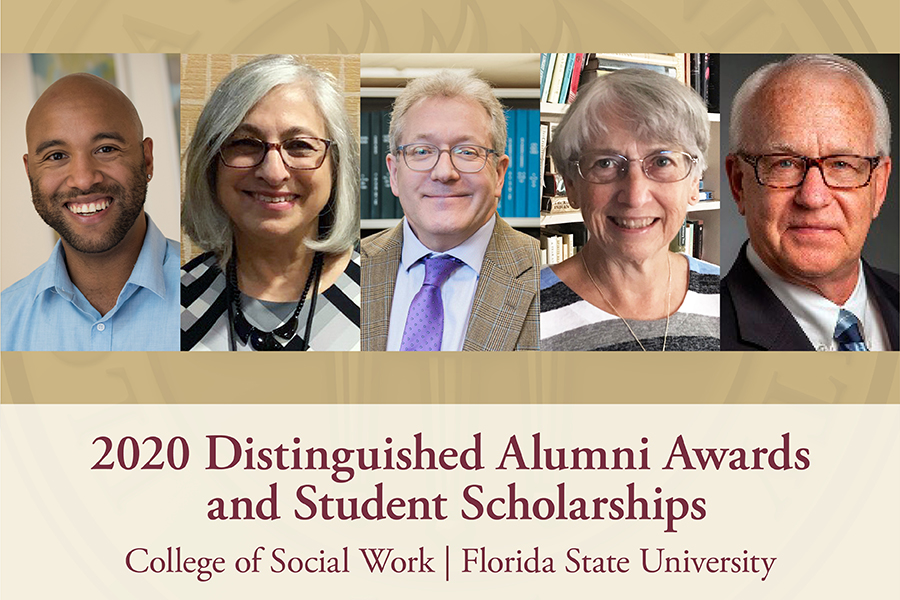 The Florida State University College of Social Work celebrated its 2020 Distinguished Alumni Award and Student Scholarship recipients during a virtual event Thursday, Nov. 5.
Each year, the event celebrates the contributions of students, alumni and donors to the College of Social Work, social work education and the profession.
"Although we could not be together in person, our digital event brought together exemplary College of Social Work alumni, donors, students and faculty to celebrate excellence," said Jim Clark, dean of the College of Social Work.
The event honored 90 scholarship recipients. The scholarship awards totaled more than $97,000 in support of FSU College of Social Work (CSW) students with focuses including international programs, child welfare, social policy and veterans.
The event was hosted by Clark and members of the faculty who serve on the college's Student Affairs Committee.
Five graduates of the FSU College of Social Work were recognized for their significant contributions to social work. The recipients are:
Richard M. King (MSW, 1969), Distinguished Emeritus Alumni Award
King earned his Master of Social Work degree in 1969. He earned his bachelor's in psychology from Illinois Wesleyan University and a Master of Business Administration degree from Dominican University. With more than 40 years of nonprofit leadership experience, King is a nationally known search executive and Chief Executive Officer (CEO) of Kittleman. Prior to leading Kittleman, King served as CEO of three charities, including a network of primary care facilities, a statewide association for youth and a comprehensive youth agency. He also is the founding member of the National Network of Nonprofit Search Consultants. King established the Richard M. King Scholarship in Social Work and Business Administration at FSU to encourage graduate FSU social work students who demonstrate an interest in social work and business to pursue electives through the FSU College of Business.
Justin McClain (MSW, 2012), Distinguished Young Alumni Award
McClain graduated with a clinical concentration and is a licensed clinical social worker and qualified supervisor in St. Petersburg, Florida. He also holds a bachelor's degree in Interpersonal and Organizational Communication from the University of Central Florida. As a witness and survivor of trauma and domestic violence, McClain established his own private practice, Home Again Counseling. He counsels adolescents, families and parents who have experienced violence and trauma.
Diana DiNitto (MSW, 1974), Distinguished Social Work Educator Alumni Award
DiNitto is a two-time alumna of Florida State University earning an MSW degree (1974) and a doctoral degree in political science (1980). DiNitto is a distinguished teaching professor and the Cullen Trust Centennial Professor in Alcohol Studies and Education at the University of Texas at Austin (UT Austin), Steve Hicks School of Social Work. She is also an affiliate faculty member at the Women's and Gender Studies Department and American Studies Department at UT Austin. Her research and teaching focuses on social welfare policies, substance use and violence against women. DiNitto has published several books including "Social Welfare: Politics and Public Policy" (8th ed.), "Essentials of Social Welfare: Politics and Public Policy, Chemical Dependency: A Systems Approach" (4th ed.) and "Social Work: Issues and Opportunities in a Challenging Profession" (3rd ed.).
Mary Freeman (MSW, 1985), Distinguished Social Work Practice Alumni Award
Freeman is a two-time alumna of Florida State University earning a bachelor's degree in education (1969) and her MSW degree (1985). She is a licensed clinical social worker and practices in Central Florida.
Robert Kevin Grigsby (MSW, 1981), Distinguished Social Policy and Administration Alumni Award
Grigsby earned his MSW at Florida State (1981) and his doctoral degree in social work from the University of Pennsylvania (1990). He has served in several faculty and administrative roles at the university level including as a faculty member at the University of Georgia, as Vice Dean of Administration and Research at the Medical College of Georgia, followed by 10 years as Vice Dean for Faculty and Administration for the Pennsylvania State University College of Medicine. For more than a decade, he has served as the senior administrator for the Association of America Medical Colleges.
For more information, visit https://csw.fsu.edu/.