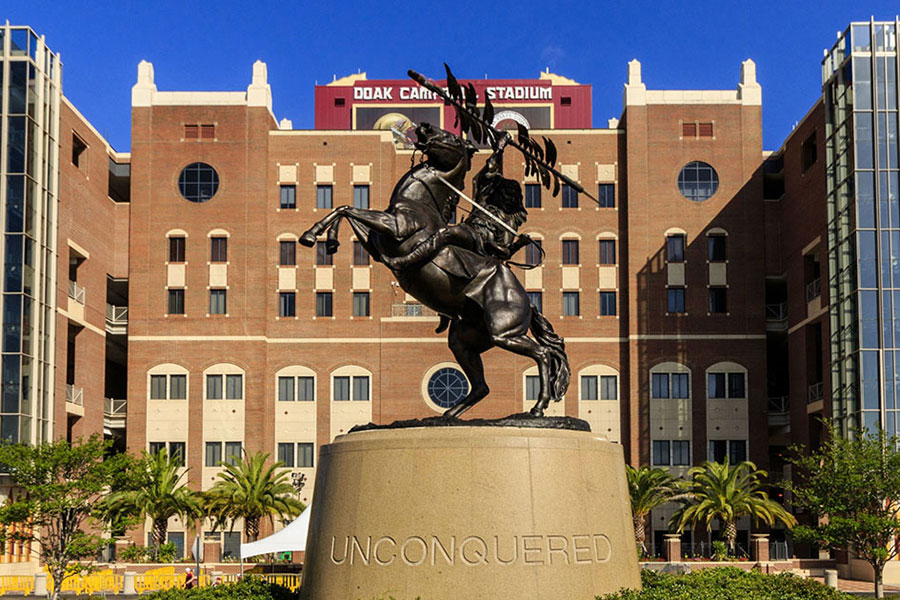 The Tallahassee and Florida State University Police Departments are working hard to provide a safe and enjoyable experience for fans attending Saturday's Florida State-Georgia Tech football game, which will be played at 3:30 p.m. at Doak Campbell Stadium. 
Parking lot access will differ from previous home games and Seminole Express bus service WILL NOT be available. 
TPD and FSUPD are advising drivers to depart early to ensure timely arrival to the game as there will be traffic delays.
Pre-Game Traffic Instructions
Fans are encouraged to use the following roadways to gain access to parking on and around FSU's campus. 
From the north, use Stadium Drive to Spirit Way or Pensacola Street, Macomb Street to Pensacola Street or 

Bronough

 Street to Pensacola Street.

 

From the east, use Pensacola

, Jefferson

 or Gaines streets.

 
From the west, use Pensacola or Tennessee streets to Stadium Drive.

 

From the south, use Lake Bradford Road. 
Expect traffic to be especially heavy on Tennessee Street, West Pensacola Street, South Monroe Street, Gaines Street, Jefferson Street, Lake Bradford Road and Orange Avenue before and after the game.
Different from previous years, TPD will only control intersections immediately surrounding the stadium. Neither TPD nor FSUPD will control intersections east of Woodward Avenue, north of Call Street, west of Stadium Drive, and south of Gaines Street. Other intersections closer to Doak Campbell Stadium will be controlled by TPD as much as three–and–a–half (3 1/2) hours before the start of the game.
Parking
Parking at this year's games will be different than past years. Please remember to pay attention to this year's parking map. Parking lots will open 2 ½ hours prior to the 3:30 p.m. kickoff, and all vehicles must exit within 2 ½ hours after the end of the game.  
Disabled parking spaces will be available either adjacent to the stadium or in the Pensacola Street parking garage (Lot 9). 
Tailgating
In order to promote a safe environment, tailgating WILL NOT be allowed for FSU's home opener against Georgia Tech. 
Post-Game
After the game, all streets surrounding the stadium will operate as normal with the exception of Stadium Drive between Lake Bradford Road and Pensacola Street. This area will remain closed to allow Stadium Operations personnel to depart. After the game, eastbound light cycles will be increased to allow eastbound traffic to flow for a longer period. Different from previous years, Jefferson Street will be utilized to move traffic eastbound from the stadium.   
Spirit Express Bus Service
The Spirit Express bus service from the Tucker Civic Center WILL NOT be available for the game. 
The SeminoleSafe App
This is the official mobile safety tool of Florida State University. Fans can refer to the SeminoleSafe App under tab GAME DAY GUIDE for real-time updates and additional information for home football games including: direct, turn-by-turn directions to their designated Booster or general parking lot, clear–bag policy instructions, prohibited items inside the stadium and real-time weather data on campus. 
Fans can also download the Waze Traffic App via SeminoleSafe. All game–day traffic routes, both pregame and postgame, are entered into the app to provide the most direct routes taking into consideration detours, closures and congestion.
For the latest information about game–day policies for the FSU-Georgia Tech game, visit https://seminoles.com/faq-fsu-vs-gt/.