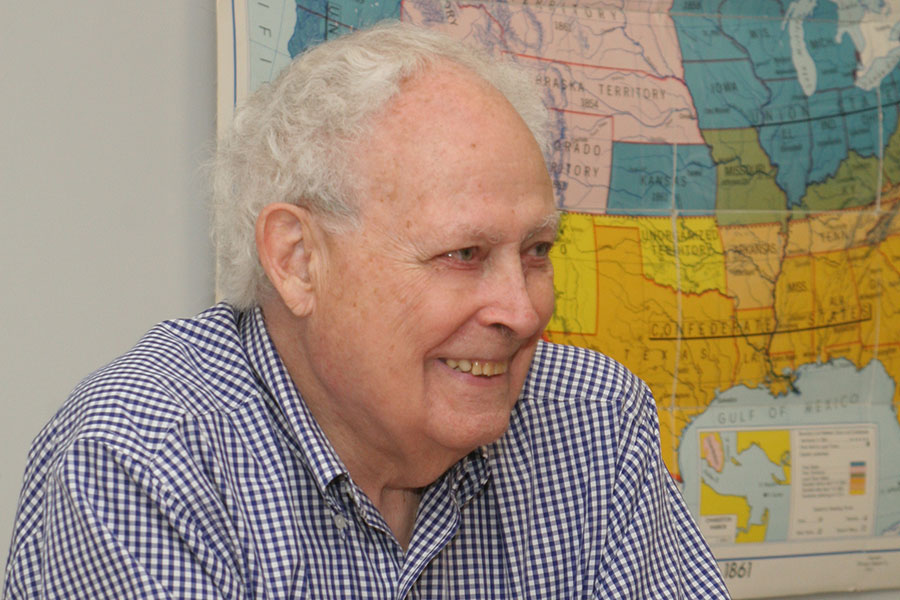 James P. "Jim" Jones, a retired Distinguished Teaching Professor in the Department of History who fascinated generations of Florida State University students with his astonishing knowledge of the American Civil War and World War II, died Saturday. He was 89. 
Jones began his teaching career at Florida State in 1957 as a "temporary acting instructor," and over the next 57 years taught history to more than 21,000 FSU students. 
"We are so grateful to Dr. Jim Jones, a most beloved member of the FSU community," said Sally McRorie, provost and executive vice president for Academic Affairs. "His half century of gifted teaching and dedicated mentorship of students from across our campus, not to mention his research and scholarship, will be a difficult standard for any of our colleagues to meet. He is missed every day on campus and is remembered every day by his former students and colleagues." 
Jones chaired the Department of History for seven years and served as a member of the Faculty Athletics Board for 17 years, including five as chair. 
"Jim was by far the most popular and celebrated teacher the department has ever known — he enthralled, literally, generations of students with his encyclopedic knowledge of his subject matter and his searing wit," said Professor Ed Gray, chair of the Department of History. "Jim used to laugh that students would approach him to say that he'd taught their parents, to which Jim would reply, 'and how's your grandmother/grandfather, whom I also taught?'" 
Jones retired in 2014 and later that year was honored by the Florida State University Faculty Senate with a Torch Award, an annual recognition of contributions to the university's academic excellence. 
He also was the author of numerous books, including six about the Civil War and one about the gridiron rivalry between the Florida State Seminoles and Florida Gators. He earned his doctorate from the University of Florida in 1960. 
Jones continued teaching for the Osher Lifelong Learning Institute after retirement. He taught classes on American politics, Watergate, the Civil War, and other subjects that were so popular the OLLI staff had to find larger venues. 
Of Jones' passing, Sam Huckaba, dean of the College of Arts and Sciences, said, "This is very sad news. We have lost another one of FSU's beloved giants."