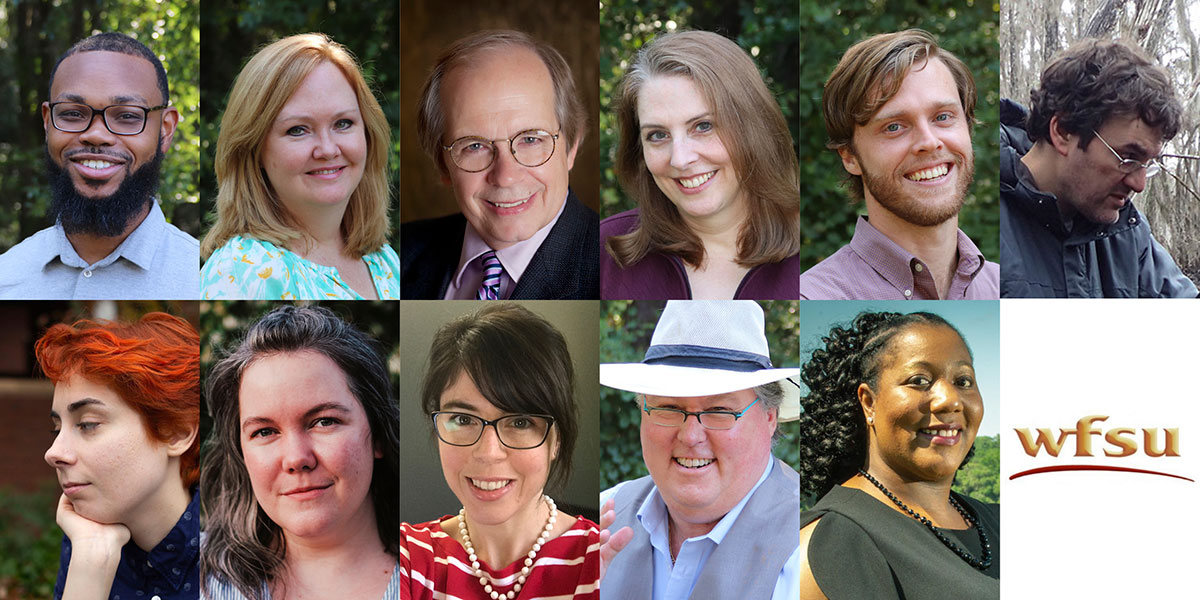 From hurricanes to felon voting rights, and the delicate conversations around race and culture, WFSU Public Media has been recognized for its reporting and storytelling centered on some of the most contentious issues shaping the region today.
WFSU's content teams have received five Regional Edward R. Murrow awards, marking the second consecutive year the organization has achieved this feat. These awards are among the most prestigious in broadcast and digital news. WFSU has also received three 1st place wins and two honorable mentions in the first Florida Association of Broadcast Journalists Awards contest. The FABJ replaced the former Florida Associated Press Broadcasters awards.
Among WFSU's winning entries: its extensive reporting on the one-year anniversary of Hurricane Michael, one of the most powerful storms to make landfall in the United States. For the project, WFSU partnered its radio news and television production teams to produce a series of in-depth reports. The station took its hallmark "Perspectives" weekly call-in show on the road with a live broadcast from Mexico Beach, where the storm made landfall in 2018. This marked one of the most ambitious reporting efforts undertaken by WFSU Public Media, and it's been recognized by both the Radio Television Digital News Association and the FABJ.
"Out of all the awards we've won so far this year, this to me is the most special," said WFSU-FM News Director Lynn Hatter. "When all the national outlets packed up and left following Hurricane Michael, we stayed. We knew the struggles still continued, and we dedicated ourselves to making sure our region remained visible. This was a story that impacted all of us, and it was important to be the ones to tell it fully."
Also winning recognitions from both organizations: how Hurricane Michael almost destroyed a century-old piece of history, as Robbie Gaffney chronicled the rebuilding of the City of Callaway's 100-year-old school house.
WFSU was also recognized for its popular Ecology Blog, "In the Grass, on the Reef," by Rob Diaz de Villegas. The blog takes an expansive view of the delicate biology and biodiversity of North Florida.
The shades of the past are never far from WFSU Public Media's reporting. Old wounds still fester, as WFSU's Ryan Dailey, Gina Jordan, Lynn Hatter, Suzanne Smith, and Mike Plummer learned through their focused reporting on three issues continuing to carry weight in Tallahassee. Dailey's reporting around the demolition of a historic, African American enclave to make room for a trail expansion and stormwater retention project revealed the tangled history of growth and expansion in Tallahassee. Also following that theme, Gina Jordan and Mike Plummer's reporting on the cycle of urban renewal shows few lessons learned in the 70 years since the city demolished another African American neighborhood: Smokey Hollow. Lynn Hatter and Suzanne Smith revealed the loss of Florida A&M University's hospital in the 1970s is a wound that has never healed, and one that continues to affect the university community's often suspicious relationship with the Florida Legislature to this day.
Hot-button issues such as gun control and felon voting rights have engulfed the state in recent years. The 2018 Valentine's Day shooting at Marjory Stoneman Douglas High School has become a focal point in the fight over gun control in Florida. The 2018 approval of a state constitutional amendment restoring voting rights to most felons remains heavily debated in the run-up to this year's presidential election. Regan McCarthy's investigation into one state lawmaker's baseless claims tying mental illness to mass shootings has received an investigative award from RTDNA, while Blaise Gainey's reporting around the challenges posed to felons trying to register to vote has been highlighted with an honorable mention by the FABJ.
"As we move into a digital age, WFSU Public Media has been breaking down our own silos to provide multi-media in-depth coverage of important issues in our region. Winning five Regional Edward R. Murrow Awards and three FABJ awards along with the honorable mentions is a testament that the content we are creating across our platforms is addressing important issues that affect our communities. Behind each of these awards is a hardworking team of dedicated professionals who strive to inform, educate and inspire," said Kim Kelling, Director of Content and Community Engagement for WFSU.
RTDNA Region 13 small market radio awards:
· Video: Robbie Gaffney How Hurricane Michael Almost Destroyed A Century Old Piece Of History
· Investigative: Regan McCarthy Guns, Mental Illness and Ritalin: Florida Lawmakers Are Searching For The Cause Of Mass Shootings
· Feature: Ryan Dailey How Does Tallahassee Treat Its History? City, Blueprint Project Sparks Debate
· Multimedia TV: Rob Diaz de Villegas, The Ecology Blog
· Multimedia Radio: Hurricane Michael, One-Year Later
FABJ Awards:
· 1st Place Investigative: Ryan Dailey "How Does Tallahassee Treat Its History? City Blueprint Project Sparks Debate"
· 1st Place Series: Lynn Hatter, Gina Jordan, Suzanne Smith, Mike Plummer "Retro Report"
· 1st Place Web/Digital: Hurricane Michael, One Year Later
· Honorable Mention: Blaise Gainey, "Felon Voter Registration Continues As Advocacy Group Raises Money To Pay Fees And Fines"
· Honorable Mention: Robbie Gaffney, "How Hurricane Michael Almost Destroyed A Century Old Piece Of History"