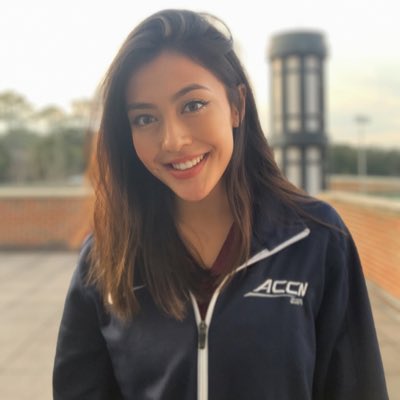 A Florida State University student won big at the Florida Association of Broadcast Journalists' 2019 Excellence in Broadcast News College Contest.
Alexandra Wendling, a graduate student in the College of Communication and Information, won first place in three categories of the contest. The winners were announced Saturday, May 9, during a virtual ceremony due to COVID-19.
"I feel so honored to have won in three different categories because the other top contenders were either from the University of Miami or the University of Florida," Wendling said. "When I graduated high school in 2016, those two schools were on my radar because they had journalism programs, so it's extra special that FSU, which doesn't have a specific journalism program, beat two rival schools in a broadcast journalism competition."
The Florida Association of Broadcast Journalists is a not-for-profit organization that advocates for the advancement of broadcast journalism through various means. Each year, they host the Excellence in Broadcast News Contest for professional and college level submissions. More than 12 Florida-based college and university broadcasting programs submitted entries, which featured news and sports stories from 2019.
"Having had Alex in two classes, I know that she's relentless in pursuing her twin passions of broadcasting and sports," said Davis Houck, Fannie Lou Hamer Professor of Rhetorical Studies in the School of Communication at FSU. "She's taken advantage of so many unique opportunities here at Florida State, and her future in media is indeed very bright. Winning this rare triple at the Florida Association of Broadcast Journalism speaks to Alex's ability to spot a story — and tell it with grace and discernment."
Wendling has cultivated success during her time at FSU. She's been a public address announcer for FSU Volleyball, volunteered for more than 200 hours with Seminole Productions and helped with the launch of the ACC Network. More recently, Wendling voiced Florida State's 2019 30-second institutional message, which is shown during televised FSU athletics contests.
"My education at Florida State has exceeded all my expectations because of the endless hands-on opportunities the university has," Wendling said.
Wendling received first place in the Sports Reporting category for her story on Griffin Alaniz, a swimmer for FSU. The feature premiered on Noles All-Access, a TV program that highlights the players, coaches and support staff who make up Florida State Seminoles athletics. FSU student J Rillan Dasalla was also a recipient for his collaborative work with Wendling.
"I love to tell stories," Wendling said. "In middle school, I wrote fictional scripts, had my basketball teammates act them out, and then I produced and edited them for my YouTube channel. Ultimately, the awards I have received will be used to tell future employers how I built a strong foundation for storytelling."
Wendling, along with FSU student Chase Daftary, also won first place in the Light News Feature category for the segment "Hayden's Grace," that appeared on Noles All-Access. "Hayden's Grace" tells the compelling story of Hayden Stone, a 12-year-old girl diagnosed with cancer who found another "family" for support in the FSU women's softball team through the Friends of Jaclyn Foundation, and became lifelong friends with former pitcher Meghan King.
Wendling also took home first place in the Historical/Cultural Feature category for producing and writing "The Busted Flush," along with Chase Daftary and Zachary Hunter. Broadcast on Seminole Sports Magazine, the video tells the story of how the 1969-1970 FSU basketball team earned the titled nickname with four African-American starters.
"These stories taught me how to interview in a caring way," Wendling said. "All three of these features had some traumatic and life changing events in them, and you really have to learn how to approach those types of stories thoughtfully and respectfully."
In the future, Wendling hopes to take what she has learned at Florida State and write stories that recognize the adversity and hard work of athletes.
"Sometimes athletes are just seen for their stats or their fantasy league value," Wendling said. "As a reporter, I want to dive deeper than stats and bring light to the beautiful stories that make them a champion on and off the field or court."
For more information about the College of Communication & Information, visit cci.fsu.edu. To learn more about the Florida Association of Broadcast Journalists, visit floridanewsawards.org.