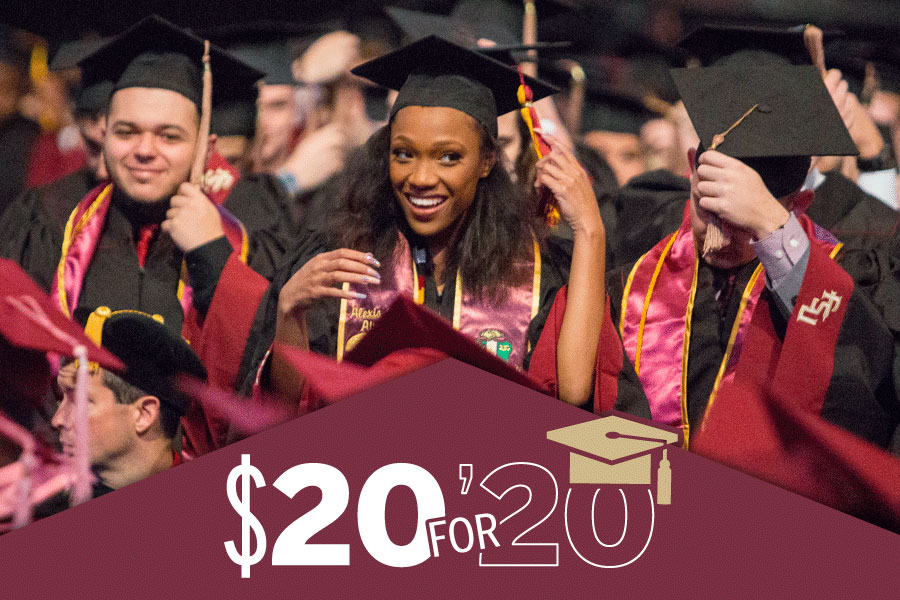 The Florida State University Alumni Association is offering the university's newest graduates a special digital membership to keep them connected to FSU and its growing network of over 360,000 alumni.
"Class of 2020: the entire Seminole alumni network welcomes you," said FSU Alumni Association President and CEO Julie Decker. "Try as we might, we know we cannot make up for memories and cherished moments lost; however, we will embrace and connect you for the rest of your life. The Seminole family is resilient, strong, welcoming and all-encompassing."
Each graduate who opts into this program will receive a free one-year digital membership. This includes:
A direct connection to Noles nationwide through our Seminole Clubs® & Alumni Networks
The Fall 2020 edition of VIRES® magazine and first access to the digital issues
A members-only invitation from the Young Alumni Council to a webinar on "Transitioning from Student to Professional"
Professional development and networking opportunities through events, webinars, online resources and more
Early registration and member pricing for FSU Alumni Association programs and events, including the Annual Kickoff Luncheon, Homecoming, Young Alumni Weekend and more
Access to perks and benefits
"The commencement ceremony was different from many of our own experiences as the Spring 2020 graduates celebrated with a virtual commencement," said FSU Young Alumni Network President Herneshia Dukes (B.S. '08). "However, the Florida State alumni community recognizes their achievements and welcomes them to alumni status."
With nearly 7,000 spring graduates, the Alumni Association hopes Florida State alumni and friends will offer their support by sponsoring a member of the Class of 2020.
"Not only will each $20 sponsorship directly support a graduate's digital membership, but your participation will show the Class of 2020 how much their Seminole family cares," Decker said. "We are here for you, and we are on this journey together."
For more information on how to sponsor a 2020 graduate, visit https://gonol.es/2020.