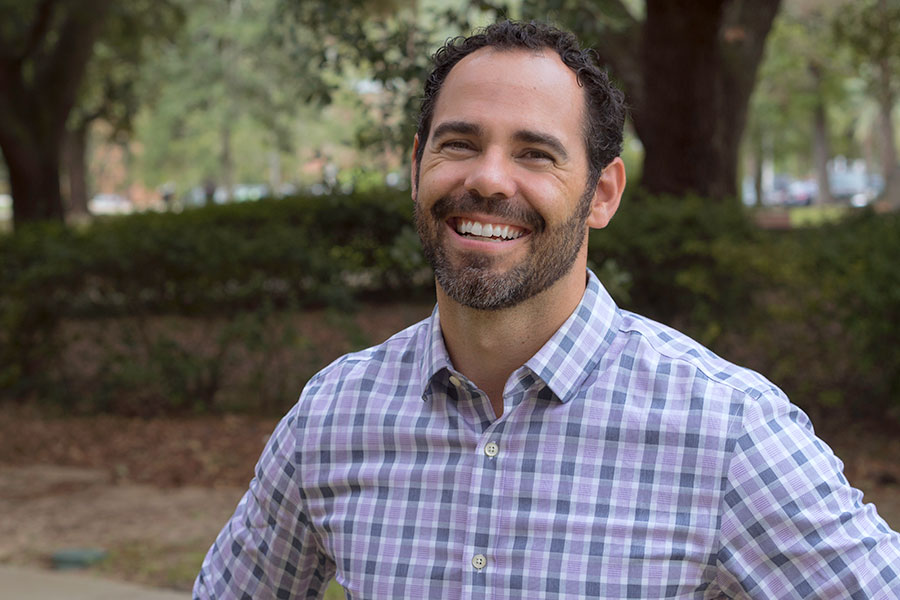 Michael Ormsbee received Florida State University's 2020 Distinguished Teacher Award during the annual Faculty Awards ceremony, held virtually April 29.
The Distinguished Teacher Award, the university's most prestigious honor for teaching, includes a $7,500 stipend funded by FSU.
"I'm so thankful for the recognition, but there are so many good faculty teachers that it's hard to imagine I was chosen amongst all of them," he said.
Ormsbee joined the FSU faculty in 2010. He's received numerous university awards over the past decade, including the Graduate Faculty Mentor Award in 2018 and the University Undergraduate Teaching Award in 2014.
"My teaching philosophy remains simple: inspire and engage," said Ormsbee, an associate professor in the College of Human Sciences' Department of Nutrition, Food, and Exercise Sciences. "I tell my students constantly that if I'm not excited about the material, nobody else will be."
While research is a huge part of Ormsbee's job, he feels fortunate that his research and his teaching are very much aligned.
"The discoveries in the lab directly inform my teaching," Ormsbee said. "For me, that connection is critical, and it keeps me engaged."
Ormsbee passes his enthusiasm for nutrition and exercise by relating information through personal experiences and storytelling.
"I try to inspire and engage the class with real-life examples by having the class think about how they would explain the information they have learned to an individual who has no background in exercise science or nutrition," he said.
Ormsbee has plenty of personal experience to glean from — he's a former NCAA student-athlete, he's participated in two 70.3 Ironman triathlons and leads a healthy, active lifestyle. On occasion, he even invites his students to join him for a run or lift.
"In our field of exercise and nutrition, there's a credibility that comes with walking the walk," he said. "If I'm preaching about certain nutrient aspects for performance or health or body composition, I need to do it so I can show my students there's a way to live this lifestyle no matter how busy you are."
While fostering a palpable energy in class is a focus for Ormsbee, he said his ultimate goal is to prepare his graduate students to land their dream jobs. That's why he connects students with leaders in his field from around the world by inviting them as guest speakers to his classes.
"With this approach, the students begin to understand physiology and performance nutrition from a global perspective and have networking opportunities that serve them well into the future," he said.
Other outstanding FSU faculty members recognized during the ceremony were:
HONORS THESIS MENTOR AWARD
Ned Stuckey-French, Department of English (posthumously)
UNDERGRADUATE RESEARCH MENTOR AWARD
Elizabeth Coggeshall, Department of Modern Languages and Linguistics
UNDERGRADUATE ADVISING AWARD
Andrea Renee Dyehouse, International Affairs Program
William Leparulo, Jr., FAMU-FSU College of Engineering
UNDERGRADUATE TEACHING AWARD
Jessica H. Clark, Department of Classics
Debra Hale, School of Theatre
Yuko Hori, Department of Physics
Orenda Johnson, Department of Psychology
Tanu Kohli Bagwe, Center for Global Engagement
Kaitlin Lansford, School of Communication Science and Disorders
Elizabeth Madden, School of Communication Science and Disorders
Chad Marzen, Risk Management/Insurance, Real Estate and Business Law
Keithen Mathis, College of Social Work
Jason Pappas, Department of Sport Management
Jorge Piekarewicz, Department of Physics
Angela Sehgal, Department of Nutrition, Food and Exercise Sciences
Shannon Trem Thomas, College of Music
Jillian Turanovic, College of Criminology and Criminal Justice
Heidi Williams, College of Music
Allison Wing, Department of Earth, Ocean and Atmospheric Science
GRADUATE TEACHING AWARD
Sindy Chapa, School of Communication
Jennifer Grill, Center for Intensive English Studies
Ayesha Khurshid, Department of Educational Leadership and Policy Studies
David Landau, College of Law
Marcia Mardis, School of Information
Catherine McClive, Department of History
Laura Reina, Department of Physics
Andrew Syder, College of Motion Picture Arts
GRADUATE FACULTY MENTOR AWARD
Laura Arpan, School of Communication
Betsy Becker, Department of Educational Psychology and Learning Systems
Dean Grubbs, FSU Coastal and Marine Lab
Christopher Patrick, Department of Psychology
Heidi Williams, College of Music
INNOVATION IN TEACHING AWARD
Diana Williams, Department of Psychology
Penelope Kirby, Department of Mathematics
FOUNDATIONAL COURSE EXCELLENCE AWARD
Steve Marks, Department of Biological Science
Leah Hollingsworth, Department of Mathematics
COMMUNITY ENGAGED TEACHING AWARD
Shalay Jackson, College of Social Work
Nari Jeter, Department of Family and Child Sciences
INCLUSIVE TEACHING AND MENTORING AWARD
Cameron Beatty, Department of Educational Leadership and Policy Studies
Anel Brandl, Department of Modern Languages and Linguistics
DISTINGUISHED RESEARCH PROFESSOR AWARD
Christopher Patrick, Department of Psychology
Debra Fadool, Department of Biological Science
DEVELOPING SCHOLAR AWARD
Dawn Carr, Department of Sociology
Kenneth Hanson, Department of Chemistry and Biochemistry
Jie Yang, Department of Computer Science
Yan-Yan Hu, Department of Chemistry and Biochemistry
2020-2021 ROBERT O. LAWTON DISTINGUISHED PROFESSOR
Sharon Nicholson, Department of Earth, Ocean and Atmospheric Science