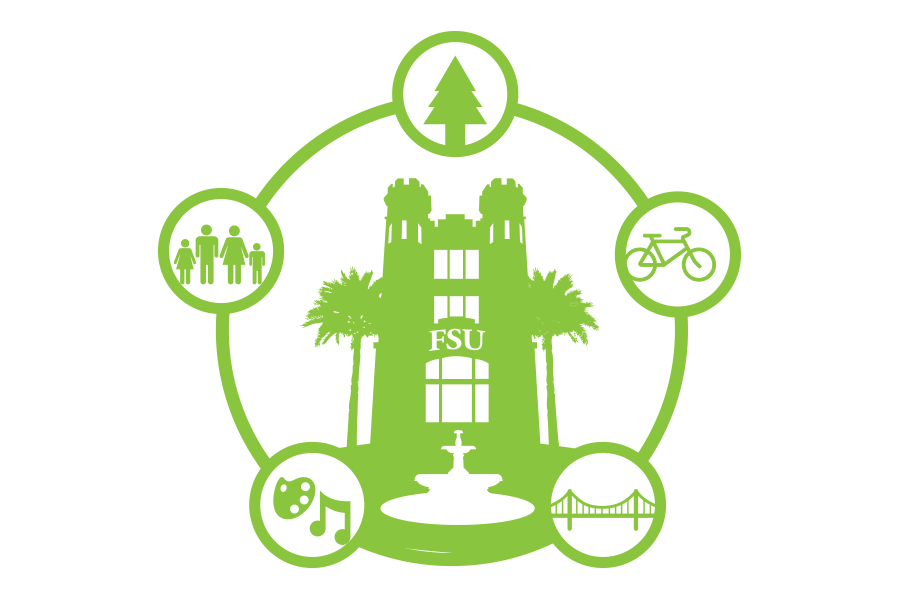 April 22 marks Earth Day, an occasion to celebrate our shared home in the universe.
At Florida State University, people are working every day to better understand that home. In the past year, researchers have investigated climate change on a local level, studied the long-term effects of the Deepwater Horizon oil spill, researched aquaculture across the world and more:
● Mariana Fuentes, an assistant professor in FSU's Department of Earth, Ocean and Atmospheric Science, explored the complicated future that climate change will bring for loggerhead turtles.
Research from Fuentes and former Florida State master's student Natalie Montero published in Scientific Reports suggests that while some loggerheads will suffer from the effects of a changing climate, populations in certain nesting areas could stand to reap important short-term benefits from the shifting environmental conditions.
"Sea turtles have been around for a long time and have survived many changes to the global climate," Montero said. "However, climate changes of the past took a long time, allowing sea turtles to adapt to the changing conditions. Today's climate change is happening very quickly, and therefore sea turtles must adapt quickly or perish."
● Professor of Oceanography Markus Huettel and graduate student Ioana Bociu revealed that oil from the 2010 Deepwater Horizon oil spill could take up to 30 years to decompose from the beaches of the Gulf Coast. In research published in Scientific Reports, they found that buried clumps of oil and sediment could take three decades to decompose because of the small ratio of their surface area to their volume, and the limited oxygen, moisture and nutrients available to microbes buried under sand.
"After the Deepwater Horizon spill, we found sediment-oil-agglomerates at Pensacola Beach that were the size of an office printer and even larger," Huettel said. "After burial, these would persist in the beach much longer than our golf ball-size agglomerates."
● Florida State University Associate Professor Angela Knapp was part of a multi-university research team that investigated the effects of a volcanic eruption on nearby phytoplankton. The 2018 eruption of Kīlauea Volcano sent millions of cubic feet of molten lava into the water off the island of Hawaii. When the water mixed with lava, it left a massive plume of microbes in its wake.
The research team determined that nitrate — a compound of nitrogen and oxygen — was brought to the surface of the ocean after the heat of the lava warmed nutrient-rich deep waters and caused the nitrate to rise. Their work was published in Science.
"No one has ever documented this phenomenon before," Knapp said. "This could be a missing piece of understanding past climate changes throughout history."
● Sven Kranz, an assistant professor in the department of Earth, Ocean and Atmospheric Science, and graduate student Tristyn Lee Bercel investigated Karenia brevis, the algae responsible for Florida's red tides, and found that the algae is able to thrive equally well in environments with low carbon dioxide and high carbon dioxide. Scientists expect higher levels of oceanic and atmospheric CO2 in the future. Their work was published in Progress in Oceanography.
"Despite the fact that we've seen increasing red tide blooms in Florida, there haven't been many ecophysiological studies on Florida-specific strains," Bercel said. "Through our work, we found that K. brevis is able to efficiently use available inorganic carbon for growth. Even in bloom situations where it seems like carbon dioxide could become limiting, the species is able to adjust and keep growing."
● Assistant Professor of Geography Sarah Lester, postdoctoral researcher Rebecca Gentry and doctoral student Bess Ruff examined more than 50 years of data from the international seafood farming industry to better understand this important industry.
The team examined aquaculture production overall and for specific groups of species, such as fish and crustaceans. They found that countries with relatively stable production farmed a greater diversity of species compared to countries with other development trends. The research was published in Nature Sustainability.
"This type of multidisciplinary research is essential for better understanding the current effects and future potential of marine aquaculture — which will be all the more important as the global human population continues to increase and we reach the sustainable limits of other types of food production," Lester said.
● FSU Professor of Meteorology Vasu Misra and postdoctoral researcher Amit Bhardwaj are helping create climate change forecasts on a local level, work that will help millions of Floridians develop resilient plans for the future. Their work was published in the Journal of Marine Systems and in Climate Dynamics.
"The question being asked by society is 'What will happen in our ZIP code in a future climate?'" Misra said. "To create better policy, you need to see what the full climate is going through. But the majority of activity affecting you and me is happening at the ZIP code level. That's where our studies will become more and more relevant."