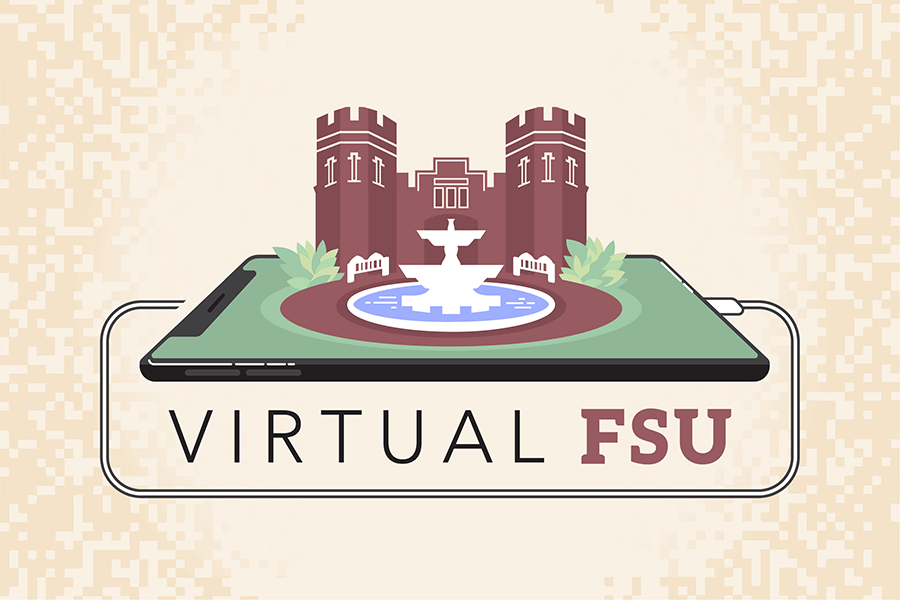 Some of the most memorable experiences for Florida State University students happen outside of the classroom. Now, with the university going remote for the rest of the spring semester amid a global pandemic, how will students stay connected with campus and one another?
One way that Florida State is supporting students is through Virtual FSU — a new, virtual hub for student services and engagement opportunities, created by the Division of Student Affairs.
"It's important that while we are physically distant, we connect virtually with each other for our mental and physical health," said Amy Hecht, vice president for Student Affairs. "Our goal is to continue, as best we can, offering the FSU experience and providing avenues for students to receive counseling, medical services and connecting with each other through a variety of online mechanisms. I know that our students are resilient, and we will all support each other during this time of uncertainty."
Virtual FSU includes information for virtual health and wellness, mental health services, the Career Center, Food Pantry, case management support as well as links to opportunities to be active, meet about wellness and find engaging things to do online.
"Building and fostering digital communities is an extension of the work we do daily to craft the student experience and help students reach their full potential," said Danielle Acosta, interim director of Student Engagement. "Through these platforms, we can engage in conversations, build relationships, continue to provide interactive services to support student success and empower students to positively impact the world. This is more important now than ever, as we are seeing in real time how truly interconnected that we are and how each of us have the opportunity to change the trajectory for others."
In addition to Virtual FSU, Students Affairs plans to further develop different and creative ways for student connection, celebration and ongoing virtual services.
For example, the DSA is hosting a new virtual event each Wednesday — RSO Rendezvous — in place of FSU's usual Market Wednesday on Legacy Walk. RSO Rendezvous will take place during the regular Market Wednesday time, from 10 a.m.-1 p.m.
"Student Engagement is excited to use our online platforms and technology to continue to help RSOs thrive and be creative during this time," Acosta said. "We are setting up social media challenges, creating new virtual experiences and helping students use resources that they may not have even known existed to continue doing some of their favorite activities critical to their FSU experience."
Other departments and groups around campus are getting in the virtual act, too. The Student Government Association, including FSU's Student Senate and Congress of Graduate Students, will meet virtually on a summer schedule for the remainder of the semester, and the College of Law has developed a virtual hub with daily lunchtime programming for students via Zoom that is accessible through the Office of Student Advancement Canvas page for Law students.
"Student engagement is all about the connections and investment we have in each other, and in the Florida State community," Acosta said. "Our community, the Florida State family, is strong, and one that comes together in trying and difficult times. This spring, we might not all physically be out on Landis Green or having dinner in the Ballrooms, but we are still in this together. We can still cheer each other, be involved, learn together, and support and celebrate each other."
For more information, visit studentaffairs.fsu.edu/virtualfsu.