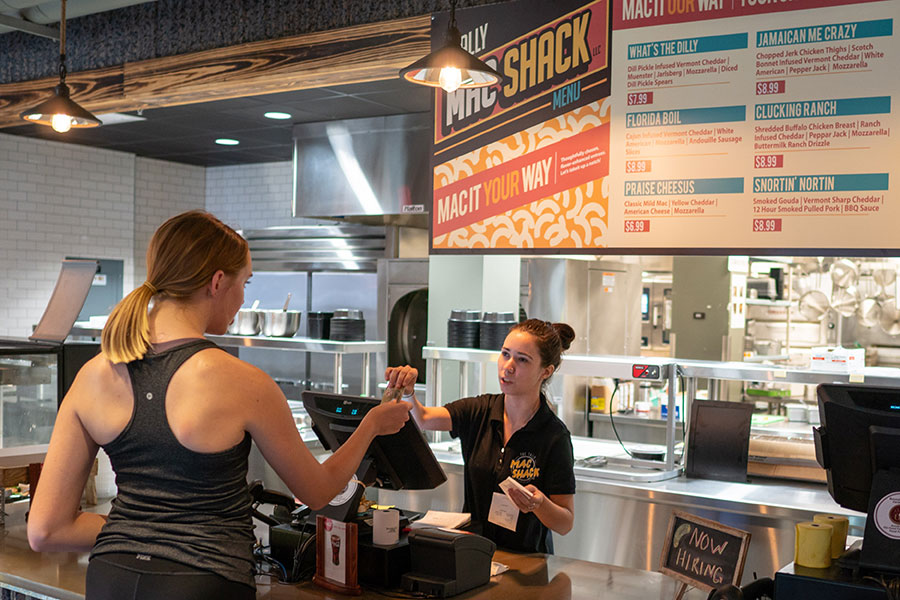 The popular Tally Mac Shack, a partner of Sodexo's dining program at Florida State University, has been recognized by U.S. Sen. Marco Rubio as the "Senate Small Business of the Week."
The Florida senator, who is chairman of the U.S. Senate Committee on Small Business and Entrepreneurship, has released a video announcing the national honor. Rubio praises owner Justo Cruz for pursuing his entrepreneurial dream to build a business that turns classic mac and cheese into a gourmet dish.
"Justo Cruz worked hard to create the first Tally Mac Shack food truck, which sells comfort food but with a gourmet twist," Rubio said. "Justo has grown his business year over year, partnering with his alma mater Florida State University. Today, Tally Mac Shack has nearly 30 employees with multiple trucks and locations, and even has a concession stand at FSU's football stadium."
Now, Cruz has taken his business a step further by setting up at Dick Howser Stadium to serve sliders at FSU baseball games.
Rubio also applauds Tally Mac Shack's commitment to serve the community by getting involved in local events and donating a portion of profits to Tallahassee groups.
"Tally Mac Shack has emphasized community service since its inception, partnering with local agencies and organizations including Hurricane Michael relief, the Down Syndrome Foundation of Florida, Tallahassee Memorial HealthCare and The Kearney Center for the homeless," Rubio said.
"During their summer nonprofit program, they support one nonprofit per week by donating a portion of their profits and providing a free visit from their food truck. Additionally, they recently became an official on-job training partner with Leon High School's culinary program that offers mentorships to local students."
Some of those high school students are getting valuable job and managerial training at the Tally Mac Shack restaurant in FSU's "1851," a dining facility that's home to several other small restaurants and a convenience store.
Cruz says he's honored to receive Rubio's special recognition.
"It has been our philosophy since Day One to get involved with the community, and I think our continued success comes from our determination to connect with our community at multiple levels — it's not just about donating money!" Cruz said.
"It's about being present. Although we donate in multiple ways, more importantly, we are participating in community events, collaborating with other local businesses and creating programs to help young entrepreneurs advance their own vision. We want to use our success as a platform for others to grow in this great city."
Tally Mac Shack has grown quickly since Cruz became a food entrepreneur with just one food truck in 2017. He founded the business with a vision to offer fun, distinctive recipes with a taste of Tallahassee for an age-old comfort food.
In 2019, Sodexo wanted to offer the FSU community a taste of local culture, and it partnered with Tally Mac Shack on that goal. Cruz, an FSU graduate with a criminology degree, was excited to take his entrepreneurial adventure in a new direction, and he has made the most of the opportunity.
His culinary creativity has already earned plenty of praise and awards. Tally Mac Shack has been honored five times as Tallahassee's best food truck. In addition, the business is the inaugural winner of the Capital City Youth Services' Tally Award.
Tally Mac Shack FSU serves a half-dozen recipes, including the "Clucking Ranch," a ranch-infused cheddar macaroni topped with buffalo chicken. The menu items are customizable. Customers can build their own meals or simply opt for Cruz's creations.
"We live in a time when customers want options, so we've created two types of menus," Cruz said. "I am very excited with the future possibilities for Tally Mac Shack."