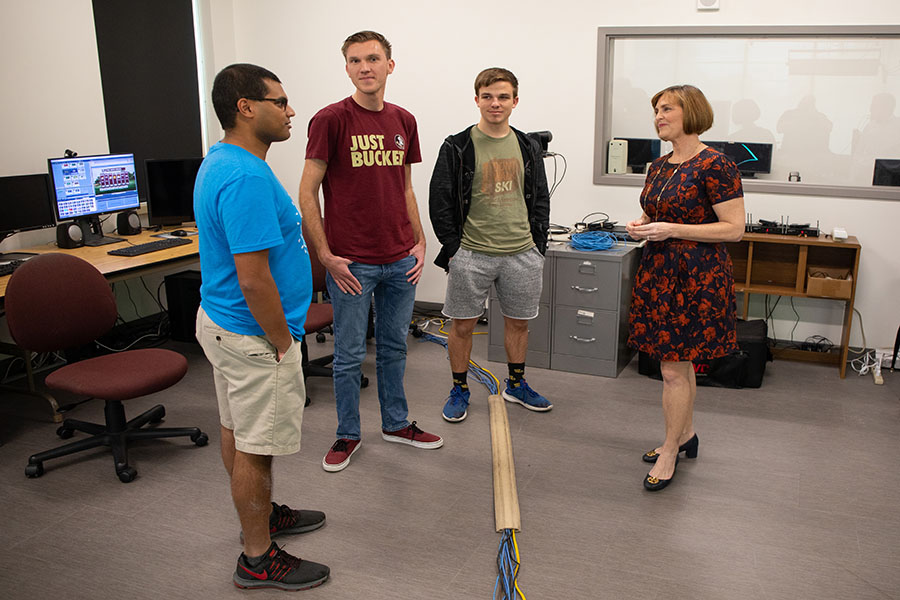 Florida State University welcomed U.S. Rep. Kathy Castor to campus Tuesday to tour the brand-new Earth, Ocean and Atmospheric Science Building and learn about the breadth of faculty research in the department.
"We are so thrilled to welcome you and give you our presentations," said FSU Professor of Meteorology Vasu Misra, who helped organize the visit.
During her visit, Castor toured the new EOAS building, which officially opened last week, and heard presentations on wildfire, hurricanes, the human impact on the carbon cycle and how the climate affects public health. Castor also met with students to hear about their experience at FSU.
Castor is the chair of the U.S. House Select Committee on the Climate Crisis, selected for the role in early 2019 by the Speaker of the House.
"I'm learning a lot," Castor told faculty members. "My background is environmental law, but I'm certainly not a scientific expert, so I rely on folks like you to help inform policy."
Castor's visit comes on the heels of the official opening of the new EOAS building.
Last week, FSU President John Thrasher, former FSU President Eric Barron and the FSU Board of Trustees cut the ribbon on the building, which is home to programs in environmental science, geology, meteorology and oceanography. The 130,500-square-foot-space includes 23 research labs, eight teaching labs, a broadcast studio for meteorology students, a 280-seat auditorium and a 100-seat active-learning classroom.
Some of the building's special features include a seismometer, a solar flower and Science on a Sphere —a display of global data such as atmospheric storms, earthquake occurrences, climate change and ocean temperature.