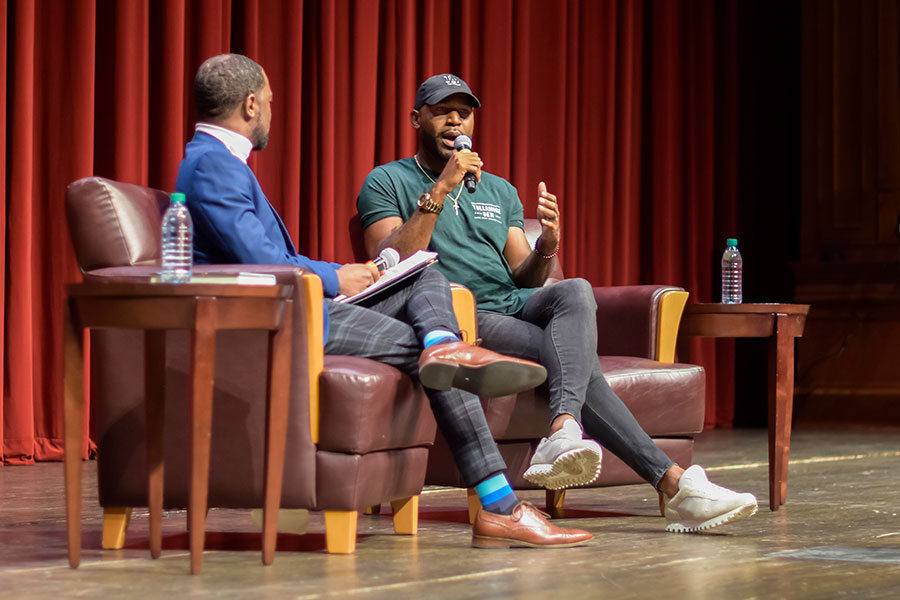 Florida State University's Ruby Diamond Concert Hall was filled to capacity when Karamo Brown enthusiastically jumped on stage for an evening of dialogue and discourse during the MLK Commemoration Celebration Tuesday, Jan. 21.
The television host, reality TV personality, author and activist offered his guidance, experience and cultural expertise to close out the 32nd Annual FSU MLK Week, which provided the campus with opportunities for celebration, service and dialogue on the civil rights movement and social justice issues in America today.
Assistant Professor Cameron Beatty from the College of Education moderated Brown's talk, part of the Golden Tribe Lecture Series.
Brown, the first openly gay black man on a reality TV show, is a graduate of Parkland's Marjory Stoneman Douglas High School, who later attended Florida A&M University in Tallahassee. During his lecture, Brown reminisced on his time in Tallahassee, which included a campaign for county commissioner, never-ending soul-searching and too many boxes of Guthries' chicken.
After graduating and serving as a social worker for years, Brown jumped into a career in reality television on MTV's "The Real World: Philadelphia" in 2004. Now, he serves as the culture expert on Netflix's revival of "Queer Eye," which is set to debut its fifth season this year. He's also competed on "Dancing with the Stars" and was featured in Taylor Swift's "You Need to Calm Down" music video.
When it comes to fulfilling and living the legacy of Martin Luther King Jr., Brown said he lives his life by answering what King called "life's most persistent and urgent question: what are you doing for others?" Brown summoned the audience to ask themselves that question every day and to answer it by engaging in dialogue, finding a purpose and embracing failure.
"Failure isn't the opposite of success," Brown said. "It's a part of it."
Brown's talk followed opening remarks by FSU President John Thrasher and awards presentations. Thrasher gave a warm welcome to what he claimed was the largest crowd for the MLK Commemoration Celebration he'd seen in his six years as president.
"This is an important opportunity for all of us to reflect on Dr. King's vision of a diverse nation where all people enjoy the benefits of equality," Thrasher said. "He inspired us to be better Americans. We know that we still have work to do. We must have faith, as Dr. King did, that the moral arch of the universe bends toward justice."
Thrasher also praised past and present students for their efforts to keep King's dream alive on and off campus.
"I believe that Dr. King's dream is alive here at Florida State University, where we try to respect every single member of our community and understand that different points of view are the key to a dynamic learning environment," Thrasher said.
Professor of Modern Languages Delia Poey, who received FSU's inaugural Latinx Distinguished Service Award in September, presented Huan Chen, a visiting research faculty member at the National High Magnetic Field Laboratory, with the Martin Luther King Jr. Distinguished Service Award.
Established in 1986, the Martin Luther King Jr. Distinguished Service award honors a faculty member, administrator or staff member for his or her outstanding service in keeping with the principles and ideals of Dr. King. A tremendous honor in itself, the award also comes with a $1,000 stipend for the recipient.
Chen was honored for advancing the diversity and research mission of the National High Magnetic Field Laboratory and FSU by providing additional avenues for increasing opportunities for underrepresented individuals to engage and contribute to the high quality research at these institutions.
"As we reflect on the lasting impact of Dr. Martin Luther King Jr.'s legacy, he continues to inspire us to greatness by this statement: 'intelligence plus character, this is the goal of true education,'" Poey said before honoring Chen with the award. "As we witnessed this past Martin Luther King Jr. week on campus, it is our intelligence and openness to learning that strengthens our character and creates change that moves our society forward."
Kenya Shakir from the Center for Leadership & Social Change and Charee Williams, president of FSU's Black Alumni Association, presented the 2020 Dr. Martin Luther King Jr. Book Stipend awards. The award is a scholarship intended to support FSU students in completing their education and is available on a competitive basis to undergraduate and graduate students. The awards are endowed by the Office of the Vice President for Student Affairs, the FSU National Black Alumni and the New Student & Family programs.
This year's scholarship recipients were:
Oluwatoyin Sangokunle
Michelle Johnson
Ksamesvari Edwards
Sarah Mercival
Erika LeFlouria
Gizem Solmaz
Lawrence Jackson
Guerothlyn Saint-Jean John
Cyanne Mcclean
Bodunrin Akinrinmade
Ariel Valdez-Smith
Ornelia Jones
Johan Quevedo
Rho'Sade Auguste
Chinelo Osakwe
Faculty, staff and administrators who completed the FSU Diversity & Inclusion Certificate were also recognized at the ceremony. The goal of the program is to find ways in which members of the FSU community can assist in creating a welcoming and inclusive campus for all.