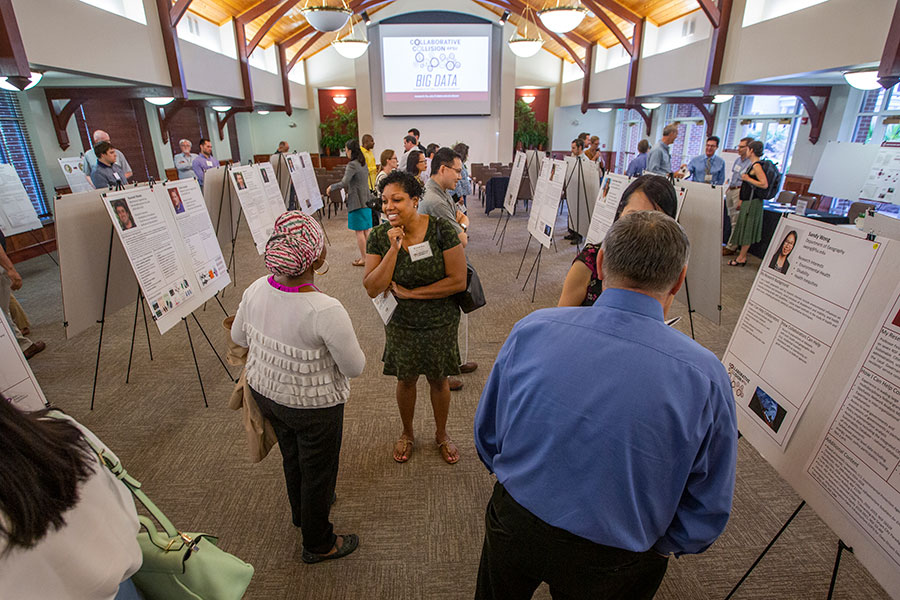 Florida State University Associate Professor of Anthropology Tanya Peres has lots and lots of data from her work as an archaeologist.
Now she's looking for someone else who could use it.
Peres participated in the recent "Collaborative Collision," an event organized by the FSU Office of Research Development to connect colleagues across academic disciplines. For example, geologists or geographers might be interested in the data she has collected as an archaeologist.
"People who are looking at environmental change would like to see some of that data that they either don't know exists, or they don't have access to because it's locked up in someone's filing cabinet," she said. "And then some of their research methods for analyzing those kinds of data are very different from what I use, so it's great to be able to work together."
The event was the ninth Collaborative Collision the Office of Research Development has hosted. The office helps faculty members find potential collaborators for interdisciplinary projects. When organizers realized that a networking event that brings together numerous faculty members interested in a single topic was an efficient way to make connections, the first Collaborative Collision was born.
The office also awards a grant of up to $25,000 to the most promising new team of researchers that connect through the event. The goal is to set faculty up with connections and give them start-up funding to go after big problems that can't be answered by a single discipline.
Organizers chose "big data" as the theme for this Collaborative Collision after hearing from faculty members with an interest in the topic.
"We see what's out there," said program manager Mike Mitchell. "We work with faculty every day. We see what they are asking for, what they are looking for out of their collaborators and what kind of research they are currently working on."
Collaboration across academic disciplines is needed to explore the important questions that society is trying to answer, said Professor of Public Administration Richard Feiock. He researches sustainability, a topic also studied in disciplines like engineering, geography, urban planning and more.
"If we're siloed and not talking to each other, we really can't answer the big questions," he said.