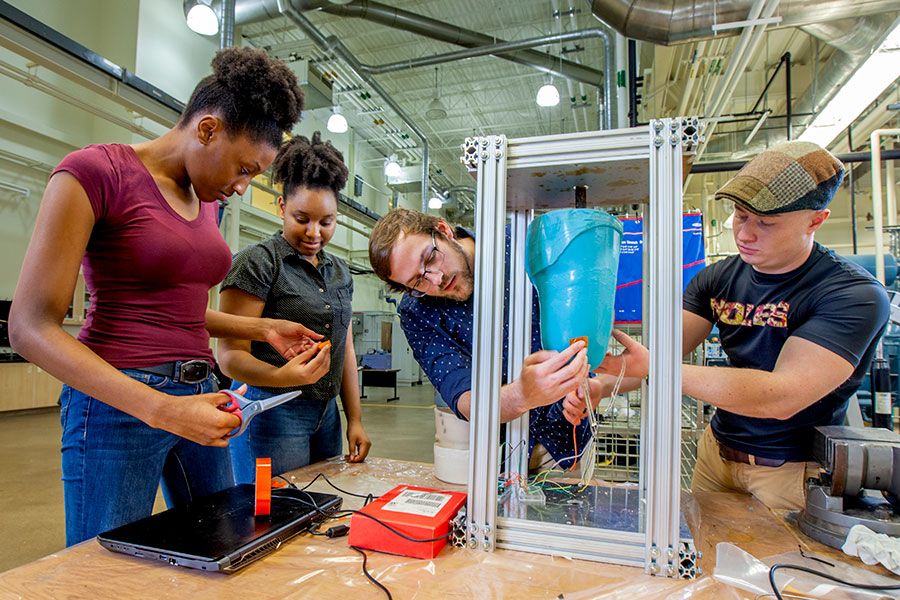 The FAMU-FSU College of Engineering earned a Bronze award and Exemplar status from the American Society of Engineering Education (ASEE) in the inaugural year of the ASEE Diversity Recognition Program.
The college is one of only two engineering programs in Florida to earn the distinctions.
"This is a fantastic achievement for the FAMU-FSU College of Engineering," said Maurice Edington, provost and vice president for Academic Affairs for Florida A&M University. "This award speaks to the critical roles that the joint college and FAMU play in helping to address the nation's diversity needs in high-demand fields such as engineering. I am also pleased that the commitment and work on the part of both universities to foster inclusion have been acknowledged by this prestigious award."
Added Florida State University Provost Sally McRorie: "We are so proud of the FAMU-FSU College of Engineering's commitment to creating a more diverse and inclusive engineering workforce. Diversity and inclusion are core values of Florida State University as an institution. This recognition is a testament to both universities' commitment to creating an excellent educational experience that we hope will ultimately be reflected in the workplace."
The Bronze award is the highest level ASEE bestowed in the program's first year and it signifies the college is "among the nation's leaders in inclusive excellence," according to ASEE Engineering Deans Council Chair Gregory Washington. In its award letter, ASEE identified several key diversity and inclusion elements to which FAMU-FSU Engineering is clearly committed, including an action plan, support, policies, culture and programs that strengthen the K-12 or community college pipeline related to increased diversity in engineering.
Because the college had initiatives and outcomes deemed "significant," it was granted Exemplar status by ASEE.
"We are delighted that ASEE recognizes our unique partnership model as an exemplar to address the nation's need for a more diverse and inclusive workforce," said J. Murray Gibson, dean of the college. "We all have a way to go to achieve our diversity and inclusion goals, and this initiative represents a template for improvement within the college."
In 2015, the college joined more than 100 peer institutions in ASEE's Engineering Deans Institute, pledging to push forward on diversity and inclusion goals. Gibson has taken this imperative to new levels and submitted the winning FAMU-FSU Engineering diversity plan for consideration by ASEE. The plan outlines a goal to double the number of African-American engineering graduates and increase the percentage of female engineering students from 28 percent to 35 percent within five years. It also aims to increase the fraction of underrepresented minorities in faculty hiring from the current 30 percent to 50 percent in three years.
Both Florida A&M and Florida State universities are committed to increasing engineering diversity at the joint college. With the help of corporate sponsors such as Northrop Grumman, Lockheed-Martin and Texas Instruments, the college is creating a strong pipeline for diverse engineers from undergraduate through advanced research degrees.
Created in 1982 by an act of the Florida Legislature, the FAMU-FSU College of Engineering is the nation's only joint engineering college shared between two institutions. This partnership has resulted in the college's current undergraduate diversity of 20 percent African-American and 19 percent Hispanic students, reflecting the largest minority groups in the U.S. population in a way not found anywhere else in doctoral-granting engineering education.
The FAMU-FSU College of Engineering is the joint engineering college for Florida State and Florida A&M Universities, the only such shared college in the nation. The institution, based in Tallahassee, Florida, has five departments offering nine engineering areas of study. The college's faculty are associated with many prestigious research centers, including the National High Magnetic Field Laboratory. Learn more at www.eng.FAMU.FSU.edu.